More EC Fantasties
Another day, another EC fantasy,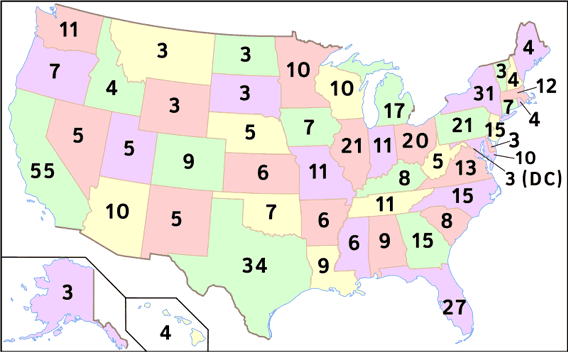 Texas elector Christopher Suprun is unhappy with Donald Trump and has taken to the pages of the NYT to explain Why I Will Not Cast My Electoral Vote for Donald Trump:
Alexander Hamilton provided a blueprint for states' votes. Federalist 68 argued that an Electoral College should determine if candidates are qualified, not engaged in demagogy, and independent from foreign influence. Mr. Trump shows us again and again that he does not meet these standards. Given his own public statements, it isn't clear how the Electoral College can ignore these issues, and so it should reject him.
Indeed, in the piece he outlines several reasons, including conflicts of interest, as to why he cannot vote for Trump.
So, unlike one of his fellow Texas electors who resigned rather than vote for Trump, he wants the EC to rally around another candidate.  He concludes:
The election of the next president is not yet a done deal. Electors of conscience can still do the right thing for the good of the country. Presidential electors have the legal right and a constitutional duty to vote their conscience. I believe electors should unify behind a Republican alternative, an honorable and qualified man or woman such as Gov. John Kasich of Ohio. I pray my fellow electors will do their job and join with me in discovering who that person should be.
First, in terms of pure mechanics, the notion that the electors (who never all meet in one location) could manage to coordinate in such a way as to pick a wholly new candidate is simply untenable.  The institution does not work like that and never did.  Even when the electors were presumed to have independent volition it was assumed that they would be acting at the state level and likely acting on regional political impulses.  Indeed, one of the reasons for creating the EC was the Framers' assumption that national action on the question of the presidency was likely impossible.
Second, this conclusion and call to action underscores, in my opinion, the flawed logic of many #NeverTrump attempts:  it ignores that the only viable alternative to Trump was Clinton.  This has been true for months and months.  If there is going to be an EC revolt (and their isn't) to stop Trump, the only way to do is to peel off enough electors to elect Hillary Clinton.  That requires moving 38 electors.  To elect someone who didn't even run requires moving 270 electors.  The math is pretty obvious, especially since the odds of 38 switching are essentially zero.
As I pointed out in a recent post, there have been a total of 157 faithless electors in the history of the US, and just under half of those were in cases were a candidate died before the votes were cast.  The last election with more than one faithless elector was 1912.  I do expect that we will see a modern record for faithless electors this year, but that number is likely to still be in the single digits.