More Unvaccinated People Live in Blue Counties
A paradox that's not hard to explain.
Via his Twitter feed, I saw Philip Bump's report in WaPo headlined "Blue counties are more vaccinated — but still home to more unvaccinated people."
The opener is not the least bit surprising:
Since late last year, there's been a wide gulf between the willingness of Republicans and Democrats to be vaccinated against the coronavirus. That continues. In September, Kaiser Family Foundation polling found that Republicans were much more likely than Democrats to say that they intended to never receive a dose of a vaccine.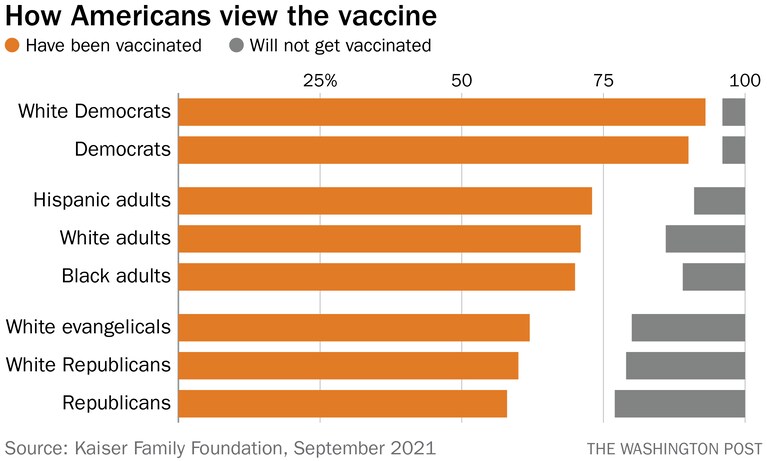 The headline gave away the plot twist:
And yet it also remains the case that there are more unvaccinated people in counties that voted for President Biden than ones that voted for former president Donald Trump.

Combining the most recent vaccination percentages from the Centers for Disease Control and Prevention with county-level population data from the Census Bureau, we see that there are about 4 million more adults in blue counties who are unvaccinated than in red counties. When expanding that to the entire population, the spread is 12 million people. (The distinction between all residents and all adults is important because of who is eligible for the vaccine.)

The explanation is exactly what I expected:
There are some obvious and important qualifiers here, of course. One is that there are a lot more people who live in blue counties than red ones. On average, 62 percent of adults in the most pro-Biden counties are vaccinated, compared to 41 percent of adults in the most pro-Trump ones. Another is that we don't have full data; Texas, for one, doesn't report vaccination rates by county. A third is that these figures don't incorporate natural immunity acquired through having contracted the virus. That may limit the spread even in areas that have lower vaccination rates. And, finally, just because someone lives in a Biden-voting county doesn't mean that they are a Democrat; about 45 percent of Trump voters live in counties that voted for Biden.

If we map out the areas where unvaccinated adults live, it's mostly — but not entirely — a map of American population centers. You'll notice, though, that there are also a number of red dots smattered across the map, often in places where there are no well-known large cities.
Which naturally reminds me of this old xkcd strip: