My 2020 Projection
Predicting a Biden wave.
With two days to go in the race and close to 100 million votes already cast, here's how I see the vote turning out: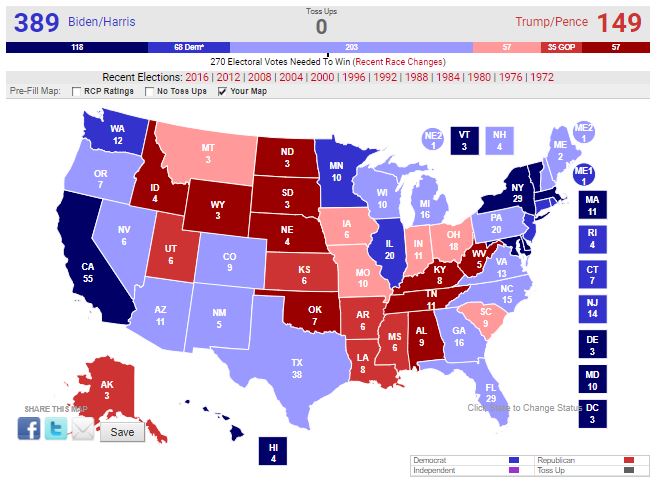 This is a contest where Montana and South Carolina are merely leaning toward the Republican candidate and Georgia and Texas are in play. We had a wave election (albeit one mostly confined to the House) in 2018 revolting against the sitting Republican President and things have gotten much, much worse for him since then, most notably with his bizarre and deadly politicization of the COVID-19 pandemic.
Democrats are as mobilized as they have been since 2008, albeit more against the Republican than for their nominee, the youth vote is perhaps more mobilized still, and the Republican base has shrunk considerably. North Carolina has already turned purple and Virginia is solidly blue at the statewide level. And the demographic tide is turning in Texas. Further, Trump's scare campaign against mail-in voters may well backfire, resulting in his elderly supporters being less likely to cast a ballot than Biden's.
Obviously, I'm going out on a limb in having Texas go Biden's way. But I very much see this as a wave election. Indeed, it's not inconceivable that I'm understating the wave, as I think the pollsters have over-corrected their likely voter screen based on 2016 and are over-weighting whites without college degrees. So, while I wouldn't be shocked if Trump held Texas, it wouldn't be a huge upset if Biden took Ohio, Missouri, and Iowa.