Mystery Surrounds Jesse Jackson Jr.'s Absence From Congress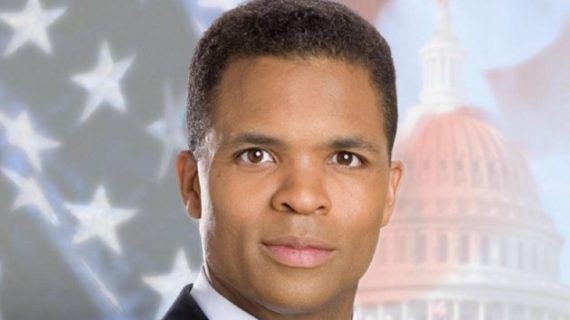 Illinois Congressman Jesse Jackson Jr. has not been seen around Congress for more than a month now, in that time speculation has been rampant in the political press  as to what might have happened to the Congress. There have been rumors of medical issues, drug or alcohol problems, and even a suicide attempt. Throughout the absence, though, Jackson's office has refused to comment and that has only caused the questions to continue to mount and now fellow Democrats are calling on him to come clean about what's going on:
Rep. Jesse Jackson Jr.'s mysterious disappearance from public life led to new calls by Illinois Democrats on Tuesday for him to give voters more information about his condition.

Rep. Luis Gutierrez on Tuesday became the second high-profile Chicago Democrat to demand that Jackson be more candid. Gutierrez, who has been a rival of Jackson's, said the congressman "has a responsibility to give us more information."

"I'm not demanding that information," Gutierrez told the Chicago Tribune. "But I think the people of his congressional district deserve it. The people of Illinois deserve it. If he's going to stand for reelection, you guys are going to demand it."

Jackson, a nine-term Illinois Democrat, last appeared on Capitol Hill in early June. His office has issued two statements since then indicating he's on medical leave — the first citing "exhaustion" and the second suggesting his condition is much more severe.

The strange episode has fueled speculation about Jackson's condition and whereabouts. An almost total absence of information — his congressional office will not answer any questions — has created abundant space for rumor and the most extreme conjecture.

This has been stoked by an ethics investigation into allegations that Jackson considered lending campaign favors to former Illinois Gov. Rod Blagojevich (D) in exchange for the Senate seat then being vacated by President-elect Barack Obama.
Illinois' Senior Senator Dick Durbin has also called on Jackson to be more forthcoming about what's going on, as has House Minority Whip Steny Hoyer.  And some Capitol Hill insiders are saying that Jackson's absence could be long, if not permanent:
CHICAGO — Rep. Jesse Jackson Jr. will likely not return to Congress until after Labor Day, a senior aide close to the congressman told ABC News.

The source also denied a rumor reported on the Chicago WLS talk radio show Roe & Roeper that the Democratic congressman's mysterious absence was due to a suicide attempt. He claimed to have spoken to Jackson as recently as "the last few days," and said that although he continues treatment at an inpatient facility, the congressman is not facing any life-threatening ailments.

The source, who agreed to speak on the condition of anonymity, declined to provide any details on where Jackson is seeking treatment, but said that he is genuinely suffering from "exhaustion."

"That's what he has. He doesn't get a lot of sleep and he has sleep disorders. He's very energetic, running full-steam ahead, working six or seven days a week often and he's been doing that for a long time," the source said. "There's a great deal of pressure on him due to unfounded allegations [related to the ethics inquiry] and negative press onslaught against him that are not true, so it kinda all caught up to him. He needed downtime to get away from grind."
Jackson's famous father has said that it's inappropriate for anyone to ask for details about his son's condition, but as The Washington Post's Aaron Blake points out, a no-comment strategy just isn't going to work:
If recent scandals in the House have taught us anything, it's that you simply can't say something bizarre, leave open questions about it, and hope everyone just moves on. The appetite to learn exactly what happened is just too strong.

Recent examples of this include Reps. Eric Massa (D-N.Y.), Anthony Weiner (D-N.Y.), David Wu (D-Ore.) and Thaddeus McCotter (R-Mich.).

In all four cases, something very odd was clearly afoot and the members tried to weather the storm, but their actions and comments (or lack thereof) only fed the beast.

All four men resigned their seats.

This is not to say that Jackson is a part of any kind of scandal, as these other members were; we simply don't know yet. He's got a very safe seat in Congress, and it's quite possible that there is a legitimate reason for his decision not to be forthcoming about his undefined "physical and emotional ailments."

But the fact that Jackson's seat is safe makes his lack of candor all the more odd. If it's not that bad, why didn't he just come out with it and be done with it, knowing that he's already won his party's nomination and, barring major scandal, will be re-elected?

(…)

Something strange is happening with Jackson. And the attention it's getting is compounded by his famous father of the same name and the fact that this is not the first time there have been questions about his conduct (these also include rumors of an affair and allegations that he tried to buy President Obama's Senate seat by raising money for then-Gov. Rod Blagojevich).

The longer he waits, the more untenable it gets. That's why his Democratic colleagues are publicly asking for answers; they don't need the distraction.
Like I said, the rumors are swirling on the Hill, and none of them are painting Jackson in a very pleasant light. There are even allegations that the entire episode has been staged to divert attention from the ethics scandal and the fact that a close associate of Jackson's was arrested by the FBI on bribery charges only days before Jackson was last present for a session of Congress. Whether there are connections or not, people are already speculating about them, and the fact that Jackson's fellow Democrats are the ones calling on him or his family explain what's going on here suggests that they don't want to be anywhere near the situation should it all blow up in Jackson's face in the coming weeks.  Jackson may indeed be suffering from physical or mental ailments at this time, and he obviously ought to be getting treatment for those without having to worry about the political world, but someone needs to realize that his constituents, and his fellow Democrats deserve some information, and they should come forward on his behalf.