Nevada Debate Reflections
The clear winner was Donald Trump.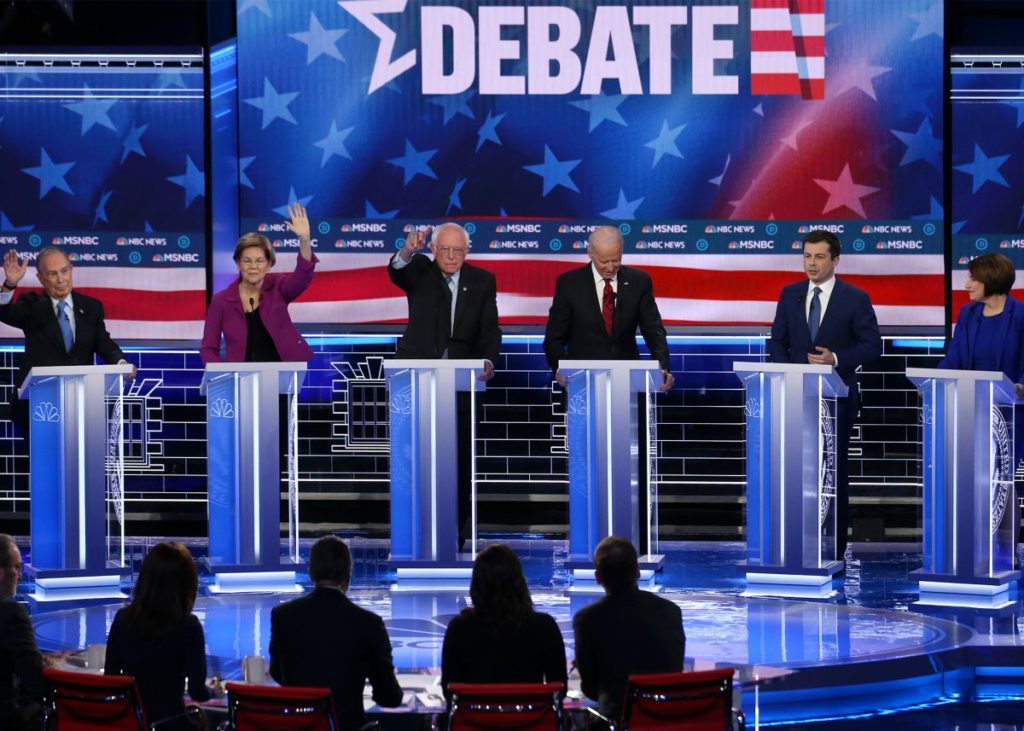 For the first time in weeks, my wife and I watched a Democratic debate. When we finally gave in about 90 minutes in, I liked almost all of the candidates less than I did at the outset. And I'm less confident than I have been all cycle that one of them will be able to beat Donald Trump in November.
Finally, all of the plausible nominees were on the stage together. But the format was one designed to invite conflict and exasperation rather than to debate issues.
It began with a question that boiled down to, "Senator Sanders, please take a minute to attack Mayor Bloomberg." As he dutifully complied, Elizabeth Sanders raised her hand and started bouncing up and down like a school child trying to get her teacher's attention. Since the exchange had absolutely nothing to do with her, I was annoyed. She kept it up the whole time that Sanders attacked Bloomberg and Bloomberg tried to defend his record.
But it wasn't Warren's fault that she was annoying. Apparently, the rules had shifted. In the past, candidates had a right to get additional time if they had been personally mentioned by another candidate. In this contest, apparently, if you raised your hand long enough they might let you participate. Otherwise, they would go on to another version of the "Candidate 3, would you like to attack Candidate 5?" gambit.
As a result of the 90 minutes or so I could endure, I learned essentially nothing about the candidates' positions that I didn't already know. The format seemed designed to be about personalities and how they handled conflict.
Bernie Sanders continued to Bernie Sanders. He comes across as an angry old man but he stayed on message. But, yeah, he should release his medical records. He's ancient and just had a heart attack.
Mike Bloomberg is mirthless and thin-skinned. He's right that nondisclosure agreements are mutually binding and that it would be odd to release the other party from their obligations given that they'd accepted the settlement. But if you want to be President, that rule really doesn't apply. The citizenry has a right to know what kind of office atmosphere the guy who seeks to occupy the highest office in the land maintains.
Joe Biden seems to age a year a week. He stumbled on just about every sentence. A few cycles back, he quipped every sentence that came out of Rudy Giuliani's mouth consisted of "a noun, a verb, and 9/11." For Biden, it's "a noun, a verb, and Barack Obama." Indeed, if he was watching last night, Obama must have wondered why he bothered to show up for work at all, since Joe apparently did everything.
Elizabeth Warren just seemed tired and resigned. She is, quite reasonably, frustrated that Sanders, an angrier, dumber version of her is leading the race and she's mired in fourth place unable to get traction. But I didn't see anything from her last night that's going to change anything.
That leaves the two non-septuagenarians on the stage.
I feel bad for Amy Klobuchar. She's an accomplished Senator who has managed to get much more done in that body that either Warren or Sanders. While less accomplished than Biden, she's two decades younger and still in her prime. And she's in the sweet spot on most issues that should appeal to Democrats and swing voters alike.
One presumes she has a personality. One doesn't get elected to statewide office otherwise. But it just doesn't come across on the debate stage. And her whole pitch seems to be "I won statewide in Minnesota" and "I'm a woman." If those were going to win over voters, she'd be in double digits by now.
My first impression of Pete Buttigieg was "Is he trying to grow a mustache to look older?" Did he watch the Nixon-Kennedy debates and come away with the wrong message?
Once I got past that, though, I thought he did far and away the best in the format. He was the only one on the stage to consistently seem like he wasn't angry or a robot. He managed to get in attacks on Sanders and Klobuchar in a way that didn't make himself look smaller. He seemed to genuinely like the other candidates and to simply be trying to distinguish himself from them in a way that wasn't forced or mean-spirited.
Buttigieg was also the only one who managed to get in those pre-planned gibes without stumbling on them. He had several but the one I remember is something along the lines of "If winning statewide in Minnesota was a ticket to the White House, what happened to President Walter Mondale?" I mostly remember it because I had a similar thought earlier in the day but instead of Mondale it was Jesse Ventura. Mine was actually funnier but I wouldn't have been able to deliver it as well under the pressure of the spotlight.