New College Football Championship Trophy Unveiled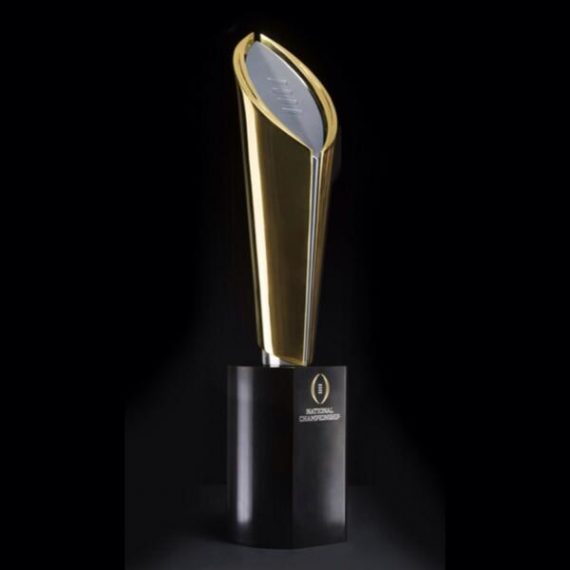 With the BCS officially dead as the means of determining the national College Football Champion, and a new playoff system set to debut with the season that starts later this year, it's time for a new trophy:
IRVING, Texas — College football now has a new championship trophy as it embarks on the start of a new era.

Six months before the sport's four-team playoff crowns its first national champion, the more than 2-foot-tall, 35-pound trophy, which features an ascending virtual football, was unveiled Monday here at the College Football Playoff Headquarters.

"It is a new era, and this physically represents the new era and really what is a piece of art," Bill Hancock, the College Football Playoff executive director, told USA TODAY Sports. "It will be the ultimate prize for thousands of college football players. It is a substantial piece of art."

Designed by Pentagram, the trophy features a focused football at the center of the base that rises to form an actual-size ball. The trophy and base are two separate pieces, so the trophy can be lifted up independently when it is awarded to the winner of the national championship game the night of Jan. 12 at AT&T Stadium in Arlington.

Hancock said he would save the first hoist of the trophy from its base for after the national championship game.

Handmade from 24-karat gold, bronze and stainless steel, the trophy is 26.5 inches tall. The base is formed from bronze with a heat-applied and hand-rubbed black patina finish, and is 12 inches high, weighting 30 pounds. The total weight of the trophy and base is approximately 65 pounds.

Hancock said as many as four-dozen trophy designs were considered.
There's been some criticism online about the trophy's stark design, but at the very least we won't have to worry about someone accidentally shattering it into a million pieces.