New Jersey Voters Overwelmingly Support Same-Sex Marriage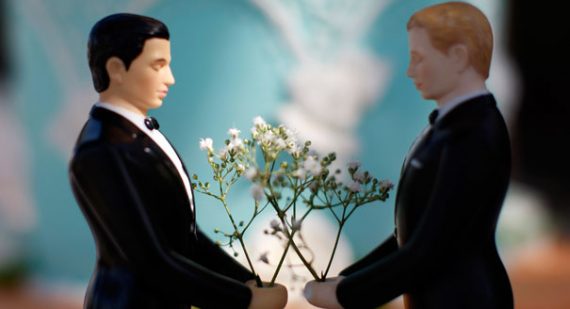 When he vetoed the bill that would have legalized same-sex marriage in February, Governor Chris Christie said that he supported a referendum on the issue so that the people of New Jersey could decide whether to extend marriage rights to gays and lesbians. According to a new poll, that referendum would stand a very good chance of passing were it to come before the voters of the Garden State
Support for legalizing same-sex marriage in New Jersey – where Gov. Chris Christie vetoed the controversial legislation last month – has reached a new high, according to a new poll Thursday.

Voters in the Garden State support legislation that would allow same-sex couples to get married 57 to 37 percent, a Quinnipiac University survey found. The issue is divided along partisan lines, with the majority of Democrats, 71 percent, saying they support the law, compared to just 36 percent of Republicans.

In a January poll, 52 percent of all New Jersey voters said they support the law, while 42 percent said they were opposed to it.

While support for the same-sex marriage bill is higher than ever, more voters in New Jersey said they believe Christie did the "right thing" by issuing a veto on the legislation by a slim margin – 48 percent said the governor made the right decision, while 47 percent said the move was wrong.

This issue was also politically divisive – 74 percent of Republicans said they approved of Christie's controversial decision, while 66 percent of Democrats said the governor had made the wrong move.

Christie said the issue of same-sex marriage should be decided by the people of his state. In the Quinnipiac survey, 67 percent said a statewide referendum on the issue in November is a good idea.
The crosstabs on the same-sex marriage question are very interesting:
Of political groups, only Republicans tend to oppose the idea of same-sex marriage (55% oppose, 26% support). All other groups support it strong. Democrats support same sex marriage by a 71% to 22% margin, Independents support it by a 59% to 35% margin.
Women (61% to 32%) support same-sex marriage more than Men (51% to 44%)
Catholics support same sex marriage by a narrow margin (51% to 43%) while Protestants oppose it by a narrow margin (42% to 50%)
People aged 65 or older tend to oppose same sex marriage (40% to 51%), all other age group support it, with 18-49 year olds supporting it by a 67% to 20% margin
Much like the poll I noted yesterday from California, this is yet another sign of how much things have changed over the past two decades. What's unclear for New Jersey is whether there will actually be referendum on the ballot.
Photo via Reuters