New York Times Style Change?
A subtle but odd change in house style for the Paper of Record
As regular readers may have noted, I tend to cite the on-page headlines of stories that I link. This morning, I've noted something peculiar about headlines from the New York Times: an ending period.
Here's the front page of their website: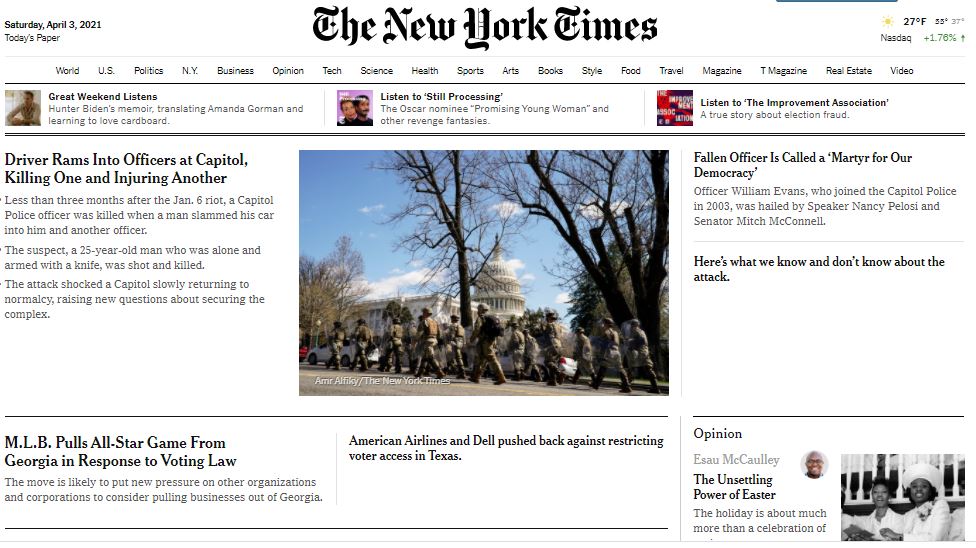 There, we see inconsistency. Some headlines have a period, while others are period-free. (If one scrolls down, some end in a question mark, which is more typical.) There seems no rhyme or reason. "The Unsettling Power of Easter" rightly has no period since it's not a complete sentence. Then again, "M.L.B. Pulls All-Star Game From Georgia in Response to Voting Law" is a complete sentence and similarly lacks a period. Ditto "Fallen Officer is Called a 'Martyr for Democracy.' And, most weirdly "Here's what we know and don't know about the attack" isn't really a complete sentence but not only has a period but is written in sentence case rather than title case. The only explanation I can conjure is that most of the ones that don't end in a period are followed by a subhed that does have a period.
This likely interests no one but me but I find the change, for which I can find no posted explanation, odd.