Newspaper Endorsements At Odds with Polls
The leading papers in Iowa and New Hampshire are backing Klobuchar and Warren, respectively.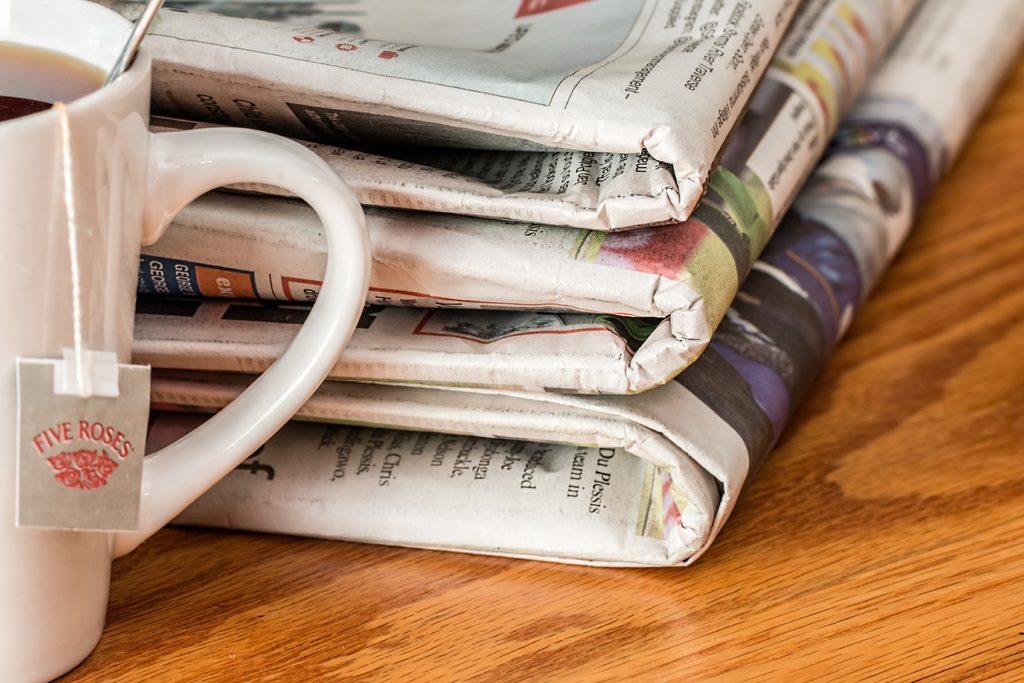 The latest polls continue to show Joe Biden and Bernie Sanders pulling away from the crowded Democratic field. The latest ABC-WaPo survey, for example, has Biden at 32%, Sanders at 23%, followed distantly by Elizabeth Warren at 12%, Mike Blooomberg at 8%, Andrew Yang at 7%, Pete Buttigieg at 5%, and Amy Klobuchar at 3% among Democrats nationally.
But we're about to see people actually voting, albeit in a bizarre an farcical fashion that gives outsized influence to tiny, demographically unrepresentative, Iowa and New Hampshire. And, thus, we must pay outsized attention to the preferences of a couple of families who own newspapers in tiny towns.
The Des Moines Register has come out in favor of Warren ( "Endorsement: Elizabeth Warren will push an unequal America in the right direction")
Each of the remaining candidates campaigning across Iowa ahead of the caucuses could make a fine president. Each would be more inclusive and thoughtful than the current occupant of the White House. Each would treat truth as something that matters. Each would conduct foreign policy by coalition building rather than by whim and tweet.

The outstanding caliber of Democratic candidates makes it difficult to choose just one.

But ultimately Iowa caucusgoers need to do that. Who would make the best president at this point in the country's history? At a time when the economic deck has become so stacked against working Americans that the gap between rich and poor is the highest in more than 50 years? At a time when a generation of war has stressed military families and sapped the treasury?

The senior U.S. senator from Massachusetts is not the radical some perceive her to be. She was a registered Republican until 1996. She is a capitalist. "I love what markets can do," she said. "They are what make us rich, they are what create opportunity."

But she wants fair markets, with rules and accountability. She wants a government that works for people, not one corrupted by cash.

A former Harvard professor and expert in bankruptcy law, she helped set up the Consumer Financial Protection Bureau. The agency was specifically designed to prevent a repeat of the banking crisis and look out for little guys swindled by lenders and credit card companies.

She believes government should actively work to prevent and respond to abusive practices that jeopardize individuals and the country's economy.

Warren doesn't measure the health of the economy by looking at the stock market or an unemployment rate that doesn't count the longtime jobless or chronically underemployed. She measures it by how working families are doing. Many are not doing well, and Warren seeks major reforms to help them.

This board could not endorse the wholesale overhaul of corporate governance or cumulative levels of taxation she proposes. While the board has long supported single-payer health insurance, it believes a gradual transition is the more realistic approach. But Warren is pushing in the right direction.
There's quite a lot more but one gets the idea. Really, it boils down to "her heart's in the right place."
The natural reaction to any of these endorsements—aside from wondering why we should care what the owner of a newspaper says—is Why not other candidates who share some of the same qualities? Unusually, the Register actually tries to answer that question in a separate piece titled "Endorsement: What intrigued us and what gave us pause about others in the field." It's thorough, including even candidates I forgot were still running.
As to the even-more-experienced Biden, they lament, "His ideas lean more toward incremental improvements on the Obama years than the bold agenda the times demand."
As to Sanders, who's vastly out-polling Warren and shares a similar agenda, "He has routinely opposed trade agreements supported by Iowa's farmers and manufacturers. His rhetoric is so anti-interventionist that one wonders whether he would recognize times when military action is justified as a deterrent."
More intriguing perhaps is the New Hampshire Union Leader, who comes out in favor of the last-place candidate in the above-cited WaPo poll. ("Union Leader primary endorsement: Amy Klobuchar")
If you are an independent or Democrat, however, yours may be one of the most consequential votes ever cast in a New Hampshire Primary. If there is to be any realistic challenge to Trump in November, the Democratic nominee needs to have a proven and substantial record of accomplishment across party lines, an ability to unite rather than divide, and the strength and stamina to go toe-to-toe with the Tweeter-in-Chief.

That would be U.S. Sen. Amy Klobuchar of Minnesota. She is sharp and witty, with a commanding understanding of both history and the inner workings of Capitol Hill.

Trump doesn't want to face her. He is hoping for Bernie, Biden, Buttigieg or Warren. Each has weaknesses, whether of age, inexperience or a far-left agenda that thrills some liberals but is ripe for exploitation in a mainstream general election.

Sen. Klobuchar has none of those weaknesses and the incumbent needs to be presented a challenger who is not easily dismissed. Her work in Washington has led to the passage of an impressive number of substantive bills, even as the partisan divide has deepened. In 2018 she won reelection, taking back dozens of conservative-leaning counties that had gone for Trump two years earlier, when Hillary Clinton barely beat him in Minnesota. In fact, Sen. Klobuchar, a former prosecutor, has never lost an election.
The "never lost an election" trope is silly, given that she (and Warren, who can make the same claim) faced radically narrower constituencies in her previous contests. But the rest of the argument is a solid one. She's neither geriatric nor a kid. She's a moderate. And she does indeed have a record of legislative accomplishment.
Now, I happen to count the lack of executive experience as a major weakness. I'd prefer a former Vice President or governor, all things being equal. But Klobuchar is more tested than Barack Obama was in 2008.
Still, the fact that she's trailing the likes of Buttigieg and even Yang says something. For whatever reason, despite being in all of the debates, she has failed to get any traction with the Democratic nominating electorate. I suppose it's possible that she'll get traction in Iowa and New Hampshire. But it seems quite unlikely.