Newt Gingrich Shows All The Signs Of Running In 2012
Newt Gingrich for President ? You might want to think twice about that, Republicans.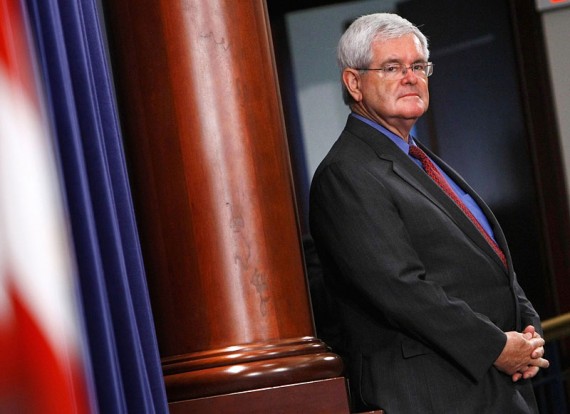 Four years ago Newt Gingrich toyed with the idea of running for President, but ultimately declined to run causing many Republicans to suspect that his flirtation with the idea of running had more to do with promoting the Gingrich brand than anything else. This time around, though, the former House Speaker seems entirely serious:
It has all the makings of Newt Gingrich's favorite kind of election: A cranky electorate. A Democratic president on the ropes. Republicans poised to take one or both houses of Congress.In fact, 2010 feels a lot like 1994 – especially if you happened to be sitting with the rapt conservatives in the ballroom of the Crowne Plaza Hotel here on Tuesday, when the former House speaker railed against Democrats as the "party of food stamps" and President Obama as an elitist with no "idea what American exceptionalism is."

What's different, of course, is that Gingrich is no longer leading his party's assault on the ramparts – he isn't even on a ballot. And yet, just like in the old days, Gingrich is pretty much everywhere you look: raising millions for the Republican Party, stumping for candidates in 30 states, hurling verbal hand grenades on Fox News and Twitter.

In other words, Newt Gingrich looks an awful lot like a man who is running for president.

The former speaker, who flirted with the idea in the past, is less coy about it this time. Gingrich says he won't make an official announcement until early next year. But he notes that he is already "transitioning" his four businesses so that they don't become political impediments.

The remaining question, Gingrich said in an interview, is "whether or not it is practical, which I increasingly think it is."

Gingrich acknowledged that he wouldn't be the GOP establishment's pick – or an immediate front-runner. He also said he knows the race for the nomination would be a steep climb "when you have someone as well financed as [former Massachusetts governor Mitt] Romney would be."

But if Gingrich could pull this one off, it would be the greatest political resurrection since Richard Nixon – a name that comes up often when you talk to Gingrich's longtime friends and advisers.
Now, personally I wouldn't want to be associated publicly with Richard Nixon, even 36 years after he was forced to resign in disgrace after participating in a cover-up of wrong doing in his Administration, but I suppose on some level Nixon does stand as evidence against the proposition that there are no second acts in American politics.
At the very least, it's obvious that Gingrich is at least thinking about tossing his hat in the ring more seriously than he was four years ago. He's closely allied himself with the Tea Party movement, for example, and was at the forefront of the group of people denouncing the so-called "Ground Zero Mosque." The question is whether conservatives trust him:
One worry for Republicans would be his penchant for creating controversy. Comments that fire up the GOP base might not go over as well in front of, say, the Ottumwa Rotary Club.

Though advisers say he has become more disciplined with age and reflection, Gingrich still sets off the occasional firestorm, such as when he wrote on Twitter that Supreme Court nominee Sonia Sotomayor is a racist, or more recently, when he commented that Obama has a "Kenyan, anti-colonial" worldview.

Gingrich later said he should not have described Sotomayor as a racist. He based his remark about Obama on a controversial Forbes magazine article by conservative author Dinesh D'Souza analyzing the president's autobiography. In the interview, the former speaker acknowledged he has not actually read Obama's book "Dreams From My Father," upon which D'Souza's article claimed to be based.

Then there is the question of whether the religious conservatives who are an important part of the GOP base could embrace an admitted adulterer who has been married three times.

"It's a very fair question," said Jim Garlow, an influential evangelical pastor who was a leader on California's anti-gay-marriage initiative and now heads Renewing American Leadership.

Evangelicals are impressed with Gingrich's intellect, but skeptical of his character, Garlow said. But he noted that he has been struck by how willing Gingrich is to use the word "sin" in describing his past and added: "Even though the evangelical vote is going to expect a high standard, it's very quick to [offer] forgiveness, if they sense authenticity."
In that regard, former House Majority Leader
Dick Armey's interview in a Christian magazine is likely to raise some eyebrows:
Olasky: In 1998 during the Monica Lewinsky scandal, a reporter asked you what you would do if you were in President Clinton's position. You're said to have replied, "I would not have gotten a chance to resign. I would be lying in a pool of my own blood with Mrs. Armey standing over me saying, how do I reload this thing?" True?

Armey: True. By the way, she outshoots me with a handgun and knows how to reload it.

Olasky: Who did know?

Armey: When I heard that Newt had been carrying on an affair for all the years that we'd worked together, I went home and said, "Honey, I had no idea about this." She said, "Of course not. You're the last person in town Newt would have wanted to know about this." Newt was scared of me. What I discovered: Clinton found out about the Gingrich affair and called Newt over to the White House for a private meeting between the two of them. Clinton said, "You and I are alike." Which meant, shut up about Monica or I'll start telling your story.

Olasky: Was it blackmail or bonding?

Armey: Newt and Clinton actually developed sort of a bond over it. They had many meetings that we didn't know about where they'd drink wine and smoke cigars and talk about their girlfriends. It's fascinating; why would you confess to your mortal enemy what you wouldn't tell your closest friends?

Olasky: Why did he?

Armey: Politicians are fascinating. If you ever want to do developmental psychology, use them. They are much, much, much more skillful at developing rationalizations than developing rational thought.
Honestly, is that the kind of person we want in the White House ? Well, we'll probably get it anyway, but America would do well to take a pass on Gingrich 2012