The Inevitable Newt Gingrich Meltdown Begins
Last night, we saw the beginning of the end of the Newt Gingrich campaign whether he realizes it or not.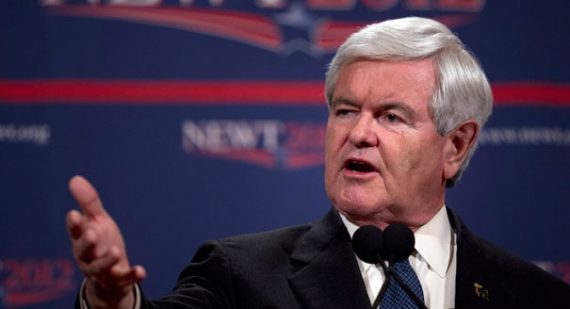 As James Joyner noted this morning, Newt Gingirch's response to Mitt Romney's inevitable victory in Nevada last night was a classic example of the Bad Newt that anyone who's been following American politics since the mid-90s is already very familiar with:
Newt Gingrich vowed again to stay in the Republican presidential contest until the convention in August and said he will spend the next several months engaged in a bitter battle with Mitt Romney.

Speaking to the press after the Nevada caucuses Saturday, Mr. Gingrich repeatedly hammered Mr. Romney as a pro-abortion, pro-gun control, pro-taxes candidate who has the backing of the Republican establishment.

"I am a candidate for president of the United States," he said. "I will be a candidate for president of the United States. I will go to Tampa."

Mr. Romney ignored Mr. Gingrich in his victory speech tonight. But Mr. Gingrich seemed insistent on making sure that his rival cannot simply look the other way.

He accused Mr. Romney of purposely leaking false information about Mr. Gingrich's plans to drop out of the presidential race, calling that Mr. Romney's "greatest fantasy" in the race.

And Mr. Gingrich said that recent meetings he held with donors were meant to map out a plan to continue getting his message out despite Mr. Romney's superior fund-raising.

"The entire establishment will be against us," he predicted. But he said that by appearing on national television and doing interviews in newspapers, he will spread his agenda.
Perhaps the most bizarre part of Gingrich's appearance last night, which came after MSNBC had already ended its coverage for the night and switched back to Lockdown, was when he accused the Romney campaign of leaking rumors that he was planning on dropping out because of his disappointing finishes in Florida and Nevada. As I noted yesterday afternoon, though, that speculation started among some political reporters when Gingrich's campaign itself announced that they would not be holding the traditional Election Night gathering of supporters and instead hold a late night press conference. It was only logical that reporters would ask why the campaign would do something like this. In retrospect, it seemed like a bad decision all around. Mitt Romney had one of the most energetic post-election rallies of the race so far. Ron Paul and Rick Santorum both got 20 minutes of nearly interrupted time on CNN and other cable networks for the stump speeches they gave in Minnesota and Colorado respectively. What did Newt Gingrich get? Well, NBC Campaign Embed reporter Alexandra Moe tweeted a picture of the room where Gingrich's presser was taking place about ten minutes before it started. You make the call.
As Victor Davis Hanson noted early this morning, all Gingrich succeeded in doing was making a bad night worse:
But whether he knows it or not, Gingrich is becoming a caricature of petulance: no concession in Nevada, no call to Romney, no awareness that his inability to raise money at levels of a political rival or to match a competing campaign organization is not necessarily unfair. That's politics, and Gingrich knows it. I don't understand why he thinks now losing to Romney in 2012 is solely due to Romney's innate deviousness in a way McCain beating Romney in 2008 was not — given that Romney was about the same in both 2008 and 2012. Gingrich seems oblivious to the fact that McCain's style and history gave him advantages over Romney's money and hardball in ways Gingrich's own proven liabilities apparently do not.

Gingrich should carefully play a tape of his post-Nevada caucus performance, and then he would quickly grasp that it was little more than a litany of excuses, whining, and accusations — characterized by stream-of-conscious confessionals and rambling repetitions. And, I think, will hurt him more than anything yet in the campaign.
Gingrich's former colleague and sometime rival Dick Armey, who has mostly remained silent with regard to the Presidential race, broke his silence today and said that he thought it was pretty much over for the former Speaker:
Freedom Works chairman and former Rep. Dick Armey (R-Texas) blasted Newt Gingrich for his continued tough attacks on Mitt Romney saying Gingrich was carrying out a vendetta against the Republican frontrunner.

Armey said that Gingrich's criticisms of Romney were not helpful for either the GOP in November or Gingrich's own campaign during an interview on CNN's State of the Union on Sunday. "I feel bad for him. I think he's digressed into a state of taking a second-rate campaign and turning it into a first-rate vendetta," said Armey

"He's putting himself out of the game, because he can't get over his obsession over his own hurt feelings over the campaign in Iowa," Armey added. "He needs to get beyond that and get to the nation's people's business if he expects to have any chance whatsoever."

(…)

"I thought that last night was really said for him," said Armey about Gingrich's Saturday speech. "Quite frankly again so much of Newt's whole life is overstated, he overstates the case in such a hyperbolic fashion, it just looks vindictive."
I doubt that anyone is really surprised that things have taken this turn with Gingrich, least of all a guy like Armey who worked close to him for years and saw everything up close. After all, this is the same guy who got into a budget fight with Bill Clinton in 1995 partly because he was pissed off over being asked to sit in the back of Air Force One on the way back from Yitzhak Rabin's funeral. Is anyone really all that surprised that he's acting out like this now? Personally, I've been waiting for the Gingrich meltdown ever since he started rising in the polls back in December. Former Congressman Joe Scarbough but it best on his MSNBC show one morning that month when he said that Gingrich is one of those people who, as soon as they start making it to the top, inevitably find a way to destroy themselves. Now, with two major losses in a row and the prospective of two more chances to come in third place on Tuesday, combined with fundraising issues and Mitt Romney and Rick Santorum hitting him from both sides, it's not at all surprised to see Gingrich returning to old form. Perhaps the only good news for Gingrich at this point is that here aren't any debates scheduled until February 22nd because right now he'd be just as likely to embarrass himself even more as he would to redeem whatever is left of his campaign.
I'm not sure how much longer Gingrich will continue this charade. Probably has long as Shelly Adelson (or is that Mrs. Adelson) lets him. If it goes all the way to Texas on April 3rd, though, we're in for yet more of this kind of nonsense, because it's quite clear that this is how Gingrich reacts to losing. Thanks to an aggressive campaign in Iowa, and again in Florida, and last night's victory in Nevada, Mitt Romney is now living rent free inside Newt Gingrich's head, and it's causing him to self-destruct right before our eyes. We're already seeing signs in Colorado and Minnesota that conservatives are getting turned off by Newt, especially when compared to Rick Santorum who, whatever you might say about him at least comes across as a likeable human being. If Gingrich continues with this meltdown, then there might not be much left of him by the time the campaign gets to Texas.