Romney's Inevitable And Gingrich Don't Care
Romney continues to roll up decisive victories while Gingrich gets increasingly bitter and nasty.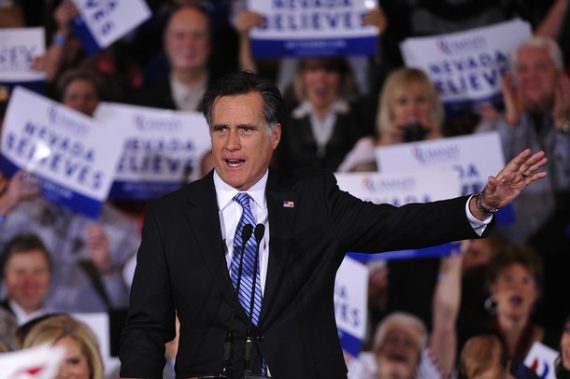 Mitt Romney's 25 point victory in the Nevada caucuses does little to change the delegate count but a lot to reinforce the notion that he's the inevitable Republican nominee.
Romney won 47.6% of the vote, to Newt Gingrich's 22.7%, Ron Paul's 18.6%, and Rick Santorum's 11.1%. It becomes increasingly hard to justify considering Santorum a legitimate candidate, as has strong showing in Iowa looks more and more like an anomaly. And, frankly, few ever took Paul seriously; he's a novelty candidate who seems satisfied to finish third in every state.
Naturally, Romney is trying to quickly get out of the mudslinging of a bitter primary fight and switch to talking about his fall opponent, President Obama.
Addressing cheering supporters in Las Vegas, Romney largely ignored his opponents and focused on President Obama's handling of the economy. "America needs a president who can fix the economy because he understands the economy," he said. "I do and I will. This president began his presidency by apologizing for America. He should now be apologizing to America."
Gingrich and company, however, don't seem so interested in that.
As Romney celebrated his third victory in five contests, his rivals vowed to continue fighting. Gingrich spoke to reporters, forgoing the traditional post-election rally. "We will continue the campaign all the way to Tampa," he said, adding, "I'm not going to withdraw." Then, in an extraordinary performance, Gingrich spent much of the rest of his news conference denouncing Romney in harsh and personal terms, signaling a rough ride ahead for the party.

Santorum, meanwhile, said Saturday night that he would make the strongest nominee against Obama. "This race is a long, long way from being over," he told CNN, adding, "Eventually this race will come to us."
My strong guess is that Santorum will quite fairly soon. He's a party man and doesn't have the financial wherewithal to mount a national campaign now that the states are coming up quickly and in bunches. He failed to capitalize on his Iowa momentum and there's no obvious way for him to regain it. Gingrich, meanwhile, continues to pin his hopes on getting down to a two-man race and rebounding in his native South.
But the calendar provides those chasing Romney with few opportunities for victory in coming weeks. Gingrich and Santorum each would like to take on Romney without the other draining off conservative votes, but neither has shown any interest in bowing to the other. Paul demonstrated again in Nevada that he can do well in caucus states with limited turnout but has yet to show real strength in a big state.

The first weeks of the Republican race have played out at the pace of a sprint. But the primary-caucus calendar slows to a walk in February, before resuming with a flurry of contests March 6, this year's Super Tuesday.

Romney is favored in Colorado on Tuesday, whereas Minnesota is less predictable. Maine caucuses began Saturday but will not be completed for a week. Both Arizona and Michigan are regarded as Romney territory at this point. Gingrich's first real opportunities won't arrive until Super Tuesday.
Really, though, Gingrich seems more motivated by ego and pique than the delegate count.
After a likely second-place finish in the Nevada caucuses Saturday, former House speaker Newt Gingrich sought to dispel the idea that he might drop out of the Republican presidential nomination any time soon, promising a hotel ballroom filled with reporters that he will fight on to the convention in the summer.

Gingrich launched into one of his sharpest attacks ever against GOP presidential candidates front-runner Mitt Romney, signaling that he will continue to hammer on his leading opponent as the nomination moves on to Colorado, Minnesota and beyond — "in every state in the country," he said. He called Romney "dishonest" and a "Massachusetts moderate," proclaiming that Republicans eventually will turn against a candidate who, he said, has supported abortion rights, gun control and higher taxes — and then not told the truth about it.

"If you can't tell the truth as a candidate for president, how can the country possibly expect you to lead as president?" Gingrich said, speaking specifically of Romney's performance in the most recent debate, in Jacksonville on Jan. 26. "I frankly was stunned. I make no bones about it."

Gingrich said his plan is to amass about as many convention delegates as Romney by the time Texas votes on April 3. "By that point," he said, "we can win the nomination."
By that point, the contempt and white hot hate that most people who know Gingrich well feel will be shared by a majority of Republicans. But this is Gingrich's last stand and he appears willing to go down shooting.