Nick Kristof and the Perils of Parachute Journalism
A well-meaning journalist brushes off critiques by experts in the field. He owes it to his readers to keep learning.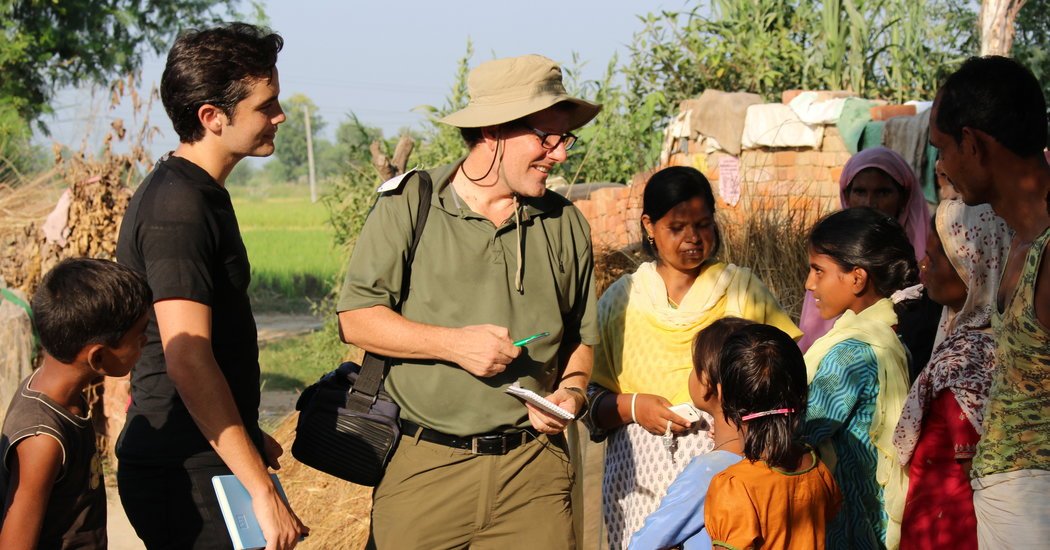 Nicholas Kristof's latest column for the NYT has the subhed, "Perhaps the most devastating blow anyone can suffer is to lose a child. In the Central African Republic it happens all the time. Welcome to the world's most neglected crisis." It starts, as these things do, with an anecdote:
Perhaps the most devastating blow any human can suffer is to lose a child, and Julienne Moada has already lost three. A Pygmy living on the edge of the jungle in what may be the world's most wretched country, she has borne five children and now cradles little Bruno, a fourth in peril, with fierce devotion and desperation.

Bruno, severely ill with malaria, barely responded to his mother's caresses. Here in a country torn apart by civil war and ethnic cleansing for 14 years, where government is mostly just a rumor, kids die routinely because of the chaos and dysfunction. Still, Moada sat beside her hut made of leaves and dared to be optimistic. "I think he's a little better," she said hopefully.

I'm on my annual win-a-trip journey, in which I take a university student with me on a reporting trip, and this year the winner is Tyler Pager of Northwestern and Oxford Universities. We came to Central African Republic, arguably the capital of human misery, because it constitutes one of the most neglected crises in the world.

Central African Republic ranks No. 1 as the hungriest country, according to the latest Global Hunger Index. A quarter of the population has been forced to flee fighting, and the Red Cross warned that humanitarian conditions were "rapidly deteriorating." Yet the United Nations says that its humanitarian plan for CAR is only 2 percent funded.

This country also embodies a larger truth: For thousands of years, humanity's greatest challenge was poverty and disease, but increasingly it may be conflict.
You can probably predict the rest.
Sarah Knuckey, co-director of the Human Rights Institute at Columbia Law School, offers some corrective pushback via her Twitter feed.
A few thoughts on this @NickKristof piece on the Central African Republic 1/n https://t.co/DkdYcsdVGh

— Sarah Knuckey (@SarahKnuckey) March 25, 2018
For whatever reason, while she properly threaded her tweets, they're not reproducing correctly here so I'm cutting-and-pasting the words of the 20 tweets:
Our team happened to be on the same flight as @NickKristof leaving the CAR one week ago

When we saw him at the airport, we all said: shit, the NYT almost never covers CAR and now Kristof is going to write some shallow, reckless "dark continent" article

Some of our team attempted to ward this off — expecting Kristof to write about "miserable" victims, they talked to him about some of the many Central African activists who work to promote peace, & provide education & other basic rights & needs

But the published Kristof piece is true to form

He actually uses the line "capital of human misery" and refers to the whole country as "wretched"

The "experts" he quotes are foreigners

Central Africans are "victims"

The solutions he offers are largely top-down, externally imposed

When he mentions the work of civil society, he focuses on foreign NGOs

There is little recognition of the agency and work of the countless Central Africans who run NGOs, provide healthcare, work for peace, prosecute crimes, risk their lives to protect others

He could have mentioned groups like AFJC – an NGO of Central African women lawyers who support women seeking accountability for sexual abuse

He could have discussed Central African humanitarian NGOs like JUPEDEC, which works around the country doing civilian protection & humanitarian work, helping communities respond to the conflict

He could have talked about the efforts led by Central African faith leaders to promote social cohesion

He could have discussed Central African human rights groups like RONGDH, whose members document violations and promote accountability for abuse

He could have discussed Central African activists like Moussa Abdoulaye, who started a school for marginalized youth in his neighborhood. 500+ kids are now receiving an education because of his work

He tells his readers that death results from "chaos and dysfunction," and fails to grapple with the complexities of the conflict, the harms of colonization, the systems & structures leading to poverty

Amazingly, peacekeepers are @nickkristof's unequivocal heroes, and he makes no mention of the killings and rapes they've committed, and how distrusted they are by many CAR residents

Yes, the CAR is one of the poorest countries in the world, civilians are regularly attacked, and suffering is immense & mostly ignored outside the country

The reality of those harms can be brought to the attention of NYT readers without painting the entire country as "wretched," the residents all miserable victims

A better article would highlight the many harms and challenges faced by Central Africans, elevate the *many* local efforts to counter the war & humanitarian crisis, and amplify the reforms identified as critical by local leaders
Perhaps because she included his Twitter handle in several of the tweets or because the thread had been retweeted dozens of times*, Kristof responded a couple hours later:
Thanks for your critique, which I read with interest. I think it's well-meant, but I don't think you get journalism any more than I get law. I do encourage you & your students to write op-eds, make videos, start a blog on Columbia's website: We def need more CAR info. Go for it.

— Nicholas Kristof (@NickKristof) March 25, 2018
That, as Erin Simpson and others noted, was hardly a useful rejoinder:
Wow. How dismissive and small-minded can you be? https://t.co/DuuLuoHpjL

— EM Simpson (@charlie_simpson) March 26, 2018
Kristof is a great journalist. Along with his wife, he won the Pulitizer Prize in 1990 for deep reporting on the Tiananmen Square crisis. He won another in 2006 for his commentary on of the horrors of Darfur. He's been a finalist another five times and won numerous other awards.
He's a serious thinker. He's a Phi Beta Kappa graduate of Harvard and earned a law degree at Oxford as a Rhodes Scholar. He spent a year studying Arabic in Egypt.
Nor does anyone question his commitment to human rights or to Africa. In addition to his prize-winning Darfur coverage, he regularly shines a rather powerful spotlight on a continent that gets scant attention from the American press. According to his Wikipedia bio and apparently every introduction given of Kristof in the history of the universe, "Desmond Tutu of South Africa has described Kristof as an 'honorary African' for shining a spotlight on neglected conflicts." (That line appears on dozens of pages of Google; I gave up before finding the original source explaining what prompted Tutu to say that.)
Let's just say his street cred on this issue is high.
Knuckey makes a serious point: Kristof starts his fact-finding trips with a specific agenda and worldview, which his trips confirm, allowing him to "shine a spotlight" on the story he went to find. For experts in the field, who don't simply parachute into a situation for a few days at a time and write 800-word columns, this approach is frustrating. Kristof (and his colleague Tom Friedman) are often the target of scholars and activists because their columns are surface deep and often mired in approaches long since dismissed by the experts.
Kristof's response to Knuckey was high-handed and unhelpful. It would have been perfectly reasonable to note that, in an 800-word column, one simply can't cover every angle of a story. Further, he's not writing for the people of the Central African Republic but rather for an American elite he's seeking to influence. He wants his readership to feel for the plight of the world's poor and to implore their government to do something about it. In a country where America First was the central theme of the winning presidential campaign and most Americans think we spend far too much on foreign aid, that's an understandable and even laudable goal.
The problem with brushing off Knuckey's critique, though, is that she's trying to signal that his preferred policy option—more money from the American government distributed either to the CAR government or to Western IGOs—has been demonstrated time and again to be incredibly ineffective. Further, she's right that, however well-intentioned, his laser-focus on the horribleness of the countries he spotlights robs the people there of agency. While Kristof is very much a progressive, his approach is implicitly a modern-day White Man's Burden: we enlightened Americans must step in to save the noble savages from their wretchedness.
Frankly, that's an easy trap to fall into. I've studied, written about, or taught international politics for over three decades now but Africa only comes onto my radar screen when crises hit, so starvation, civil war, piracy, and disease are the main lenses through which I view the continent. It's natural to fit new stories into comfortable molds: South Africa, Zimbabwe, Somalia, Rwanda, Sudan.
In fairness to Kristof, he does occasionally draw attention to progress in African countries; but, certainly, tragedy is his predominant focus. Because Kristof is a decent human being, his coverage of Darfur affected him deeply. He's ashamed his country didn't do more to prevent massive human suffering and wants to use his column to urge action. But he owes it to his readers to continue to learn from Knuckey and others who are actually in that fight on a daily basis.
_____________
*There have been 432 retweets of the initial posting at this point, but presumably a lot of them came after Kristof's response drew further attention to them.