Nick Kristof Ineligible to Run for Oregon Governor
Apparently, New York and Oregon are not the same place.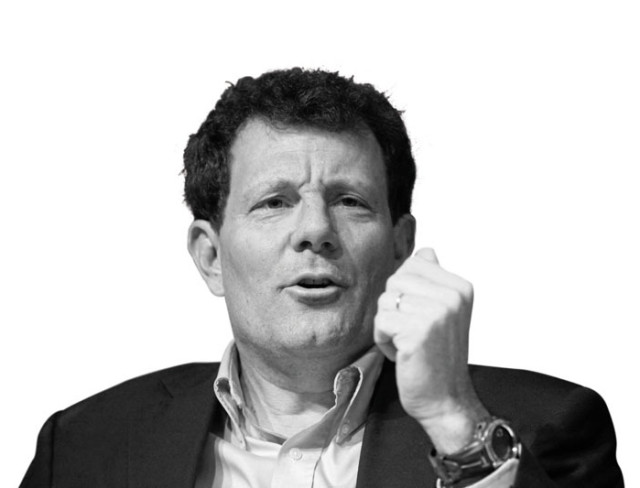 In October 2021, Nick Kristof wrote his last column for the New York Times, where he had worked for 37 years, explaining that he had a higher calling.
I am giving up a job I love to run for governor of Oregon.

It's fair to question my judgment. When my colleague William Safire was asked if he would give up his Times column to be secretary of state, he replied, "Why take a step down?"

[…]

I've written regularly about the travails of my beloved hometown, Yamhill, Ore., which has struggled with the loss of good working-class jobs and the arrival of meth. Every day I rode to Yamhill Grade School and then Yamhill-Carlton High School on the No. 6 bus. Yet today more than one-quarter of my pals on my old bus are dead from drugs, alcohol and suicide — deaths of despair.

The political system failed them. The educational system failed them. The health system failed them. And I failed them. I was the kid on the bus who won scholarships, got the great education — and then went off to cover genocides half a world away.

While I'm proud of the attention I gave to global atrocities, it sickened me to return from humanitarian crises abroad and find one at home. Every two weeks, we lose more Americans from drugs, alcohol and suicide than in 20 years of war in Iraq and Afghanistan — and that's a pandemic that the media hasn't adequately covered and our leaders haven't adequately addressed.

As I was chewing on all this, the Covid pandemic made suffering worse. One friend who had been off drugs relapsed early in the pandemic, became homeless and overdosed 17 times over the next year. I'm terrified for her and for her child.

I love journalism, but I also love my home state. I keep thinking of Theodore Roosevelt's dictum: "It is not the critic who counts, not the man who points out how the strong man stumbles," he said. "The credit belongs to the man who is actually in the arena."

I'm bucking the journalistic impulse to stay on the sidelines because my heart aches at what classmates have endured and it feels like the right moment to move from covering problems to trying to fix them.

I hope to convince some of you that public service in government can be a path to show responsibility for communities we love, for a country that can do better. Even if that means leaving a job I love.
Even though he lived in New York far longer than he lived in Oregon (so far as I can tell, he left after high school for Harvard, went on to Oxford as a Rhodes Scholar, and worked for the Times until stepping down) it's noble enough to care about the community where his old friends lived. And, after 37 years, it may simply have been time for something new.
Alas, he seems to have been campaigning for more than a year despite being ineligible to run, on account of not actually living in Oregon.
The Oregonian ("Democratic hopeful Nick Kristof doesn't qualify to run for governor, Secretary of State Shemia Fagan says"):
Democratic gubernatorial hopeful Nick Kristof does not meet Oregon's residency requirement to qualify to run for governor, Secretary of State Shemia Fagan announced Thursday morning.

Kristof grew up in rural Oregon, has owned property in the state for decades and returned to Oregon nearly every summer while working as a New York Times columnist in New York and abroad. He attested that he's been a resident of Oregon long enough to run for its highest office.

In ruling he has not, elections officials in Fagan's office focused on Kristof's record of voting in New York state as recently as the 2020 general election.But they said their case was bolstered by his decision to maintain his New York drivers license through December 2020 and to continue paying New York income taxes well past the November 2019 deadline for a 2022 gubernatorial candidate to establish residency in Oregon.

"When determining residency for elections purposes, the place where a person votes is particularly powerful, because voting is the center of engaged citizenship," elections director Deborah Scroggin and compliance specialist Lydia Plukchi wrote in a letter to Kristof outlining their findings. "The fact that you voted in New York strongly indicates that you viewed it as the place where you intended to permanently return when you were away."

Scroggin and Plukchi noted that Kristof only registered to vote in Oregon on Dec. 28, 2020. Although Kristof paid income taxes in Oregon in 2019 and 2020, "You did not explain whether you filed Oregon income tax returns as a nonresident, a part-year resident, or a full-year resident," Scroggin and Plukchi wrote.

Kristof can appeal the secretary of state's decision to a circuit court and he said in a press conference Thursday afternoon that he plans to do so.

"We're going to continue campaigning for governor and we're going to win that, too," Kristof said.

Kristof called the elections officials' decision "troubling," suggested that politics were involved and said Oregonians who feel ignored by other politicians should get the chance to vote for him.

"As you all know, I come from outside the political establishment and I don't owe insiders anything," Kristof said. "They view my campaign as a threat."
Now, the notion that the Secretary of State of Oregon—or the Oregon political establishment—is scared of Kristof strikes me as rather implausible. Her letter cites Article V, Section 2 of the state constitution,
Qualifications of Governor. No person except a citizen of the United States, shall be eligible to the Office of Governor, nor shall any person be eligible to that office who shall not have attained the age of thirty years, and who shall not have been three years next preceding his election, a resident within this State. The minimum age requirement of this section does not apply to a person who succeeds to the office of Governor under section 8a of this Article. [Constitution of 1859; Amendment proposed by H.J.R. 52, 1973, and adopted by the people Nov. 5, 1974]
Her letter notes that the constitution doesn't actually define residency but applicable laws offer up a series of considerations to factor in. Her assessment that Kristof working, residing, and voting in New York was an indication that it was his primary residence strikes me as more than reasonable; indeed, it's rather obvious.
Kristof's counter is, well, silly:
Kristof and his team of lawyers had urged Fagan to heavily weigh his nearly lifelong ties to Oregon and his characterization of Oregon as "home" in multiple articles and books over the years.
Now, it's true that some states are laxer in this regard than others. Mitt Romney has been a governor of Massachusetts and a Senator from Utah. Hillary Clinton, who so far as I can tell had never previously lived in New York, successfully ran to be one of its Senators while living in the White House. And Dick Cheney was able to skirt the Constitutional requirement that Electors not be allowed to vote for a President and Vice President from the same state by claiming he was from Wyoming, which he had represented in Congress for many years, rather than Texas, where he was making his living at the time.
But, aside from having what amounted to a vacation home there, Kristof hadn't lived in Oregon since he was a child. That Oregon never left his heart is hardly proof of residency.
Kristof's better argument is that Oregon has traditionally played fast and loose on residency:
In an email to a lawyer for the secretary of state in December, one of Kristof's lawyers, Misha Isaak, pointed to a previous example of the Elections Division's "deferential treatment of candidates' views of their own residency," specifically Wes Cooley when he was a candidate for the state Senate in 1992. Cooley moved a trailer onto a property so he could qualify to run after district boundaries were redrawn and was allowed to run on that basis.

Current elections officials and Fagan took a different approach from former Democratic Secretary of State Phil Keisling, who in 1992 said that although the trailer might not be habitable and Cooley failed to take other steps that would establish residency such as obtaining an Oregon drivers license, "absent sufficient clear and convincing evidence, we must place substantial weight on Mr. Cooley's sworn affidavit that he intended for the trailer to be his residence."

"In evaluating whether a person meets Oregon residency requirements, we consider a 'residence' to be a place in which a person's habitation is fixed and to which, when they are absent, they intend to return," Scroggin and Plukchi wrote. "While a person's statement of their intent is significant, we also consider a person's prior acts."

In the only Oregon court case in which a candidate's eligibility to run centered on where he was registered to vote, the Marion County Court overturned then-Secretary of State Clay Myers' finding that the candidate — Bill Wyatt — was ineligible, lawyers Misha Isaak, Thomas R. Johnson and Jeremy Carp wrote in a letter to the secretary of state on Monday.
The Cooley case is interesting but one imagines that intrastate boundaries are less significant than state boundaries. There was no question that Cooley was an Oregonian. (He was also a fraudster, but that's a whole different issue.)
Now, I happen to think the whole thing rather silly. If Oregonians want to make a New York Times columnist their governor, they should have the right to do so. He has apparently raised a massive amount of money and, presumably, has solid name recognition.