Nigerian Government Hopeful That Kidnapped Schoolgirls Will Be Freed Next Week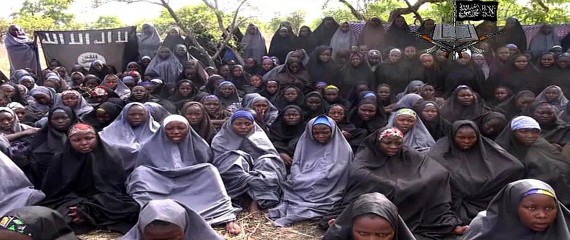 The Nigerian Government says it is hopeful that the schoolgirls who were kidnapped earlier this year by Boko Haram will be free early next week:
Campaigners calling for the release of over 200 Nigerian schoolgirls have said they are "cautiously optimistic" about a reported ceasefire between the government and al-Qaeda-linked militants that would include the release of the teenagers abducted by the group.

Two senior government sources said on Saturday that they hoped the release would be completed by Tuesday. On Friday, Air Chief Marshal Alex Badeh announced a deal with Boko Haram for a ceasefire that would enable the release of the girls, who have been held since April. But within hours, Boko Haram had already broken the ceasefire, killing at least nine people in two attacks – one on the village of Abadam on Friday night, and another attack on the village of Dzur on Saturday morning.

"I can confirm that FG (the federal government) is working hard to meet its own part of the agreement so that the release of the abductees can be effected either on Monday or latest Tuesday next week," one source told Reuters by telephone.

A second source said: "We have confidence in those we are negotiating with but we are still doing it with considerable caution."

The #BringBackOurGirls coalition in Abuja, the capital of Africa's largest economy, added that they were waiting for official confirmation from the Nigerian president.

A senior source at the presidency told The Telegraph that the transfer of the abducted schoolgirls – whose kidnap in April sparked global outrage – could take place "as early as next week".

The ceasefire announcement by Nigeria's chief of defence staff came days after protesters marched in Abuja to mark the six-month anniversary of the girls' abduction.

Armed gunmen from Boko Haram kidnapped nearly 300 teenagers from the Government Girls' Secondary School in Chibok in the northern Borno state.

The school had been closed for several weeks because of the security situation but the students had returned for exams.

Some managed to escape, but 219 are believed to remain in captivity.

But observers have expressed skepticism in the absence of a confirmed statement from Abubakar Shekau, the Islamist group's leader.

The announcement also came as President Goodluck Jonathan is expected to launch his bid for reelection in the February polls.
So, this could either be genuine progress toward freeing these girls, who seemed to be lost forever the longer that they were missing, or it could be an election ploy by a Nigerian President who has come under much domestic criticism for his handling of the Boko Haram threat in general and this matter specifically. Hopefully, it will be the former and these girls will be back home with their families before long.