Nigerian Islamist Terror Group Boko Haram Claims Responsibility For Kidnapping Of Schoolgirls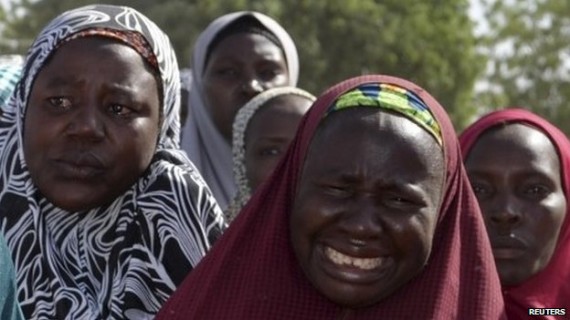 Last week, I noted that we had reached the two week point since the kidnapping of 234 Nigerian schoolgirls and there had been little or no reporting on the story in the American media. Since that point, I have been happy to see the story receiving coverage on CNN and other networks, as well as becoming the subject of an international social media campaign. Today, we received official confirmation from the group suspected of committing the attack that they are indeed responsible, and a chilling preview of the girls' possible future:
(Reuters) – The Islamist militant group Boko Haram claimed responsibility on Monday for the abduction of more than 200 schoolgirls in northeast Nigeria last month and threatened to "sell them on the market," the French news agency AFP reported, citing a video.

Boko Haram on April 14 stormed an all-girl secondary school in the village of Chibok, in Borno state, then packed the teenagers, who had been taking exams, onto trucks and disappeared into a remote area along the border with Cameroon.

The brazenness and sheer brutality of the school attack shocked Nigerians, who have been growing accustomed to hearing about atrocities in an increasingly bloody five-year-old Islamist insurgency in the north.

"I abducted your girls. I will sell them in the market, by Allah," Boko Haram leader Abubakar Shekau said in the video, according to AFP, which is normally the first media outlet to get hold of Shekau's videos.

It did not immediately give further details.

Boko Haram, now seen as the main security threat to Africa's leading energy producer, is growing bolder and extending its reach. The kidnapping occurred on the same day as a bomb blast, also blamed on Boko Haram, that killed 75 people on the edge of Abuja and marked the first attack on the capital in two years.

The militants, who say they are fighting to reinstate a mediaeval Islamic caliphate in northern Nigeria, repeated that bomb attack more than two weeks later in almost exactly the same spot, killing 19 people and wounding 34 in the suburb of Nyanya.
In addition to the international outcry, there has also been an uprising of popular opposition to what seems like a lack of response from the Nigerian government, which has often seemed like it doesn't know how to respond to the Boko Haram insurgency. It had been suspected for some time that the girls would be sold into what amounts to sexual slavery by their kidnappers and, sadly, this seems to confirm it. At this point, I suppose, all we can do is hope that they are somehow rescued.