What, If Anything, Should The United States Do About Those Nigerian Schoolgirls?
Not every tragedy can be resolved with a military response.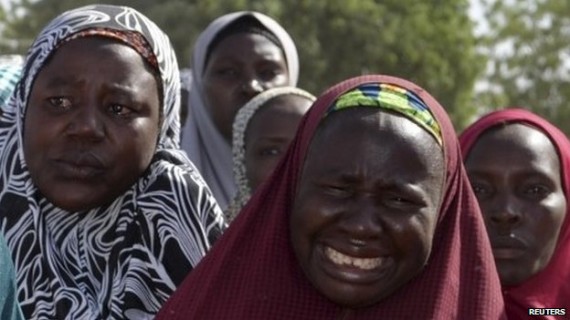 National Review's  Jim Gerghaty lays some snark down on President Obama over recent comments by President Obama about the missing schoolgirls in Nigeria being held by Boko Haram:
In between Democratic Party fundraisers in California last week, President Obamatold an audience, "Every day when I wake up and I think about young girls in Nigeria or children caught up in the conflict in Syria, when there are times in which I want to reach out and save those kids."

You might think the president who joked about his authority to kill the Jonas Brothers with a drone strike if they got too close to his daughters might have an actual ability to "reach out" and, if not save the abducted girls, rain a little hellfire upon their captors. After all, during Obama's presidency, he's authorized roughly 400 drone strikes that have killed an estimated 2,700 to 4,100 people.
Now, Geragthy obviously has a little tongue-in-cheek here with these comments, but he raises a point that I've seen made by others on the right in the week or so since the story of these missing girls has, finally, become national news story. Boiled down to its essentials, that argument appears to be that President Obama is once again displaying weakness to the world. To some degree, of course, much of this is little more than the same type of partisan reaction we've seen from the right pretty much since the beginning of the Obama Presidency. However, along with issues such as Benghazi and the rise of a more aggressive Russia, it also forms part of what it likely to be a large part of the GOP attack on the Obama Administration for the remainder of its term as well as Hillary Clinton's anticipated run for the White House. For example, last week it was revealed that, while she was Secretary of State, Hillary Clinton refused to designate Boko Haram, the group responsible for the abduction of these girls, as a terrorist organization. Now, it turns out there were some rather valid reasons why the State Department did this, including the desire not to elevate the group's importance inside Nigeria or in Africa as a whole, but that hasn't stopped Republicans from attacking her and the Obama Administration for it. Left unstated, of course, is the question of just how designating Boko Haram a terrorist organization could have prevented them from pulling off a kidnapping that isn't all that dissimilar from actions they've taken before, although on a smaller scale.
Overriding all of this criticism, though, is the unstated assumption that there is "something" that the United States could do to save these girls, if we only had a President with the intestinal fortitude to take the right action. As is usually the case when dealing with this type of criticism, though, it quickly becomes apparent that the solutions aren't quite as simple as they seem on the other end of a web browser.
Obviously, the drone strikes idea that Geragthy puts forward is entirely impractical under present circumstances. Assuming for the moment that we even had a good idea of where the leaders of Boko Haram were located, any attempt to strike at them would likely result in the immediate death of most or not all of the girls, or their removal to a location even deeper in the jungle than where ever it is they're currently located. Additionally, any such strike would likely result in civilian casualties and, much as it has in places such as Afghanistan and Pakistan, create more American enemies. Drones are excellent tools for surveillance or for taking out individual targets. They are, it seems to me, completely useless in a hostage situation such as this.
The larger problem of any rescue mission, though, is that we likely don't even know where these girls are. By all accounts, the Nigerian Army's control over the area where this happened is minimal at best, and Boko Haram exploits this by striking their targets and then retreating to safety in the vast forests in the area, and indeed even crossing over the border into nation's such as Cameroon where their presence is, apparently, tolerated to some degree. Some reports have indicated that the girls have most likely been broken up into small groups, which would further complicate any kind of rescue operation. In that type of scenario, unless we knew exactly where all or most of the girls were and grabbed them before their captors were able to communicate with others, the remaining girls would either be immediately killed or moved even further into the wilderness, or out of the country where retrieval would be next to impossible.  I don't think anyone would consider that a "successful" operation.
It's also worth noting that, in the end, this matter is an internal Nigerian one. While the government has asked the United States for assistance in this matter, and we've seen FBI and military officials to Lagos to assist in the search, it seems unlikely that they'd be all too thrilled with the idea of the U.S. military conducting operations on their soil. And, of course, it would be completely improper for the US to take any such action without the authorization of the nation's leadership. Given that, it strikes me that we ought to be careful about just how much we want to get involved in what is, in the end, a Nigerian civil war. Outside of rhetoric, Boko Haram and its allies have not made any real effort to strike against the United States or American interests in Nigeria, of which the oil industry is a large part. Were we to become more directly involved because of this tragedy, that could change, and that could lead us down a path of involvement against yet another terrorist group in yet another part of the world.
In the end, this may be one of those tragedies that has to be resolved via negotiation rather than military action. Indeed, Boko Haram hinted at that today in a video purporting to show at least a portion of the kidnapped schoolgirls in which it offered to swap the girls for men being held in Nigerian prisons. That may or may not be a sincere offer, but it seems worth exploring, and it may be the only way to get these girls home safely.