Two Weeks Later, 234 Nigerian Schoolgirls Are Still Missing. Where Is The American Media?
A prime example of the failure of the "infotainment" industry that American news media has turned into.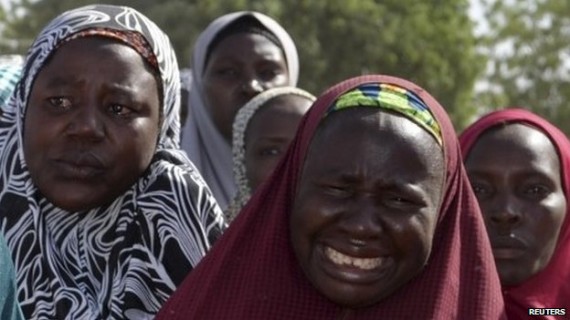 Two weeks ago, I noted that a large number of Nigerian schoolgirls had been kidnapped from their school, apparently by the Islamist rebel group that has been battling the government in that country for some time now. Two weeks later, those 234 schoolgirls are still missing and the Western media doesn't seem to be paying any attention at all:
Two weeks ago more than 230 Nigerian girls were kidnapped from their school by a local terrorist group, and as the search wears on, the Guardian reports, families are starting to lose hope.

As 

Smart News wrote earlier

,

 the perpetrators are 

assumed to be

 part of a group of militants that calls itself Boko Haram, a terrorist organization tied to Al Qaeda. The group's name translates to "western education is sin." Boko Haram has been on a campaign against schools around Nigeria, though the group's targets also include markets, churches, mosques and other public places.

It's been 14 days since the girls went missing and no progress has been made on tracking their whereabouts, either by the military or by groups of machete-weilding parents searching through the countryside. The search for the kidnapped girls also has been muddled by misinformation. In the immediate wake of the kidnapping, says BuzzFeed reporterJina Moore, the Nigerian military claimed to have found and freed the girls and captured one of the terrorists involved—a claim that was proven wrong and ultimately retracted. And, according to a report by Voice of America, the Boko Haram terrorists are threatening to kill the girls if the search operations aren't called off.
Except for a few incidental mentions in between coverage of a missing plane that is obviously somewhere at the bottom of the Indian Ocean, a crazy old man in Nevada who doesn't recognize the legitimacy of the Federal Government and thinks it's perfectly legitimate to let his cattle graze on land that he doesn't own, and another crazy old man in Los Angeles who apparently hates African-Americans while at the same time being content to let them earn him millions of dollars a year, there has been almost no coverage of this story in the American media. I have seen it covered in more detail when I've watched BBC World News and Al-Jazeera America, but obviously, those networks have very few viewers in the United States.
Quite frankly, it's obvious that this story would be getting a lot more attention in the American news media if we were talking about the abduction of a cute, blond cheerleader from Kansas. But even leaving aside the fact that we're talking about something happening in a foreign country, it strikes me that this is yet just another example of how woefully bad the American news media is when it comes to covering international events that don't directly impact the United States. Here we have a situation where hundreds of young girls have been kidnapped and are being held for purposes that nobody seems  to know for sure. In the best of all possible worlds, this could all just be part of a massive ransom demand by Boko Haram designed to secure the release of prisoners being held by the government. At least in that situation, we could be assured that the girls are at least being kept relatively safe, because when a hostage has value you don't want them to die The worst case scenarios are, quite honestly, too horrible to contemplate. Rape, murder, or sent into sexual slavery. It's a reality that is unfortunately all too true for far too many young women throughout Africa.
One would have thought that something as brazen as kidnapping more than 200 schoolgirls from their school would garner a lot more attention from the media, but perhaps I'm being naive. Like I said, unless it involves a cute, blond cheerleader the American media just isn't going to give a crap.
Photo via the BBC and Reuters