Nikki Haley Running for President
Someone has stepped up to challenge former President Trump.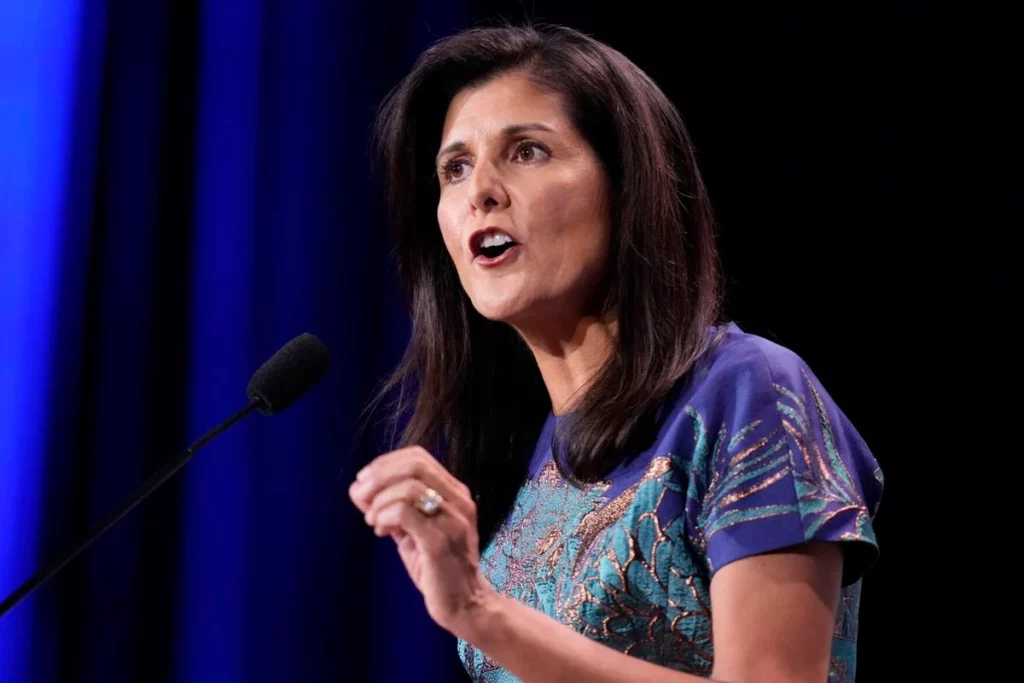 Charleston Post and Courier ("It's official: Nikki Haley running for president. Formal announcement Feb. 15"):
Cementing what has been in the works for months, former South Carolina Gov. Nikki Haley will formally announce she is running for president and will seek the Republican nomination for her party's 2024 ticket, The Post and Courier has learned.

According to an invitation soon going out to her backers, Haley's advertised "special announcement" will come Feb. 15 at the The Shed at the Charleston Visitor Center, a downtown gathering spot that could draw hundreds of supporters into the heart of the city's tourism district.

The confirmation she is entering the race came Jan. 31 from a member of Haley's inner circle.

[…]

Haley famously said earlier she would not seek to challenge Trump if he ran again, but her message has since shifted to say the country needs to look toward a different path.

"It's time for a new generation," she telegraphed on Twitter in recent days. "It's time for new leadership. And it's time to take our country back. America is worth the fight — and we're just getting started."

During an interview on Fox News with Bret Baier last week, Haley signaled her clearest indication yet that she was readying a White House bid.

"When you're looking at a run for president, you look at two things. You first look at does the current situation push for new leadership? The second question is, 'Am I that person that could be that new leader?'"

Answering those two questions, Haley said: "Yes, we need to go in a new direction. And can I be that leader? Yes. I think I can be that leader."

Haley, 51, does not have far to travel for her announcement. She has been a Charleston County resident and registered voter since leaving her United Nations ambassador post in 2018, living with her family on Kiawah Island.

She has also boasted in recent times that she has never lost a political race, including from her days in the S.C. House of Representatives or from her two runs for governor, an office she held from 2011-17.
WaPo ("Haley plans to announce presidential run, as GOP race starts slowly") adds:
Haley could release a video signaling her decision as soon as this week, a strategy, as described by multiple people briefed on the plans who spoke on the condition of anonymity because they were not authorized to talk publicly, intended to drive attendance and enthusiasm for an in-person announcement event in the coming weeks.

[…]

Haley's decision to lean into the race bucks the more cautious strategy adopted by most other potential candidates, who have decided there is no need to rush their preparations. Advisers to these Republicans, many of whom spoke on the condition of anonymity to describe private conversations, said there is wariness about becoming an early target of former president Trump.

[…]

"There's no benefit to being in early," said David Urban, a former Trump adviser who is friendly with multiple would-be 2024 candidates. "You don't want to be in the ring getting banged on by the former president in a one-on-one. There's no reason anyone has to get in right now. There's no urgency for anyone. Everyone is sitting and waiting."
While there's something to not announcing too early, I like Haley's strategy here. If the road to the nomination goes through Trump, signaling that you're not afraid to take him on is crucial.
She's in the ideal age range at 51 and she would be the party's first woman candidate. With experience as a state governor and UN Ambassador, she's well qualified. Heck, she's a child of immigrants and person of color.
Policy-wise, she's a pretty mainstream Republican. She was slow to move against the Confederate flag flying on capitol grounds but ultimately did the right thing. And she actually stood up against an anti-trans "bathroom bill" in her state. Alas, she's also demagoguing critical race theory.
While I don't know that anybody can beat Trump with Republican primary voters, I'd say she's well-positioned. She is arguably the senior-most official who served in his administration with their reputation largely unscathed. She's managed to deftly position herself against some of his more extreme policies without alienating him.
Indeed, Trump seems fine with her running, according to the Post and Courier report:
It also appears she was alerting Trump in the past week of her leanings.

During his weekend campaign swing that included a stop at the S.C. Statehouse, Trump told national reporters he recently received a phone call from Haley. Trump said Haley told him "she'd like to consider" a 2024 run of her own.

"I talked to her for a little while. I said, 'Look, you know, go by your heart if you want to run,'" Trump told reporters, adding that he would welcome the competition.

"She called me and said she'd like to consider it, and I said you should do it."

Trump then reportedly told Haley, "Go by your heart if you want to run."
She would have had a really strong shot in the GOP of 2012; I've largely given up predicting what post-Trump Republican primary voters will do.