No, Biden Shouldn't Move Left
Sanders supporters need to get on the bus.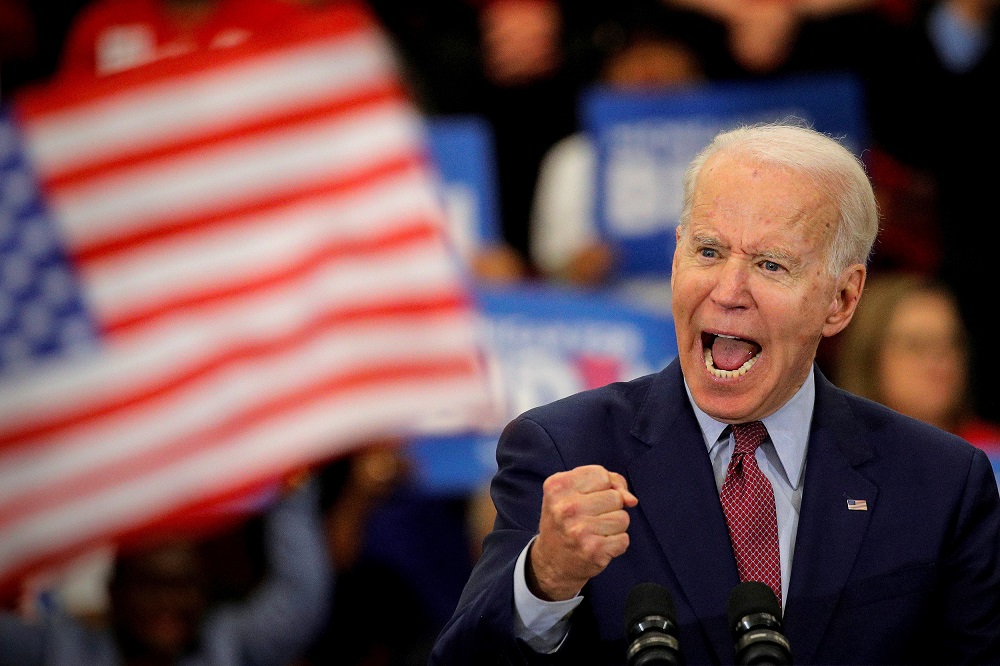 Now that Bernie Sanders has finally bowed to the inevitable and dropped out of the race for the Democratic nomination, a raft of pieces are coming out with the counterintuitive idea that it's time for Joe Biden to adopt some of Sanders' ideas to unite the party. Jordan Weissmann is typical:
Now that he's the presumptive Democratic nominee for president, Joe Biden has to make an overture toward disappointed Bernie Sanders supporters, only 80 percent of whom say they're ready to back him in the general election. It's not just that Biden needs their votes (though he does). It's that the party's younger, left-leaning members deserve to be treated like equal partners in a coalition rather than as a nuisance that ought to keep quiet and get in line at the polls. The former vice president won't win over everybody (to state the obvious), but he should still make a good-faith effort.
Weissman's actual proposal is interesting and I'll deal with it in a separate post. But the opening premise is a doozy.
Traditionally, we'd say that, having gotten his ass kicked in the primaries, it's up to Sanders to rally his supporters to the cause and for his voters to get over it and get on board. That, having won the nomination, Biden should actually pivot to the center to appeal to independents and swing voters.
Further, while it certainly behooves the nominee to be nice to the supporters of the losing candidates, they are no way in hell "equal partners." Not only has the nominee earned the right to run on his platform, the primaries vindicated it. After all, Biden has won just about every contest starting with South Carolina and most of the other candidates dropped out before Super Tuesday and endorsed him, not Sanders.
Still, a lot of smart people are on board with the notion that Biden needs to appease Sanders and his supporters.
Indeed, Biden seems to be among them. As POLITICO's Mark Caputo reports ("Leftward ho! Biden pivots to progressives"):
Biden shed any pretense about his need to win over Bernie Sanders voters when he announced a pair of proposals Thursday aimed at assuaging wary progressives: lowering the Medicare eligibility age from 65 to 60 years old, and forgiving all student debt for low- and middle-income people who attended public colleges and universities, as well as those who attended private Historically Black Colleges and Universities and other institutions that serve minority students.

While unorthodox for a general election nominee, Biden's decision not to move to the center was both a tacit admission that he has a problem with young and progressive voters, as well as a gamble that he can remain the real centrist in the race against President Donald Trump.

"We don't need to pivot to get independents because he already appeals to independents," said a Biden adviser. "These are ideas that we feel should appeal to Bernie's voters that are well in keeping with Joe's principles."
But the futility of this is rather obvious:
But progressives were quick to point out that expanding Medicare is not "Medicare for All," and some debt forgiveness is not debt forgiveness for all.

"It's Day 1. We expect to see more. He's got a long way to go," said Waleed Shahid, a spokesman for progressive group Justice Democrats and a former Sanders staffer. On Wednesday, Shahid's group was part of a coalition of progressive outfits that issued a list of far-reaching demands they want Biden to adopt.
They got soundly trounced in the Democratic primaries. And they're issuing demands?
Meanwhile, the Republican response was as you'ds expect:
On the other end of the spectrum, the Republican National Committee issued a statement that welcomed Biden's leftward move: "In the first full day of the 2020 general election, Joe Biden continues his embrace of the Sandersnista agenda."
Matt Yglesias believes "Joe Biden will have a very hard time winning over the Berniesphere."
Biden performed poorly with younger voters, who tend to be less reliable turnout targets than the sort of older people who make up his base. Sanders voters also have low levels of institutional attachment to the Democratic Party, so they're prone to defecting in a way that other factional support might not be even if they lost. And last but by no means least, while Sanders himself will most likely support the ticket, if Biden loses it will be seen as a semi-vindication of Sanders's ideas about politics, and if he wins it will be a refutation of them.
Further, because Biden has such a long track record, Yglesias thinks any significant policy shift would come across as inauthentic, potentially alienating his own supporters without gaining the trust of younger, more progressive voters.
Additionally, Yglesias agrees with me and the conventional wisdom that centrist swing voters, not the hard left, is where Biden should focus his efforts. It's just basic math that "every voter on the margin between Democrats and Republicans is worth twice as much as every voter on the margin between Democrats and the Green Party."
Still, Yglesias plausibly argues, there are some policy ideas Biden could adopt that would appeal to both those groups.
To the extent that Biden can court left-wing voters by adopting progressive positions that are broadly popular, it would be smart politics to do so. The biggest example of issues like this, however, are things like full legalization of marijuana and capping credit card interest rates, neither of which are closely associated with Sanders (though he does support them both).

But these are left-wing ideas worth embracing primarily because they're also popular with the electorate at large, rather than because they'll earn Biden plaudits from the Berniesphere.

Back in 2016, Hillary Clinton's concerted efforts to court Sanders voters contributed to the perception that she was ideologically further from the center than Donald Trump without changing the fundamental reality that leftists were sour about her.

Rather than spend time on a likely fruitless effort to court the left, Biden might want to accept that he's going to take a lot of crap from the Berniesphere no matter what he does and just lean into his moderate brand. If he does, the left is sure to howl that he's betraying progressive values — just as they predicted.

But realistically, he's going to be seen as a likely betrayer no matter what he does, simply because a certain quarter of the left sees the Democratic Party establishment as a constant source of betrayal and there's no way for Biden to get away from the reality that he is a lifelong, dyed-in-the-wool member of the establishment.
While I fully understand the sentiment of both the progressive left and populists of all stripes that the system is fundamentally broken and needs an overhaul, the utter calamity of the current administration's handling of the COVID-19 pandemic should be enough for people to welcome the return of a grownup to the Oval Office. Right now, competence and decency matters more than ideology.
There's a decent chance that Biden, who'll turn 78 a couple weeks after Election Day, will step aside to let someone else carry the Democratic banner in 2024. He would, after all, be 82 at a second inauguration and 86 at the end of a second term. It's almost a given that whoever follows Biden will be more politically progressive.
For now, though, taking the country back from Trump is the first and only concern.
UPDATE (0703): It also occurs to me that a President Biden will naturally be more progressive than Candidate Biden simply because of the brutal fallout from the present crisis. There will naturally be pressure to improve our healthcare infrastructure and support for measures to provide more economic security for the sort of underpaid workers we're relying on to keep the shelves stocked and the packages delivered. That's far more likely to happen under Biden than in a second Trump term.