No, Republicans Wouldn't Eliminate The Filibuster
Worried the GOP might eliminate the filibuster if they gain control of the Senate? Don't be.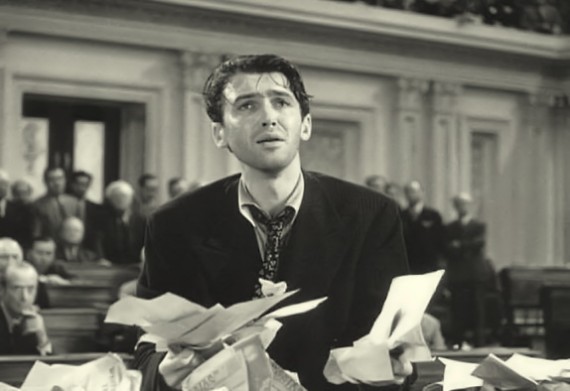 Matt Steinglass argues that if the GOP regains control of the Senate in November, they are going to eliminate the filibuster in order to allow themselves to pass the bills they want:
If the Republicans retake the Senate next year and have the opportunity to pass major legislation, I think it very likely they'll get rid of the filibuster, or pare it back in some complicated way that pertains to the issues they consider important. There's nothing in the constitution about needing to have 60 votes in the Senate. Democrats would have been better able to accomplish their agenda in 2009 and 2010 if they'd scrapped the filibuster, but they're too fragmented and hesitant to make those kinds of aggressive rule changes. Republicans have tighter party discipline, and the tea-party wing hates complex Washington rules that prevent the people's will from being done. I don't really see what's going to stop the GOP from making the changes they need to pass their agenda with a simple majority, if that's what they need to do.
Greg Sargent isn't quite as sure as Steinglass about what might happen, but still argues that it's a possibility if the GOP thinks they can get away with it and if a Republican wins the White House (if Obama is re-elected, as Sargent correctly points out, there's no point in eliminating the filibuster since the veto pen still exists).  Kevin Drum, on the other hand, argues that the GOP is unlikely to take this move, for some very obvious reasons:
If they really did believe they were demographically doomed, and had only two years to save America from an apocalyptic Euro-secular future of moral decay and economic disintegration, then maybe they'd think about it. But I don't think they believe this. They believe that politics will continue pretty much the way it always has, and they're going to need the filibuster in the future.

Besides, this doesn't even make sense on its own terms. If Republicans really do believe that their party is demographically doomed and 2012 is their last stand, this means they also believe that Democrats will take back control of the government in 2016. And if the filibuster has already been mowed down, the jig is up. We'll have single-payer healthcare, abortion clinics on every corner, and gay marriage at gunpoint by 2017.

Either way, then, the filibuster is safe. If politics continues as normal, Republicans will need the filibuster. If Democrats are going to sweep to power in 2016, Republicans will need the filibuster. It's not going anywhere.
While I think this demographic doom argument that Drum refers to, which is based on the Jonathan Chait article that James Joyner wrote about earlier this week, is mostly nonsense Drum is absolutely right in his assessment of how the Republicans would view the filibuster issue should they retake the Senate in 2012, or 2014 which may be more likely. Just as the Democrats have refrained from attacking the filibuster while they've been in the majority, based largely on the objection on long-serving members who pointed out that the Party would not always be in the majority and would want to make use of the filibuster rules someday, a resurgent Republican majority in the Senate is going to be restrained by institutional memory, and the all-too close memories of 2007-2012. After the 2010 elections, the Democrats weren't even able to garner 50  votes for the relatively modest filibuster reform package put forward by Oregon Senator Jeff Merkley, a proposal that didn't come anywhere close to eliminating the filibuster. What makes anyone think that the Republicans would be able to do anything different, especially since whatever majority they would have is likely to be incredibly slim to begin with?
This isn't to say that the filibuster doesn't stand need of reform, of course. As I noted at the time, Senator Merkley's proposal, which would have required a Senator purporting to block a piece of legislation to be able to demonstrate support for his position in order to go forward, was a good idea. Another idea that many have suggested is to eliminate, or at least severely limit, the filibuster for nominations, especially judicial nominations. Others have suggested that a Senator purporting to filibuster a measure should actually be forced to hold the floor in order to delay Senate action in the style of Mr. Smith Goes To Washington. Perhaps we don't need to go that far, we also don't need to eliminate the filibuster entirely since it does serve the purpose of holding back majoritarianism and protecting the rights and interests of minorities. The odds of any reform happening, of course, is pretty slim, so Steinglass and Sargent and sleep soundly tonight. The filibuster is here to stay.