Time Running Out For GOP?
2012 may be the last chance for the current Republican Party to win the White House.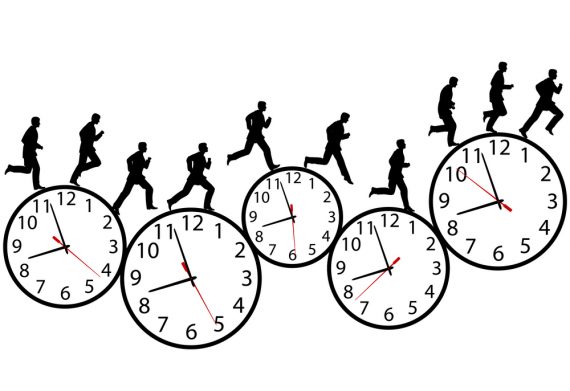 In "2012 or Never," Jonathan Chait says Republicans are worried that 2012 represents their last chance to win the presidency–and argues they're right to be worried.
The GOP has reason to be scared. Obama's election was the vindication of a prediction made several years before by journalist John Judis and political scientist Ruy Teixeira in their 2002 book, The Emerging Democratic Majority. Despite the fact that George W. Bush then occupied the White House, Judis and Teixeira argued that demographic and political trends were converging in such a way as to form a ­natural-majority coalition for Democrats.

The Republican Party had increasingly found itself confined to white voters, especially those lacking a college degree and rural whites who, as Obama awkwardly put it in 2008, tend to "cling to guns or religion." Meanwhile, the Democrats had ­increased their standing among whites with graduate degrees, particularly the growing share of secular whites, and remained dominant among racial minorities. As a whole, Judis and Teixeira noted, the electorate was growing both somewhat better educated and dramatically less white, making every successive election less favorable for the GOP. And the trends were even more striking in some key swing states. Judis and Teixeira highlighted Colorado, Nevada, and Arizona, with skyrocketing Latino populations, and Virginia and North Carolina, with their influx of college-educated whites, as the most fertile grounds for the expanding Democratic base.

Obama's victory carried out the blueprint. Campaign reporters cast the election as a triumph of Obama's inspirational message and cutting-edge organization, but above all his sweeping win reflected simple demography. Every year, the nonwhite proportion of the electorate grows by about half a percentage point—meaning that in every presidential election, the minority share of the vote increases by 2 percent, a huge amount in a closely divided country. One measure of how thoroughly the electorate had changed by the time of Obama's election was that, if college-­educated whites, working-class whites, and minorities had cast the same proportion of the votes in 1988 as they did in 2008, Michael Dukakis would have, just barely, won. By 2020—just eight years away—nonwhite voters should rise from a quarter of the 2008 electorate to one third. In 30 years, nonwhites will outnumber whites.
Now, this is indisputable insofar as it goes. But the problem with the Judis-Teixeira thesis is that it rests on the assumptions that demography is immutable destiny and that political parties are static constructs; neither is true. But, certainly, the Democratic Party, having reformed itself as a more centrist vehicle on the national level as recently as 1992, is more prepared for the future demography of the United States than the Republican Party, which is still following a blueprint from 1968.
Whatever its abstract intellectual roots, conservatism has since at least the sixties drawn its political strength by appealing to heartland identity politics. In 1985, Stanley Greenberg, then a political scientist, immersed himself in Macomb County, a blue-collar Detroit suburb where whites had abandoned the Democratic Party in droves. He found that the Reagan Democrats there understood politics almost entirely in racial terms, translating any Democratic appeal to economic justice as taking their money to subsidize the black underclass. And it didn't end with the Reagan era. Piles of recent studies have found that voters often conflate "social" and "economic" issues. What social scientists delicately call "ethnocentrism" and "racial resentment" and "ingroup solidarity" are defining attributes of conservative voting behavior, and help organize a familiar if not necessarily rational coalition of ideological interests. Doctrines like neoconservative foreign policy, supply-side economics, and climate skepticism may bear little connection to each other at the level of abstract thought. But boiled down to political sound bites and served up to the voters, they blend into an indistinguishable stew of racial, religious, cultural, and nationalistic identity.
While I continue to think the racial elements of all this are oversold–especially the odd attempt to link in neoconservative foreign policy ideology–there's little doubt that the Republican brand has become one of identity politics. And it's increasingly an identity that most Americans don't share.
Obama actually lost the over-45-year-old vote in 2008, gaining his entire victory margin from younger voters—more racially diverse, better educated, less religious, and more socially and economically liberal.
The advantage of one's core appeal being to older voters is that they tend to show up to vote in more robust numbers. The disadvantage, however, is that every four years more of those voters are dead.
The obvious strategy, pursued by catch-all political parties since time immemorial, is to adapt to changing circumstances. It is, after all, what Republicans did in the aftermath losing 7 of 9 presidential elections following the Great Depression (and the two exceptions being a centrist war hero) and what Democrats did in the aftermath of losing 4 of 5 elections starting in 1968.
Yes, as Chait correctly points out, radically changing is hard. Indeed, the natural instinct is to take the lesson that the problem is either that the party is insufficiently true at following its core principles or insufficiently adept at communicating its message to a stupid public. Inevitably, however, parties either get tired of losing and change or they fail to change and they die.
The fact that the remaining contenders for the 2012 Republican nomination are less appealing to swing voters than the crop that got trounced in 2008 would seem to be an indication that the GOP isn't ready for change. Then again, it's only been one loss so far–and 2010's big wins signaled that Tea Party purity was a ticket to success.
Following Obama's win, all sorts of loose talk concerning the Republican predicament filled the air. How would the party recast itself? Where would it move left, how would it find common ground with Obama, what new constituencies would it court?

The most widely agreed-upon component of any such undertaking was a concerted effort to win back the Hispanic vote. It seemed like a pure political no-brainer, a vital outreach to an exploding electoral segment that could conceivably be weaned from its Democratic leanings, as had previous generations of Irish and Italian immigrants, without altering the party's general right-wing thrust on other issues. George W. Bush had tried to cobble together a comprehensive immigration-reform policy only to see it collapse underneath a conservative grassroots revolt, and John McCain, who had initially co-sponsored a bill in the Senate, had to withdraw his support for it in his pursuit of the 2008 nomination.

In the wake of his defeat, strategists like Karl Rove and Mike Murphy urged the GOP to abandon its stubborn opposition to reform. Instead, incredibly, the party adopted a more hawkish position, with Republicans in Congress rejecting even quarter-loaf compromises like the Dream Act and state-level officials like Jan Brewer launching new restrictionist crusades. This was, as Thomas Edsall writes in The Age of Austerity, "a major gamble that the GOP can continue to win as a white party despite the growing strength of the minority vote."
A large part of the problem is that, as political scientists have long told us, political parties actually consist of three elements: The institutional leadership, the politicians who carry the party label, and the voters who support the party. Historically, the institutional leaders chose the candidates and the voters, having little choice, went along. Now, we've flipped the process on its head. The voters–and specifically, the most ideologically rabid subset of them who will show up at primaries and caucuses months out–chose the candidates and the institutional leadership is relatively powerless. So, it's pretty hard to make calculated, strategic changes in the message to appeal to swing voters.
It's still a long way to the Republican nomination, much less November.
Will the party faithful bite the bullet and support the unexciting, gaffe-prone Mitt Romney? If so, they've got at least a puncher's chance to take back the White House. But to what end? He's ideologically not that different from Obama. Moreover, if Obama is re-elected, then losing with "yet another moderate" on the ticket will only bolster the resolve of the base to nominate a Real Conservative in 2016.
Conversely, will the Evangelicals actually manage to nominate Rick Santorum? If so, it's hard to imagine the chain of catastrophes that would keep President Obama from getting a second term. Would that outcome cause the base to wake up to the reality that the Real America they encounter in their everyday lives is actually a relatively small swath of the country as a whole? And would they react to that realization by accommodating the country as it is? Or double down on their futile bid to win the culture war?
Time running image from Shutterstock.