The Democrats' Patriotism Problem?!
Whither American civil religion?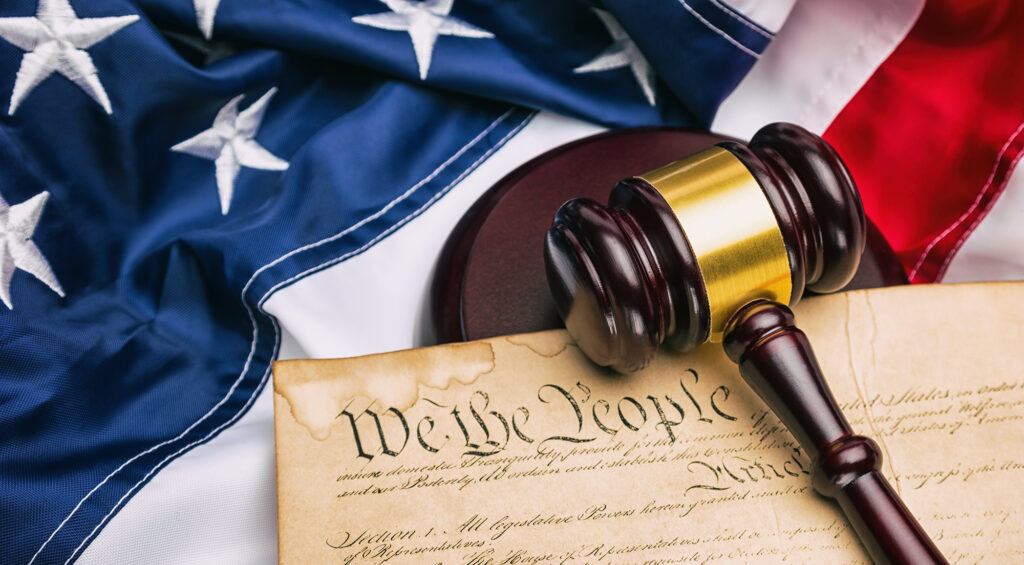 The headline, minus the ending punctuation, of the post is the title of political scientist Ruy Teixeira's latest on his The Liberal Patriot Substack, to which Dave Schuler pointed me. I find the analysis both useful and bewildering.
Back in October, Teixeira rolled out "A Three Point Plan To Fix the Democrats and Their Coalition." His premise, rolled out shortly before Democrats did almost historically well in the midterm elections, is that "The party is uncompetitive among white working class voters and among voters in exurban, small town and rural America. This puts them at a massive structural disadvantage given an American electoral system that gives disproportionate weight to these voters, especially in Senate and Presidential elections. To add to the problem, Democrats are now hemorrhaging nonwhite working class voters in many areas of country." This, despite the Republican Party, "giv[ing] rein to some of the darker impulses in the national psyche, shown[ing] flagrant disregard for democratic norms and offer[ing] little to the American people in terms of effective policy."
His three point plan:
1. Democrats Must Move to the Center on Cultural Issues

2. Democrats Must Promote an Abundance Agenda

3. Democrats Must Embrace Patriotism and Liberal Nationalism
From the outset, it seems that Teixeira has fallen prey to the Pundit's Fallacy, which Matt Yglesias defined as "that belief that what a politician needs to do to improve his or her political standing is do what the pundit wants substantively." But, given that Teixeira's preferences and mine are in considerable alignment, I find the prescription appealing.
With respect to the last, the subject of his latest post and this one, he observed back in October,
Democrats have a bit of a problem with patriotism. It's kind of hard to strike up the band on patriotism when you've been endorsing the view that America was born in slavery, marinated in racism and remains a white supremacist society, shot through with multiple, intersecting levels of injustice that make everybody either oppressed or oppressor on a daily basis. Of course, America today may be a racist, dystopian hellhole, but Democrats assure us that it could get even worse if the Republicans get elected. Then it'll be a fascist, racist, dystopian hellhole.
Now, he adds,
What, if anything, has changed since then? Not much, I'd say. Of course, not all Democrats, especially normie working-class Democrats, subscribe to this nightmarish version of their own country. But among Democratic activists and cultural elites such sentiments are very common—and among those who lean progressive, dominant.
While I fundamentally agree, I would say "not all Democrats" serves here as a sleight of hand. Indeed, Teixeira's own evidence shows that Democrats overwhelmingly don't think that way:
It's why "progressive activists"—8 percent of the population as categorized by the More in Common group, who are "deeply concerned with issues concerning equity, fairness, and America's direction today"—are so unenthusiastic about their country. Just 34 percent of progressive activists say they are "proud to be American" compared to 62 percent of Asians, 70 percent of blacks, and 76 percent of Hispanics, the very groups whose interests these activists claim to represent. Similarly, in an Echelon Insights survey, 66 percent of "strong progressives" (about 10 percent of voters) said America is not the greatest country in the world, compared to just 28 percent who said it is. But the multiracial working class (noncollege voters, white and nonwhite) had exactly the reverse view: by 69-23, they said America is the greatest country in the world.
So, essentially, a tiny minority—8 percent of the population by Tiexeira's own account—is somehow speaking for the Democratic Party?
The uncomfortable fact is that these sentiments, and the view of America they represent, are now heavily associated with Democrats by dint of the very significant weight progressive activists carry within the party, which far transcends their actual numbers. Their voice is further amplified by their strong and frequently dominant influence in associated institutions that lean toward the Democrats: nonprofits, foundations, advocacy groups, academia, legacy media, the arts—the commanding heights of cultural production, as it were. It's just not cool in these circles to be patriotic.
That seems rather unscientific but it's not completely implausible. Things like "Defund the Police," which is a minority position among Democratic politicians, certainly resonate in political campaigns, serving as a wedge issue.
Then again:
That's not to say that Democratic politicians don't still wear American flag pins on their lapels. They do. And the party's "Designated Normie", President Biden, can certainly be counted on to strike a patriotic tone from time to time. In his recent State of the Union address, he even emphasized a slightly nationalist approach . . . .

[…]

Nor is it unknown for progressive commentators to grudgingly admit there are—or at least have been—some good things about America before they return to their preferred theme of the country's abundant and appalling sins. But they just don't seem very enthusiastic about the actually-existing country of America.
So, easily the most important Democrat isn't guilty of this problem that plagues the Democrats. Still, some undefined group of "commenters" are less enthusiastic by some measure than they should be.
It's all pretty weak tea compared to what's really needed: a robust revival of the American civil religion in Robert Bellah's formulation. This is the nonsectarian, quasi-religious faith based around national symbols, founding documents and ideals, holidays, heroes, epic events, rituals and stories that has bound—and can bind—Americans together across social and regional divisions.

[…]

Reviving the American civil religion is a noble cause which is also a precondition for building the robust coalition across social and regional divides that Democrats seek. Democrats have tried uniting the country around the need to dismantle "systemic racism" and promote "equity"….and failed (and will continue to fail). Democrats have tried uniting the country around the need to save the planet through a rapid green transition…and failed (and will continue to fail). It's time for Democrats to return to something's that's tried and true.
So, I fully agree that a civil religion—and, yes, a sense of patriotism—is really helpful in binding together a country. And that's especially true for one such as ours: 330 million people spread across a giant continent with a hodgepodge of races, ethnicities, and creeds. And I even agree that racial justice efforts to remove Founding era leaders from the pantheon on account of their holding slaves and the general movement against American Exceptionalism makes it more challenging to establish civil religion and patriotism. Then again, by Texeira's own account, 69 percent of the "multiracial working class" believe "America is the greatest country in the world."
Texeira ends with touting his forthcoming book with John Judis, Where Have All the Democrats Gone? with this excerpt:
[T]he New Deal Democrats were moderate and even small-c conservative in their social outlook. They extolled "the American way of life" (a term popularized in the 1930s); they used patriotic symbols like the "Blue Eagle" to promote their programs. In 1940, Roosevelt's official campaign song was Irving Berlin's "God Bless America." Under Roosevelt, Thanksgiving, Veterans' Day, and Columbus Day were made into federal holidays. Roosevelt turned the annual Christmas Tree lighting into a national event. Roosevelt's politics were those of "the people" (a term summed up in Carl Sandburg's 1936 poem, "The People, Yes") and of the "forgotten American." There wasn't a hint of multiculturalism or tribalism. The Democrats need to follow this example.
There's a certain Make America Great Again vibe there. The 1940 Census was the first to count people of Hispanic origin. The country was 89.8% white; 9.8% black; 0.3% American Indian, Eskimo, and Aleut; and 0.2% Asian and Pacific Islander. 1.4% identified as Hispanic (any race). Fully 88.4% of Americans were white and not of Hispanic origin. It's hardly any wonder that FDR didn't emphasize multiculturalism.
For his part, Dave agrees that we need a renewal of the civil religion:
That is precisely what Chesterton wrote about when he declared that "America is a country founded on a creed". We lack the ties of blood and history that bind other countries together. We undermine that creed at significant risk. I will leave it to you to explain why the 10% of Americans Mr. Teixeira laments are seeking to undermine it. Without it the only ties that bind us together are those of family and neighborhood and those are eroding day by day.

I don't believe that anything good will emerge from that erosion. I think that more likely is a continuation of the sort of individualism on steroids we've seen from both extremes of the political spectrum for the last 40 years.
And, again, I share that concern.
But here's the thing, while it's fair to blame progressive intellectuals—and, indeed, the intellectual class as a whole—for some of this, surely it's not just the Democrats who "have a bit of a problem with patriotism"? Even aside from the refusal to engage in a peaceful transition of power after losing the 2020 Presidential election—which is pretty damned unpatriotic!—too many leaders of the Republican Party have worked to divide the country, going so far as to term those who live in states that vote for them as Real Americans, implying those who vote the other way—or, horrors, reside in the large metropolitan areas where most Americans live—are not even Americans at all.
Similarly, surely it's not just Democrats who portray the country as some dystopian hellhole? What was Make America Great Again, after all, if not a rejection of what the country has become?
Here are some stirring words from President Donald Trump's inaugural address:
For too long, a small group in our nation's capital has reaped the rewards of government, while the people have borne the cost. Washington flourished, but the people did not share in its wealth. Politicians prospered, but the jobs left and the factories closed. The establishment protected itself, but not the citizens of our country. Their victories have not been your victories. Their triumphs have not been your triumphs, and while they celebrated in our nation's capital, there was little to celebrate for struggling families all across our land.

[…]

The forgotten men and women of our country, will be forgotten no longer. Everyone is listening to you now. You came by the tens of millions to become part of a historic movement, the likes of which the world has never seen before. At the center of this movement is a crucial conviction, that a nation exists to serve its citizens. Americans want great schools for their children, safe neighborhoods for their families, and good jobs for themselves. These are just and reasonable demands of righteous people and a righteous public, but for too many of our citizens a different reality exists. Mothers and children trapped in poverty in our inner cities, rusted out factories, scattered like tombstones across the across the landscape of our nation, an education system flush with cash, but which leaves our young and beautiful students deprived of all knowledge, and the crime, and the gangs, and the drugs that have stolen too many lives and robbed our country of so much unrealized potential. This American carnage stops right here and stops right now.

We are one nation and their pain is our pain. Their dreams are our dreams and their success will be our success. We share one heart, one home, and one glorious destiny. The oath of office, I take today, is an oath of allegiance to all Americans. For many decades, we've enriched foreign industry at the expense of American industry, subsidized the armies of other countries, while allowing for the very sad depletion of our military. We've defended other nation's borders while refusing to defend our own. And spent trillions and trillions of dollars overseas, while America's infrastructure has fallen into disrepair and decay. We've made other countries rich while the wealth, strength and confidence of our country has dissipated over the horizon. One by one, the factories shuddered and left our shores, with not even a thought about the millions and millions of American workers that were left behind. The wealth of our middle class has been ripped from their homes and then redistributed all across the world.
Somehow, I don't think it's progressive activists who are the greatest threat to Americans coming together as one.