No Wonder Sharron Angle Is Adopting The Palin "Avoid The Media" Strategy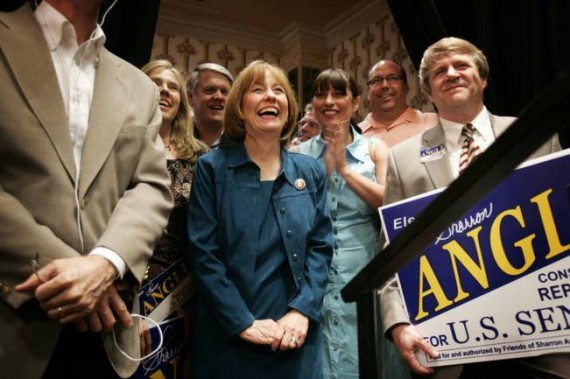 Nevada Republican Senate candidate Sharron Angle did a pretty good job of avoiding national media when she was in Washington earlier this week but she hasn't been so lucky with the local media in Nevada:
LAS VEGAS – As Sharron Angle greeted supporters at Stoney's Restaurant in Las Vegas, 8 News NOW Reporter Nathan Baca approached her to ask about her Social Security plan.

Her website calls for "transitioning out" Social Security and Medicare.

"Why do you want to eliminate (Social Security) for younger folks, because your plan calls for transitioning out," Baca asked.

"You believe the Harry Reid lie," Angle replied.

When asked to define "transitioning out", Angle said, "Transition into a personalized account… personalized Social Security accounts that they can't raid."

The stock market, Baca countered, almost crashed in 2008, meaning millions of seniors would have had their savings accounts wiped out.

Angle replied, "Now, you're putting words into my mouth from Harry Reid. I want you to be very clear on this. I'm here to save Social Security… Harry Reid is here to bankrupt Social Security."

Baca then asked Angle about her quote calling for the elimination of the Environmental Protection Agency. "Why do you want to eliminate the EPA when we're in our worst environmental disaster in this country," Baca asked.

Angle replied, "Where are you getting these questions? The issues are not about the EPA… The issues are homes here in Nevada… He is trying to make this a campaign about me. But, where's Harry? Go ask him… Please go ask Harry about the EPA, and why they have failed."

"And why you want to eliminate it," Baca asked.

"Why they have failed to do what they needed to do in the Gulf," Angle answered.

Angle walked away when asked about her website once advocating the United States' withdrawal from the United Nations. She then gave a 20 minute interview to conservative radio talk show host Roger Hedgecock.
Video:
As much as she might like to make this race solely about Harry Reid, it's fairly clear that Angle is going to have to answer questions about the positions she's taken on her own campaign website or about the bizarre comment she was quoted making about "Second Amendment remedies." Obviously, she doesn't want to do that, which is why she seems to be adopting the same anti-media strategy that Sarah Palin adopted during the 2008 campaign after her disastrous interviews with Charles Gibson and Katie Couric.
The problem is that when a politician treats the news media covering their campaign like the enemy, that's exactly how they can expect the news media to act. This race is going to be fun to watch.