Nobel Prize Economist Not Qualified For Fed Board?
Is Peter Diamond qualified to be a Fed governor?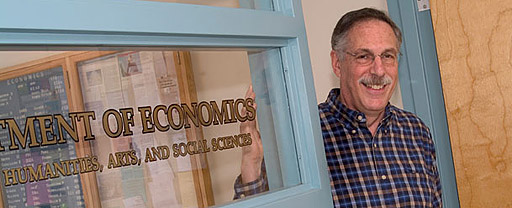 Peter Diamond, last year's co-awardee of a Nobel Prize in economics, has withdrawn from his nomination for a seat as a Federal Reserve Board governor after Senate Republicans, most notably Richard Shelby, blocked confirmation on the grounds that he's a theorist with no practical experience. Diamond left a parting shot in the form of a NYT op-ed. He closes:
Instead of going to the Fed, however, I will go about my congenial professional existence as a professor at M.I.T., where I have taught and researched since 1966, and I will take advantage of some of the many opportunities that come to a Nobel laureate. So don't worry about me.

But we should all worry about how distorted the confirmation process has become, and how little understanding of monetary policy there is among some of those responsible for its Congressional oversight. We need to preserve the independence of the Fed from efforts to politicize monetary policy and to limit the Fed's ability to regulate financial firms.

Concern about the (seemingly low) current risk of future inflation should not erase concern about the large costs of continuing high unemployment. Concern about the distant risk of a genuine inability to handle our national debt should not erase concern about the risk to the economy from too much short-run fiscal tightening.

To the public, the Washington debate is often about more versus less — in both spending and regulation. There is too little public awareness of the real consequences of some of these decisions. In reality, we need more spending on some programs and less spending on others, and we need more good regulations and fewer bad ones.

Analytical expertise is needed to accomplish this, to make government more effective and efficient. Skilled analytical thinking should not be drowned out by mistaken, ideologically driven views that more is always better or less is always better. I had hoped to bring some of my own expertise and experience to the Fed. Now I hope someone else can.
Now, like Ezra Klein, I'm strongly inclined to think that a Nobel Prize makes the holder qualified for positions in related fields. But Tyler Cowen isn't so sure and thinks the op-ed actually weakens Diamond's case.
There should be no doubt about Diamond's qualifications as an economist, but oddly his parting statement makes him sound less qualified as a Fed candidate rather than more qualified.  It is not so much the case that further analytical expertise is needed, which is what Diamond seems to suggest.  What is needed is someone who can help push some fairly simple and already well-understood ideas through Congress.  Was Diamond that person?  From a distance it's hard to say, and of course "parting shots" are strategic in their own right.  Still, the piece seems overly focused on technocratic issues and it is not obvious that he is the ideal ambassador to, say, Ron Paul.  In other words, there is a reasonable chance that this not unexpected development is a blessing in disguise.
Cowen, and thus Shelby, has a point here.  Diamond is doubtless a brilliant academic thinker but, with the exception of two years spent teaching at Berkley upon finishing his PhD, he's been at MIT since 1960! Ben Bernanke, the Fed Chairman to whom he would report, was one of his students–thirty years ago.
Then again, Bernanke's sole experience at the time he was appointed to the Fed board in 2004 was . . . as an academic economist. He subsequently served as head of President Bush's Council of Economic Advisors before being elevated to Chairman. But he had no practical governing or business experience at the time he was confirmed for the job Diamond was seeking.
I'm rather skeptical that the precise nature of academic specialization much matters here. A PhD economist with years experience at an elite institution will, I think it's fair to say, have sufficiently broad expertise on economics and business to function as a Fed governor regardless of where their research interests were.