Nonprofit Salaries Too High?
Are you really a nonprofit if your CEO is making a million dollars a year?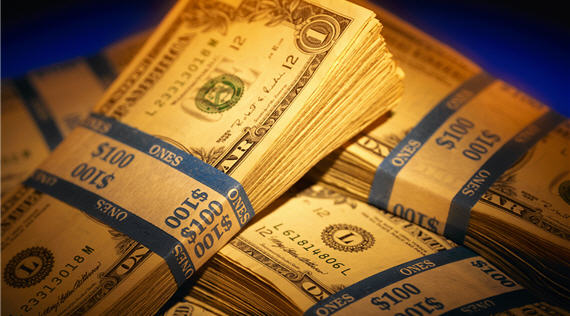 A handful of nonprofit CEOs are making upwards of a million dollars a year in salary and compensation.  The government isn't pleased.
State and federal officials are starting to take their knives to the pay of leaders of nonprofit groups they do business with to help share the pain of tighter budgets.

A provision in New Jersey's recently passed budget, for example, includes a limit on what nonprofit groups can pay their chief executives if they are providing social services under state contracts. The cap, based on a formula that also applies to for-profits providing such services on behalf of the state, is part of a broader effort by Gov. Chris Christie to rein in salaries on state workers.

In New Hampshire, Attorney General Michael A. Delaney is investigating compensation among nonprofit hospital executives. And Vermont legislators are trying various ways of curbing salaries paid by nonprofit groups that have contracts with the state.

On Capitol Hill, four senators this spring refused to approve a $425 million package of federal grants for the Boys & Girls Clubs of America after staff members looked at the organization's tax forms as part of a routine vetting process and were surprised to learn that the organization paid its chief executive almost $1 million in 2008 — $510,774 in salary and bonus and $477,817 in retirement and other benefits. "A nearly $1 million salary and benefit package for a nonprofit executive is not only questionable on its face but also raises questions about how the organization manages its finances in other areas," said Senator Tom Coburn, Republican of Oklahoma. Another senator, Charles E. Grassley, Republican of Iowa, has told Treasury Secretary Timothy F. Geithner that he is concerned that the Internal Revenue Service is not tough enough in policing pay in the nonprofit sector and that regulations governing compensation are too weak. "I've asked him to review these regulations to see how they can be made effective," Mr. Grassley said. "What's there now doesn't seem to be working."

[…]

The compensation awarded to nonprofit leaders follows no discernible pattern, even among similar types of nonprofits.

Roxanne Spillett, the chief executive of Boys & Girls Clubs, was paid $988,591 in 2008, a year in which the organization took in $107 million. Dr. Jennifer Howse, chief executive of the March of Dimes, was paid a total of $627,104 by her organization, which raised $237 million.

Compensation also varies by type of nonprofit. Museum directors and hospital chiefs generally are better paid than leaders of other nonprofits. Median compensation among the organizations that participated in the Chronicle of Philanthropy's annual survey examining pay at the wealthiest charities and foundations was $361,538 in 2008 — but the median compensation among hospital executives was $848,802.

There are no clear rules for the I.R.S. to assess pay at nonprofits. Organizations it questions can make their case using opinions from compensation consultants, among other things.
This story conflates two issues:   The parameters under which an entity should enjoy nonprofit tax status and what practices the government should use in contracting out work to nonprofit groups.
With respect to the first — and, full disclosure, I work at a nonprofit but one where executive salaries are a fraction of those being discussed here — it seems to me that, if we're going to recognize groups as nonprofits, it should be on the basis on their work product.  If their main effort is charitable or educational, they they're a nonprofit.   It's not clear why it matters if an established charity pays its CEO a princely salary, since that's taxable under personal income tax just as if he worked for a for-profit firm.
We need to distinguish cases of fraud, of course.   If a few people get together to start a "nonprofit" whose main purpose is to funnel money into the pockets of the founders, it obviously shouldn't enjoy tax-exempt status.  But the law presumably handles that sort of thing well enough.  Although, frankly, it would be pretty hard to raise money for such a cause anyway.
The question of contracting out to nonprofits is interesting in a different way.   First, it's quite debatable whether these public-private partnerships ought exist at at.  I don't have a firm position on the issue.   Second, if they do, then it makes sense to evaluate them on a cost-benefit basis.   And I'm not sure why that would be done on a line-item basis.   Either Boys & Girls Clubs of America is providing whatever service the government wants provided at a level of cost and efficiency that outcompetes other potential bidders or it doesn't.  A high CEO salary should make them less competitive than outfits paying lower salaries, all things being equal.   But if they still come out on top even with that drag, what's the problem?