Not Surprisingly, Democrats Don't Consider Wendy Davis's Race A Priority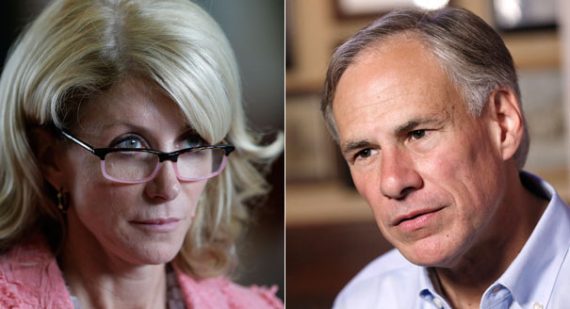 The Democratic Governor's Association doesn't seem to be willing to put much money into Wendy Davis's race against Greg Abbott in Texas:
Despite the hype surrounding Texas Democrat Wendy Davis's run for governor, the chairman of the Democratic Governors Association didn't include her state in a list of top targets in 2014.

Ms. Davis, a state senator, gained national acclaim for filibustering a bill last year that increased regulation of abortion clinics and banned abortions after 20 weeks of pregnancy. Polls show Republican nominee Greg Abbott with a double-digit lead in the state, which hasn't elected a Democrat since 1994.

"We're hopeful in Texas but we all understand that Democrats haven't won Texas in a long time," DGA Chairman and Vermont Gov. Peter Shumlin told reporters Tuesday at the Third Way think tank. He added, "We hope this will be our year."

Mr. Shumlin singled out Paul LePage in Maine, Rick Scott in Florida and Tom Corbett in Pennsylvania as the most vulnerable Republican incumbents. In the second tier are a trio of Midwestern governors who also represent states won by President Barack Obama – Scott Walker in Wisconsin, John Kasich in Ohio and Rick Snyder in Michigan.

Mr. Shumlin called Mr. Walker's leading challenger, Mary Burke, an "extraordinary candidate," and said, "We believe we've got a great shot there."

While Democrats are playing defense to protect their majority in the U.S. Senate, the party is on the offensive when it comes to governors races.
All of this makes sense, of course. Texas is an expensive place to campaign, and the odds against Wendy Davis are quite high. In the meantime, there are races in Florida, Michigan, Pennslyania, and Maine where incumbent Republicans are trailing their Democratic challengers in the polls and are at least competitive in Ohio and Wisconsin. Spending money on a Texas race that will likely go Republican anyway would be a waste of time.