Divorce And Politics
The American people no longer seem to care if their political leaders are divorced.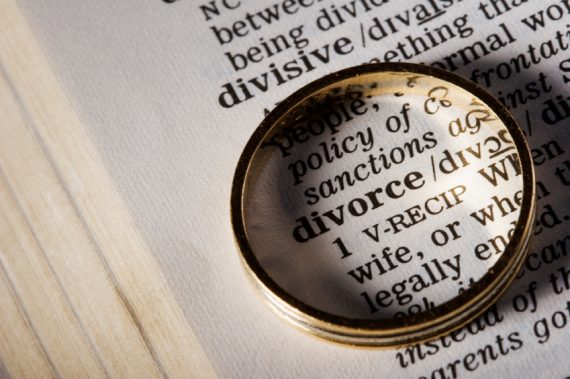 Using Mark Sanford's victory in the Republican runoff election in South Carolina earlier this week as a launching point, Buzzfeed's Ruby Cramer notes that divorce no longer seems to be the problem for politicians that it used to be:
It cost Nelson Rockefeller the Republican presidential nomination in 1964, but divorce is now almost as common in political life as it is in America more broadly — an everyday and largely unmentioned feature of many public figures' private lives.

Former Governor Mark Sanford's ascent in year's South Carolina special Congressional race this week isn't just evidence of the increasingly short half-life of sex scandal fall-out — the former governor vanished for five days during his second term, presumably "hiking the Appalachian trail," to visit his mistress in Argentina; Sanford's swift return to politics also heralds the extent to which voters don't seem to care much whether there's a nuclear family on the ticket.

And indeed, a large club of state and federal lawmakers are doing just fine in their careers and campaigns, despite divorces, separations, and family arrangements you wouldn't call traditional.

Vermont Gov. Peter Shumlin and his wife finalized their divorce last month after four years of public separation. Asked if marital status matters less than ever to voters in his state and elsewhere, Shumlin said, "I haven't really thought about it that much."

"I've never had anyone even ask my about it, which is an evolution, I think," Shumlin told BuzzFeed in an interview Monday afternoon, where he didn't shy away from the topic. (His pet cats, he explained, "are with my ex.")

"I can tell you that Governor Cuomo, myself, and now Governor Hickenlooper in Colorado, have not found it to be even an issue," Shumlin said.

Shumlin is one of four divorced governors. The others are Illinois Gov. Pat Quinn and New York Gov. Andrew Cuomo, who lives with his girlfriend, Food Network star Sandra Lee, after an ugly, public 2003 separation and 2005 divorce from ex-wife Kerry Kennedy. Last summer, Colorado Gov. John Hickenlooper joined the group when he announced that he and his wife had made the "mutual and amicable" decision to separate. The other 46 governors are currently married.

And in Congress, the sampling of unwed lawmakers is even more widespread. A review of news reports and Roll Call's member database shows that in the House of Representatives, 28 members are divorced, 12 are widowed, and 26 have never been married; and in the Senate, three are divorced, one is separated, and five are unmarried. Across both chambers, just under 15 percent of lawmakers — 75 in total — are without a spouse.

Outside of Washington, D.C., some of the country's most influential names in politics remain unmarried — New York City mayor Michael Bloomberg, who lives with his longtime girlfriend, has been divorced for 20 years — and Newark mayor Cory Booker, a 43-year-old Democratic Party darling and a likely candidate for Senate in 2014, has never been married, though he does date.
To be fair, Nelson Rockefeller faced many more obstacles in 1964 than his divorce, namely the rising tide of the libertarian/conservative alliance that would nominate  Barry Goldwater that year and which, eventually, would become the dominant force inside the Republican Party. Even if Rockefeller had never been divorced, he would have faced a tough road to the nomination anyway. At the same time, it's clear that 50 years ago the fact that a politician was divorced was seen by many in both parties as a death knell to any ambitions for higher office. Indeed, 15 years later there were some people who wondered if the fact that Ronald Reagan had been divorced and remarried would have an impact on his ability to win over conservative voters in the 1980 Republican primaries.  As it turned out, Reagan's divorce didn't impact his campaign at all and the fact that he was elected the first President who had been divorced was seen as more of a point of historical interest than a scandal of any kind. Partly, Reagan's ability to get beyond the divorce issue was the fact that it had occurred so far in the past. Reagan and Jane Wyman divorced in 1949 after a marriage of just nine years, and he was remarried to Nancy Davis by 1952. To a large degree, the issue was so far in his past that it likely barely mattered to anyone.
After Reagan, though, the entire idea that politicians who were divorced were faced with an insurmountable problem pretty much faded into the dust. We still had our share of political sex scandals, as Mark Sanford himself can well attest, but with the nations divorce rate near 50% it seems pretty clear that most voters don't really care about whether or not the person they might be voting for had been divorced at some point in the past.
Of course, as Parker points out, it's still not clear how far this new attitude goes:
Political strategists cite a shift in American public opinion on divorce as it becomes more widespread, and as "institutions like the church have less authority over their members," said Hank Sheinkopf, a Democratic strategist who worked on Cuomo's gubernatorial campaign in 2010. "If you look at the history of divorce in American politics, Nelson Rockefeller's divorce from his wife, Mary, made it impossible for him to president in the '60s. It was just not possible."

Sheinkopf, though, said that during Cuomo's bid for governor three years ago, his divorce — and his live-in relationship with Lee — never had an adverse effect on the campaign, or even came up in campaign meetings.

"It wasn't raised or ever discussed," said Sheinkopf. "I remember one story in the tabloids about it. I was asked to comment and said, it will have absolutely no impact on anything — and I was correct."

Doug Muzzio, a political science professor at New York's Baruch College, said "Sandra Lee's lasagna recipe probably had more of an impact" on the gubernatorial race than Cuomo's marital history.

Cuomo may put the limits of voters' tolerance to the test if he runs in three years for the presidency, an office for which Americans have typically chosen someone they admire.

"Running nationally while living in sin could be a problem," Muzzio said.
Personally, I've always assumed that if Cuomo does intend to run for President in 2016 or 2020 he would end up marrying Sandra Lee rather than living together. America has only had two Presidents in its history who were not married while in office, Thomas Jefferson who's wife died before he became President and James Buchanan who was a lifelong bachelor. While we've becoming a far more socially liberal nation in recent decades, I'm not sure how comfortable Americans would be with a President who essentially had a live-in girlfriend. A Cuomo run, if he doesn't marry, would be a real test of just how much things have changed, just as Sanford's run this time around is a test, on a smaller battlefield, of the limits of public forgiveness and redemption.
There will be variations across the nation regarding this matter, of course. Politics aside, it would be hard to see Cuomo getting elected statewide anywhere in the Bible Belt, for example. Nationally, though, it seems clear that the divorce stigma for politicians died out a long time ago. President Clinton's experience showed us that even extramarital affairs while in office aren't necessarily a deal breaker with the American public. Now, we've got politicians like Sanford and Cuomo who seem poised to test just how far those limits actually go. It will be interesting to watch.