NYC Criminal Probe of Trump Appears Stalled
Manhattan's new DA seems to think he has a weak case.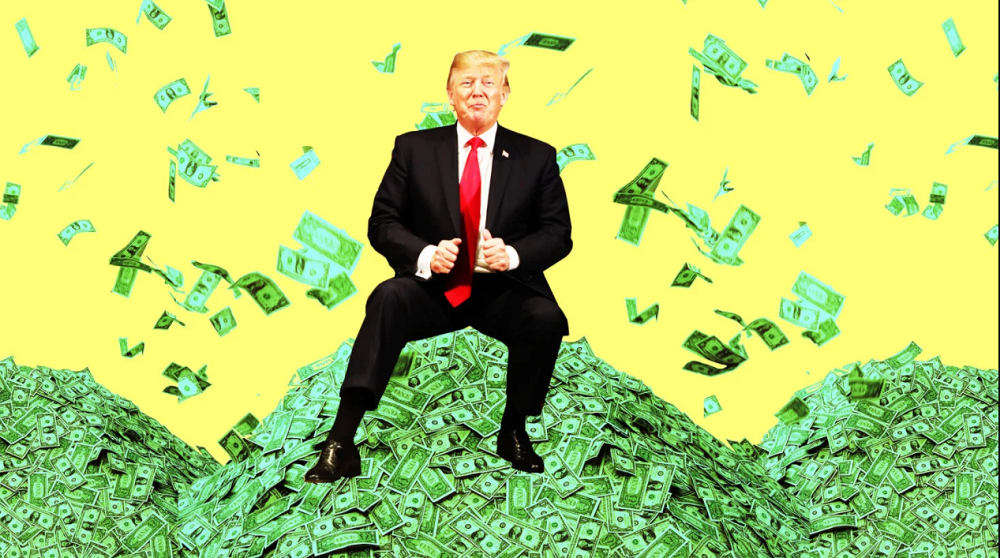 Between the events in Ukraine and a busy period at the office, I paid only passing attention to recent news that two prosecutors in the case had resigned. But the New Yorker's Jane Mayer ("Why Does New York's Criminal Investigation of Donald Trump Appear All But Over?") has drawn a somber conclusion:
The criminal prosecution of Donald Trump in his home town appears to be all but officially over, at least for now. In an unexpected reversal of roles, Alvin Bragg, who took over as Manhattan's District Attorney, in January, after campaigning on a promise to hold the former President accountable, instead seems to have all but abandoned the case that was brought by his predecessor Cyrus Vance, Jr., a prosecutor often criticized for being too timid.​​

Before finishing out his third term as Manhattan D.A., Vance's office successfully took its case against Trump to the Supreme Court twice. His office then indicted both Trump's company, the Trump Organization, and his former chief financial officer, Allen Weisselberg, on tax charges. Prosecutors under Vance were reportedly focussing on whether Trump had criminally manipulated sworn statements of his net worth to mislead banks into giving him favorable loans, and government authorities into falsely reducing his taxes.

The former President has denied the allegations, and accused the Manhattan D.A.'s office of conducting a political witch hunt. But there were signs that investigators were making headway. This month, Mazars U.S.A., the accounting firm that had long handled Trump's business, essentially fired him as a client, saying that it couldn't vouch for the accuracy of nine years' worth of Trump's financial statements. A second grand jury was empanelled last November to hear the prosecutor's developing case against Trump, and its term does not expire until April.

On Wednesday, the Times reported that the two most prominent prosecutors overseeing the case had unceremoniously quit. Carey Dunne and Mark Pomerantz submitted their resignations after Bragg signalled that he lacked confidence in the historic case. During his campaign last year, and in the weeks before taking office, Bragg had, in contrast, signalled that he would personally review the probe and expressed gratitude for the work of the two veteran prosecutors. "This is obviously a consequential case, one that merits the attention of the DA personally," he told CNN, in December. "I can say that you've got two very good lawyers that have been looking at it for a while. I think it would be a disservice to Manhattan to lose them."

Dunne and Pomerantz, both of whom had high-profile legal careers in private practice prior to working on the Manhattan D.A.'s investigation, differed with Bragg and wanted to continue pressing the case, according to a source with knowledge of the investigation. They became frustrated, though, with what they regarded as Bragg's lack of support for the probe. The source suggested that career prosecutors in the office's Investigation Division had questioned the strength of the case as well.
So why would a Democratic politician abandon a high-profile case that he had ran on prosecuting?
A spokesperson for Bragg told the Times that the investigation would continue without the two prosecutors, and that the D.A. was "grateful for their service." But the source with knowledge of the probe said that, though Bragg might say it is ongoing, activity in the case has stopped. In essence, Bragg reversed a go decision. So far, his reasoning remains opaque.

The case was always a high-wire act. Unlike the parallel civil case under investigation by New York's attorney general, Letitia James, which only needs to reach a threshold of "preponderance of the evidence" to find Trump liable for violating the law, the D.A.'s criminal case would have had to convince a jury "beyond a reasonable doubt" that Trump had criminal intent to defraud. Real-estate valuations of the kind that Trump was under investigation for manipulating are also often slippery, but Vance's team had hoped to prove that Trump engaged in a decades-long pattern of criminal fraud. Dunne, in particular, spent years on the investigation, and, although he and Pomerantz apparently never thought the case would be easy, they both believed that it had merit.

[…]

Michael Cohen, a former attorney and close confidant of the ex-President who pleaded guilty to violating campaign-finance laws on Trump's behalf, said a decision not to indict would be "a dereliction of duty to all New Yorkers and the country." Cohen added that he had expected to testify against his former boss before the grand jury himself: "I know the information in the NYDA's possession," he sa
Similarly, the New York Intelligencer's Ankush Khardori asks "What Really Happened to the Criminal Investigation of Trump?"
A source familiar with the investigation provided an account to me that is broadly consistent with what has been reported elsewhere but sheds greater light on the breakup. Vance had repeatedly said last year that he was going to make final charging decisions before leaving office at the end of December, reiterating it to the Financial Times in late September. Around that time, Vance was disinclined to move forward against Trump, skeptical about the strength of the proposed case Dunne and Pomerantz had put together. By early December, though, Dunne and Pomerantz persuaded him there was a chargeable case. At that point, Vance authorized the two to move forward with their investigation with an eye toward indicting Trump after Bragg took over January 1, using the second of two grand juries that had been empaneled over the course of the investigation.

The charges that might have been brought against Trump were not entirely clear, according to the source, who says prosecutors were considering some combination of charges based on falsifying business records (which can either be a misdemeanor or the lowest-level felony offense in New York), conspiring to falsify Trump's financial condition (in relation, perhaps, to lenders, tax authorities, or insurers), or committing criminal fraud such as grand larceny, which sounds dramatic but can also be charged at a variety of felony levels.

After Bragg took over, Dunne and Pomerantz briefed him on the investigation both in writing and in a series of meetings. The Post reported that Bragg "appeared not to be focused on the case," taking his time to engage with the duo and their work, and the two prosecutors decided to stop presenting evidence to the grand jury once they realized a case against Trump was not a foregone conclusion. According to the source, things finally reached a breaking point when Bragg recently told the two that he did not think they had sufficient evidence to indict Trump — at least not yet — and that they should instead wait to see if they could develop or obtain additional evidence. Trump, for instance, might opt not to invoke his right against self-incrimination and could provide testimony to the New York State Attorney General's Office in its civil probe that could be used against him in the DA's criminal case. Another possibility was Trump Organization CFO Allen Weisselberg, who was indicted last summer for tax fraud along with the company, might decide to cooperate if he were ultimately convicted.

At that point, Dunne and Pomerantz concluded they were at an impasse. They believed they had a provable case against Trump — not a slam dunk, necessarily, but a case that was worthy of being brought right now, according to the source familiar with their thinking. Bragg disagreed, and Dunne and Pomerantz did not want to wait longer since there did not appear to be any dramatic breakthroughs on the horizon of the sort Bragg felt were necessary. Weisselberg, for instance, is currently scheduled to go on trial in late summer, but that could be pushed back.
This makes a lot more sense: why bring a case that you may well lose when time is not of the essence and more information could soon be forthcoming?
Khardori thinks the backlash Bragg has received from certain circles is petty and unfounded.
In fact, so far as we can tell based on the public record, there are some considerable reasons to doubt the strength of the case that Dunne and Pomerantz were able to build against Trump and that they may have presented to Bragg. This was always going to be a challenging case: Any complex financial fraud is hard to prosecute, particularly one that involves lawyers, accountants, or other advisers, all of whom can complicate the ability of investigators to establish that any particular person — much less the head of the relevant enterprise — intended to defraud third parties. The fact that the real-estate and hospitality industries appear to have more flexible and debatable methodologies of financial appraisal and valuation would make things harder.

[…]

Then there is the question of key witnesses against Trump. Having evidently tried and failed to flip Weisselberg, Dunne and Pomerantz's best potential cooperator against Trump appears to have been Michael Cohen, and the source familiar with the prosecutors' thinking argued Cohen would have been a viable cooperator. But it would be extremely risky to use Cohen — a serial liar who did not fully cooperate with federal prosecutors in Manhattan and who has undercut his own value as a witness by spending much of the past two years railing against Trump in cable-news interviews and on his own podcast — as the key witness in a case against Trump without many other credible sources of independent corroboration.

How about other documentary evidence? Trump, of course, famously does not use email and loves destroying hard copies of documents. This would not foreclose the possibility of a criminal case based in large part on paper since prosecutors could try to establish Trump's knowledge of misrepresentations in his various financial submissions by establishing that he had been apprised of the truth at around the same time as misrepresentations were delivered to third parties he signed off on, but this is one more very real evidentiary challenge in any prosecution of Trump.

If this was roughly the state of the investigation, it is not hard to see how reasonable and experienced prosecutors might come to different conclusions about the merits of pushing forward. By themselves, any one of the issues noted above would be significant but potentially manageable; all of them together would make for a serious uphill battle. In any long-term investigation, the sunk-cost fallacy — the tendency to push forward after a significant investment of time and resources even when it makes little sense — is a major problem, and that is one reason it can be helpful for someone who is clear-eyed and who has less of a mental and emotional stake in the proceedings to make an independent judgment about the strength of the evidence and the merits of moving full speed ahead.

In this case, it appears that person may have ended up being Bragg himself — the man who would ultimately bear the risk and responsibility of an unprecedented criminal prosecution against a former president.
Frustrating though it is, that makes sense to me.