The Theory of the Case Against Trump
Legal analysts are skeptical.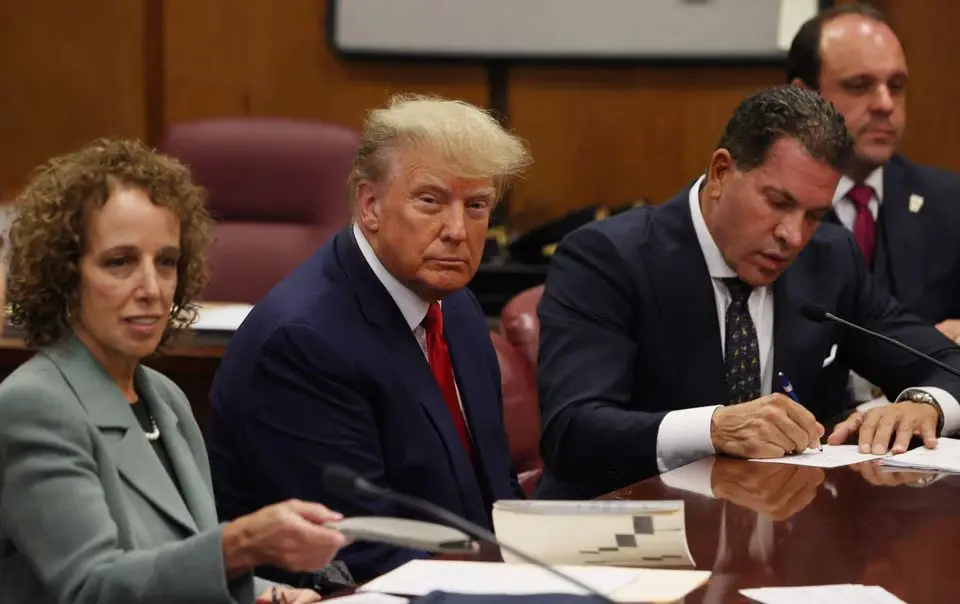 Shortly after he was arraigned yesterday, the formal list of charges against former President Donald Trump was released. While I have not read them (and, indeed, am unlikely to take the time to do so) most analysts remain skeptical of the prosecution's theory of the case. Looking only at those who are decidedly anti-Trump:
Vox's Ian Milhiser ("The dubious legal theory at the heart of the Trump indictment, explained"):
There is something painfully anticlimactic about Manhattan District Attorney Alvin Bragg's indictment of former President Trump. It concerns not Trump's efforts to overthrow the duly elected government of the United States, but his alleged effort to cover up a possible extramarital affair with a porn star.

And there's a very real risk that this indictment will end in an even bigger anticlimax. It is unclear that the felony statute that Trump is accused of violating actually applies to him.

The indictment charges Trump with 34 separate counts of falsifying business records in the first degree, a felony.

[…]

The actual felony counts arise out of allegedly false entries that Trump made in various business records in order to make the payment to Daniels appear to be ordinary legal expenses paid to Cohen.

But Bragg built his case on an exceedingly uncertain legal theory. Even if Trump did the things he's accused of, it's not clear Bragg can legally charge Trump for them, at least under the felony version of New York's false records law.

As Mark Pomerantz, a former prosecutor in the Manhattan DA's office who played a significant role in the Trump investigation prior to his resignation in 2022, wrote in a recent book, a key legal question that will determine whether Trump can be charged under the felony version of New York's false records law has never been resolved by any appellate court in the state of New York.

The felony statute requires Bragg to prove that Trump falsified records to cover up a crime. Bragg has evidence that Trump acted to cover up a federal crime, but it is not clear that Bragg is allowed to point to a federal crime in order to charge Trump under the New York state law.

The answer to this "gnarly legal question," as Pomerantz put it, is simply unknown. So there is a serious risk that a New York judge will toss out the charges against Trump on technical legal grounds unrelated to the former president's actual conduct.

And even if Bragg's legal team convinces New York's own courts that this prosecution may move forward, there is also a very real danger that the Supreme Court of the United States, with its GOP-appointed supermajority, could decide that it needs to weigh in on whether Trump should be shielded from this prosecution.

The Supreme Court has long held, under a doctrine known as the "rule of lenity," that "fair warning should be given to the world, in language that the common world will understand, of what the law intends to do if a certain line is passed." Thus, when the meaning of a criminal statute is unclear, the Constitution sometimes requires that statute to be read narrowly because an unclear criminal law did not give potential defendants "fair warning" that their conduct was illegal.

[…]

Bragg, in other words, has built one of the most controversial and high-profile criminal cases in American history upon the most uncertain of foundations. And that foundation could crumble into dust if the courts reject his legal arguments on a genuinely ambiguous question of law.
Slate's Richard L. Hasen ("Donald Trump Probably Should Not Have Been Charged With (This) Felony"):
Back in 2018, I wrote at Slate that Donald Trump's payments of hush money to adult film actress Stormy Daniels to keep her from speaking and hurting his 2016 U.S. presidential chances was likely a federal campaign finance crime. The feds should have charged him, but they did not, perhaps because of political interference from Trump's then-attorney general, Bill Barr.

[…]

As difficult as that case would have been, I favored bringing it because I thought there was a good legal argument that these payments were campaign-related and there was strong enough evidence that a jury should decide the question.

[…]

Nonetheless, this new theory still has the old problems the federal case would have, but it also has new, more serious ones. Most importantly, it is far from clear that Trump could be liable for state campaign finance crimes as a federal candidate. Moreover, state prosecutors may be precluded from prosecuting federal candidates for federal crimes under a rule called "preemption," meaning they have to be brought by federal authorities rather than state authorities. These are thorny issues that likely will have to be resolved by appeals courts over years.

[…]

Trump is not above the law, and if they can prove the misdemeanors, then by all means they should go after him. (However, there may be statute of limitations issues around those.) But this kind of case can give credence to Trump claims of a witch hunt.

As I wrote back in Slate in 2012 about the John Edwards case, it seems bad public policy to allow prosecutors to bring novel and difficult claims against politicians, in part because they may do so for political rather than legal reasons. I would much rather see Trump prosecuted for concealing classified documents or for interfering with the 2020 election and seeking to disrupt Congress' counting of the Electoral College votes. Those are cases that are on much more solid legal and factual ground.

I would rather see the fire aimed where it belongs: at Trump's attempts to undermine American democracy and interfere with the peaceful transition of power during the 2020 election. Those kinds of prosecutions can help to support the rule of law. This one may undermine it.
WaPo's Ruth Marcus ("The Trump indictment is a dangerous leap on the highest of wires"):
I'm not saying prosecutors will lose this case. They could well win, and I hope they do, because a failure to secure a conviction will only inflame Trump and his supporters in their claims that the criminal justice system is being weaponized against them. But the fears I had in the weeks leading up to the indictment about the strength of the case against Trump were in no way allayed by Tuesday's developments.

[…]

Which leaves open the question of whether New York state prosecutors can transmogrify this conduct into a state crime. Answer: maybe. And don't be fooled by the 34 counts: That healthy-sounding number doesn't signify anything about the strength of the case. They will all rise or fall together depending on whether prosecutors' theory of the case holds up.

The theory is this: New York law makes it a crime to falsify business records. Ordinarily, that is just a misdemeanor. But if the falsification is done with intent to defraud and intent to conceal another crime, that act becomes a felony.

[…]

Okay, but what are the other crimes Trump is accused of covering up? The indictment doesn't say, but Bragg was asked on Tuesday, and he offered a few possibilities. First, he said, the doctored records "violated New York election law, which makes it a crime to conspire to promote a candidacy by unlawful means," including making false statements. Second, Bragg cited the federal election law cap on contribution limits.

But, but, but. This is not well-trodden legal territory. If I understood Bragg's argument correctly, there is a certain circularity to saying that a false statement on corporate books becomes a felony, not a misdemeanor, because state election law makes it a misdemeanor to promote a candidacy by unlawful means, such as making false statements.

Moreover, it's not at all clear that violating a federal law — even if it could be proved that Trump did so — would constitute the kind of other crime that would allow Bragg to bootstrap Trump's alleged conduct from misdemeanor to felony. As Joshua Stanton, Norman L. Eisen, E. Danya Perry and Fred Wertheimer wrote on the JustSecurity website last month, "the only appellate court in New York to have considered the meaning of 'offense' … found that it applied only to New York crimes."

In addition, Trump's lawyers will argue that federal election law supersedes state law. The federal law states explicitly that its rules "supersede and preempt any provision of State law with respect to election to Federal office."
Not everyone agrees, of course. Former Manhattan chief assistant district attorney Karen Friedman Agnifilo and Brookings senior fellow Norman Eisen take to the NYT to proclaim "We Finally Know the Case Against Trump, and It Is Strong."
With the release of the indictment and accompanying statement of facts, we can now say that there's nothing novel or weak about this case. The charge of creating false financial records is constantly brought by Mr. Bragg and other New York D.A.s. In particular, the creation of phony documentation to cover up campaign finance violations has been repeatedly prosecuted in New York. That is exactly what Mr. Trump stands accused of.

[…]

While the particulars of Mr. Trump's case are unique, his behavior is not. Candidates and others have often attempted to skirt the disclosure and dollar limit requirements of campaign finance regulations and falsified records to hide it. Contrary to the protestations of Mr. Trump and his allies, New York prosecutors regularly charge felony violations of the books and records statute — and win convictions — when the crimes covered up were campaign finance violations, resulting in false entries in business records to conceal criminal activity.

[…]

New York appellate courts have held in a long series of cases that intent to defraud includes circumstances in which a defendant acts "for the purpose of frustrating the state's power" to "faithfully carry out its own law." To the extent Mr. Trump was covering up campaign contributions that violated New York law, that seems to be exactly what he did.

It's also worth noting that Mr. Trump was a federal candidate, whereas the other New York cases involved state ones. But court after court across the country has recognized that state authorities can enforce state law in cases relating to federal candidates. Those courts have allowed state cases concerning federal campaign contributions under widely varied circumstances, including for fraudulently diverting funds from political action committees founded to support federal presidential campaigns, violating state law limits on corporate contributions to federal campaigns and transgressing state laws concerning donations to PACs that funded federal campaigns. Some of the examples involve criminal enforcement by state authorities, some civil, but the point is the same: They can act.

So Mr. Bragg's bringing a state case concerning a federal campaign is hardly novel. In an abundance of caution, he not only alleges violations of state campaign finance law but also alleges federal violations. We believe that is permitted, given that the fraudulent books and records and other relevant statutes refer simply to covering up "another crime" or using "unlawful means" and do not specify whether they need be federal or state.

This approach is wise because to throw out the case, a judge would have to rule that Mr. Trump is covered by neither state nor federal campaign finance law. We think it is unlikely that the courts will embrace that Catch-22.
I am skeptical of the theory under which Trump is being charged with a felony here. I'm more than skeptical of the stacking of charges, treating each check in the hush money scheme as a separate crime rather than accumulated evidence of a single crime. That said, Agnifilo and Eisen have a point here: the Manhattan DA's office is unique in its vast experience going after high profile financial crimes. They were surely well aware of the criticisms of their legal theory—which have been circulating for weeks now—and decided to prosecute, anyway. Presumably, then, they think they can win.