NYT Publishes Trump Tax Returns
Should we question the timing?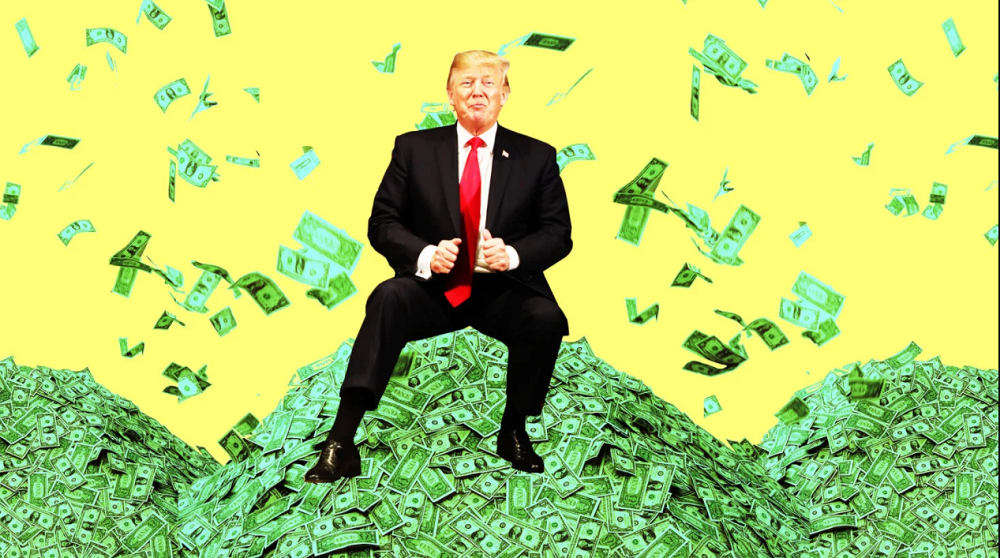 Last night, I received a flurry of phone alerts telling me that Donald Trump has paid essentially no taxes since 2000. While this doesn't surprise me in the least, I'm more than a little dubious that we're just getting this reporting now, on the eve of the first presidential debate.
New York Times executive editor Dean Baquet, whose paper broke the story, explains,
Today we are publishing the results of an examination of decades of personal and corporate tax records for President Trump and his businesses in the United States and abroad. The records stretch from his days as a high-profile New York real estate investor through the beginning of his time in the White House.

A team of New York Times reporters has pored over this information to assemble the most comprehensive picture of the president's finances and business dealings to date, and we will continue our reporting and publish additional articles about our findings in the weeks ahead. We are not making the records themselves public because we do not want to jeopardize our sources, who have taken enormous personal risks to help inform the public.

We are publishing this report because we believe citizens should understand as much as possible about their leaders and representatives — their priorities, their experiences and also their finances. Every president since the mid-1970s has made his tax information public. The tradition ensures that an official with the power to shake markets and change policy does not seek to benefit financially from his actions.

Mr. Trump, one of the wealthiest presidents in the nation's history, has broken with that practice. As a candidate and as president, Mr. Trump has said he wanted to make his tax returns public, but he has never done so. In fact, he has fought relentlessly to hide them from public view and has falsely asserted that he could not release them because he was being audited by the Internal Revenue Service. More recently, Mr. Trump and the Justice Department have fought subpoenas from congressional and New York State investigators seeking his taxes and other financial records.
Baquet and I are in agreement on this. The longstanding norm in American politics is for politicians to release their tax records and financial disclosure forms. While hugely invasive, it has long been understood to be part of the cost of doing business.
Still, I maintain the unpopular opinion that politicians who refuse to participate in this exercise have the right to do so. In return, voters have every right to believe doing so raises a red flag, or even disqualifies them from office.
Given that tax records are private, I'm highly skeptical of news organizations publishing them. That's especially true when they do so without disclosing how they obtained them.
Further, Trump's taxes have been a big topic going back more than five years now. Publishing them five weeks before an election should raise eyebrows. Let alone choosing now to publish a weekslong series on the matter. It smacks of putting their thumb on the scale.
Baquet addresses these issues obliquely.
The reporters who examined these records have been covering the president's finances and taxes for almost four years. Their work on this and other projects was guided by Paul Fishleder, a senior investigative editor, and Matthew Purdy, a deputy managing editor who oversees investigations and special projects at The Times.
So, if they've been doing it for four years, why now? I'm suspicious that they just now concluded the investigation. For that matter, if they have, why not publish what they have rather than dragging it out?
Some will raise questions about publishing the president's personal tax information. But the Supreme Court has repeatedly ruled that the First Amendment allows the press to publish newsworthy information that was legally obtained by reporters even when those in power fight to keep it hidden. That powerful principle of the First Amendment applies here.
Sure. But that goes to the legal right to publish, which is not in dispute.
But, again, these are personal records that Trump has, quite legally, decided not to share with the public.* How did the Times acquire them? When did they acquire them? And why publish them in dribs and drabs?
Absent satisfactory answers to those questions, this comes across as the New York Times serving as the Biden campaign's personal opposition research arm. That may be good for the country in the short term but it's bad for the institution of the press.
The rather obvious caveat to all this comes from what seems a throwaway line in Baquet's note:
Mr. Trump's businesses appear to have benefited from his position, and his far-flung holdings have created potential conflicts between his own financial interests and the nation's diplomatic interests.
The early reporting being picked up by the wires and other Breaking News outlets have focused on the amount of taxes Trump has/has not paid and his failures as a businessman. To the extent the story is about the use of the White House to serve his private interests, the public's right to know trumps just about any other journalistic value.
_________________________
*The Supreme Court has, quite correctly, ruled that Congress and those conducting criminal investigations into Trump's finance have the right to them for legitimate public purposes. But that's a separate question.