Obama Administration Knew Millions Would Lose Coverage Due To PPACA
"If you like your healthcare plan, you can keep it." Well, not really.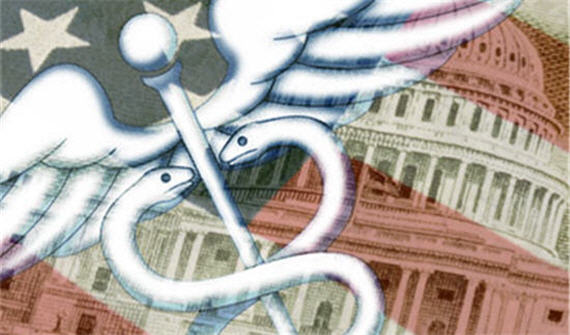 During the nearly year long process of selling health care reform to the American people, one of the most memorable points that President Obama made on repeated occasions was that "if you like your healthcare plan, you can keep it."  It was a talking point meant to address a development criticism of what would eventually become the PPACA, namely that it would force millions of Americans to give up the health insurance plan that they were currently on, and possibly also lose access to their doctor if they were forced on to an insurance plan that the doctor in question didn't accept. As we got closer to the roll out date for the new law, though, reports began to surface of people being tossed off of plans that they had been on for years. In some cases, it involved employer-provided plans as companies as diverse as United Parcel Service and Trader Joe's dropping part-time employees or their spouses from coverage and, in most cases, forcing them to rely upon the so-called exchanges to obtain their insurance. The majority of cases, though, involved people who obtain insurance outside the employer-provided market. For months now, there have been reports on a regular basis of people receiving notices from their insurance companies that the policy they had purchased was being canceled due to the new law, thus meaning that they too would be forced to rely upon the exchanges as well. Since the exchanges went up, the anecdotal reports from people forced into this position suggest that many of them will end up paying higher premiums, or that they will be forced to accept policies with much higher deductibles than they had previously, meaning that in the end their health care will end up costing them more out of pocket.
As it turns out, the Obama Administration was aware that this was going to happen before the PPACA came into effect:
Four sources deeply involved in the Affordable Care Act tell NBC NEWS that 50 to 75 percent of the 14 million consumers who buy their insurance individually can expect to receive a "cancellation" letter or the equivalent over the next year because their existing policies don't meet the standards mandated by the new health care law. One expert predicts that number could reach as high as 80 percent. And all say that many of those forced to buy pricier new policies will experience "sticker shock."

None of this should come as a shock to the Obama administration. The law states that policies in effect as of March 23, 2010 will be "grandfathered," meaning consumers can keep those policies even though they don't meet requirements of the new health care law. But the Department of Health and Human Services then wrote regulations that narrowed that provision, by saying that if any part of a policy was significantly changed since that date — the deductible, co-pay, or benefits, for example — the policy would not be grandfathered.

Buried in Obamacare regulations from July 2010 is an estimate that because of normal turnover in the individual insurance market, "40 to 67 percent" of customers will not be able to keep their policy. And because many policies will have been changed since the key date, "the percentage of individual market policies losing grandfather status in a given year exceeds the 40 to 67 percent range."

That means the administration knew that more than 40 to 67 percent of those in the individual market would not be able to keep their plans, even if they liked them.

Yet President Obama, who had promised in 2009, "if you like your health plan, you will be able to keep your health plan," was still saying in 2012, "If [you] already have health insurance, you will keep your health insurance."
Defenders of the PPACA have reacted to the news that has been coming out about people receiving cancellation notices from their insurance companies by essentially arguing that it's a "side benefit" of the law itself. As everyone knows, one of the most important provisions of the PPACA and its associated regulations concerns what it says about what kind of insurance plans can be offered to Americans. Under the law, for example, plans cannot discriminate against people with pre-existing conditions and they must remove the so-called "lifetime cap" on benefits that often caused serious problems for people with long term chronic illnesses. Additionally, the law requires that policy provide certain limited basic benefits such as free preventive care, coverage for maternity services, and other things that, in the past, had often been covered by "riders" taht had to be purchased in exchange for an increase in one's monthly premium. All of this is true, but the fact that its true means that, for people who had previously been purchasing "bare bones" insurance policies either because that's all they could afford or because that's all they felt they needed would suddenly find themselves with additional "benefits" on their policy that would end up on their policies.
These anecdotal stories are just some of the examples:
George Schwab, 62, of North Carolina, said he was "perfectly happy" with his plan from Blue Cross Blue Shield, which also insured his wife for a $228 monthly premium. But this past September, he was surprised to receive a letter saying his policy was no longer available. The "comparable" plan the insurance company offered him carried a $1,208 monthly premium and a $5,500 deductible.

And the best option he's found on the exchange so far offered a 415 percent jump in premium, to $948 a month.

"The deductible is less," he said, "But the plan doesn't meet my needs. Its unaffordable."

"I'm sitting here looking at this, thinking we ought to just pay the fine and just get insurance when we're sick," Schwab added. "Everybody's worried about whether the website works or not, but that's fixable. That's just the tip of the iceberg. This stuff isn't fixable."

Heather Goldwater, 38, of South Carolina, is raising a new baby while running her own PR firm. She said she received a letter last July from Cigna, her insurance company, that said the company would no longer offer her individual plan, and promised to send a letter by October offering a comparable option. So far, she hasn't received anything.

(…)

Richard Helgren, a Lansing, Mich., retiree, said he was "irate" when he received a letter informing him that his wife Amy's $559 a month health plan was being changed because of the law. The plan the insurer offered raised his deductible from $0 to $2,500, and the company gave him 17 days to decide.

The higher costs spooked him and his wife, who have painstakingly planned for their retirement years. "Every dollar we didn't plan for erodes our standard of living," Helgren said.

Ulltimately, though Helgren opted not to shop through the ACA exchanges, he was able to apply for a good plan with a slightly lower premium through an insurance agent.
The issue of people with low-cost insurance who may suddenly find themselves forced to accept a more generous plan with a higher premium and/or deductible is especially as it applies to the one demographic group that the PPACA needs to sign up if the system is going to work. Younger Americans, specifically people in their 20s and early 30s, have long been known to either forgo insurance altogether or to opt for policies that provide minimal and/or catastrophic coverage in exchange for lower premiums.  With the PPACA, they won't necessarily be able to do that anymore and they'll either have to face the choice of forking out more money for what may be more insurance than they need, or paying the individual mandate penalty. Given that the penalty is exceedingly low, especially in the early years that the mandate will be in effect, it's not inconceivable that many younger Americans will simply choose to pay the penalty. If that happens, then insurance companies may find themselves with a risk poll that is fairly unbalanced, which means that premiums will go up as we head into 2015 and 2016.
There's a larger point here, of course. If people were happy with the plans that they had before passage of the PPACA, then why shouldn't they be allowed to keep them? The argument of PPACA proponents that they are getting something better for the fact that they are paying more money ignores the fact that these are people who, in many cases, had already shopped for insurance on their own and made the decision to purchase the policy that they had because it was the one that best met their needs. What business does the government have to tell them otherwise? If a 27 year old single male, or a self-employed married couple in their 50s, doesn't want to purchase a policy with maternity coverage, why should they be forced to do so? If a family struggling to get by decides to purchase a "bare bones" policy because that's the best they can afford, why should they be forced to purchase something more expensive? Yes, there will be Federal Government subsidies that these people will be entitled to but those aren't going to help with the higher deductibles that they're going to have to deal with in many cases. Indeed, in many cases, some of these people will end up being worse off than they were before the PPACA, which is certainly not the way the plan was sold to the American people.
So, no, the fact that you like your plan doesn't mean that you'll be able to keep it. The fact that the Administration knew that beforehand and didn't tell anyone is really quite telling when it comes to how much confidence they had in whether or not they could ran the legislation through Congress.