Obama and Ebola: Perception and Reality
The president is frustrated.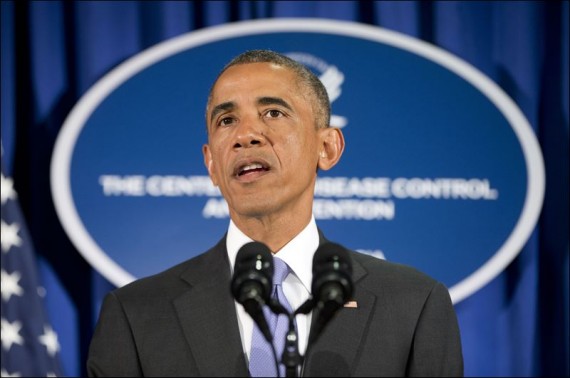 Friday, President Obama appointed a political operative trained as a lawyer to handle the Ebola crisis, prompting our own Doug Mataconis to ask why we need an Ebola czar at all. Given that the president already has a team of highly qualified medical personnel, notably the Centers for Disease Control and the National Institutes of Health (but not a permanent Surgeon General), it's a reasonable question.
Michael Shear and Mark Landler of the NYT provide an answer in their report titled "Amid Assurances on Ebola, Obama Is Said to Seethe."
Beneath the calming reassurance that President Obama has repeatedly offered during the Ebola crisis, there is a deepening frustration, even anger, with how the government has handled key elements of the response.

Those frustrations spilled over when Mr. Obama convened his top aides in the Cabinet room after canceling his schedule on Wednesday. Medical officials were providing information that later turned out to be wrong. Guidance to local health teams was not adequate. It was unclear which Ebola patients belonged in which threat categories.

"It's not tight," a visibly angry Mr. Obama said of the response, according to people briefed on the meeting. He told aides they needed to get ahead of events and demanded a more hands-on approach, particularly from the Centers for Disease Control and Prevention. "He was not satisfied with the response," a senior official said.

The difference between the public and private messages illustrates the dilemma Mr. Obama faces on Ebola — and a range of other national security issues — as he tries to galvanize the response to a public health scare while not adding to the sense of panic fueled by 24-hour cable TV and the nonstop Twitter chatter.

On Friday, Mr. Obama took a step to both fix that response and reassure the public, naming Ron Klain, a former aide to Vice President Joseph R. Biden, to coordinate the government's efforts on Ebola.

The appointment followed the president's statement Thursday that the job was necessary "just to make sure that we are crossing all the t's and dotting all the i's going forward."

"Part of the challenge is to be assertive, to be in command, and yet not feed a kind of panic that could easily evolve here," said David Axelrod, a close adviser to the president in his first term. "It's not enough to doggedly and persistently push for answers in meetings. You have to be seen doggedly and persistently pushing for answers." [emphases added]
While I've admittedly been following the domestic Ebola situation casually, seeing it as largely overhyped, the president's response has struck me as reasonable and prudent. All he can reasonably be expected to do is stay on top of the situation and follow the best advice of his experts, especially those at NIH and CDC. They're career professionals, not political hacks, and work in an area where the US government attracts some of the very best performers in their field. If I were to offer a criticism at all, it's that he has been unsuccessful at combating the hysteria coming out of certain media circles; but I'm not sure exactly what more he could have done in this regard.
Axelrod's analysis here strikes me as spot on: with cases mounting and panic rising, it's not enough to be doing the best possible job one could reasonably be expected to do with a novel crisis. As much as I share Doug's skepticism, if not disdain, for "czars," seeing them as simultaneously extra-constitutional and ineffective, the impetus to appoint them is understandable. That I can't think of a single problem for which we've appointed a czar that was subsequently resolved satisfactorily is rationalist; the goal in appointing them is psychological. It sends a signal to the public that the president takes the problem seriously and is doing everything he can to get it resolved.
The secondary reason offered in the report, however, is something of a head-scratcher:
Senior officials said they pushed Mr. Obama to name an Ebola coordinator as a way of easing pressure on the staff at the National Security Council.
Czars don't have staffs, or at least not significant ones. The very nature of being a coordinator is the need to coordinate. The Ebola crisis remains almost entirely external, which means the National Security Advisor, Defense, State, Homeland Security, and various border security agencies will continue to play the same roles they're playing now. I suppose a czar could handle the domestic response issue but, again, he's still going to have to do it in conjunction with NIH, CDC, the National Guard Bureau, and other agencies that have actual expertise and resources with which to solve the problem.