Obama Defends Tax Cut Deal As Democrats Signal Opposition
Amid signs that Democrats in Congress might rebel against the tax cut deal he struck with Republicans, President Obama took to the airwaves today to defend it at the same time that his base is rebelling against it.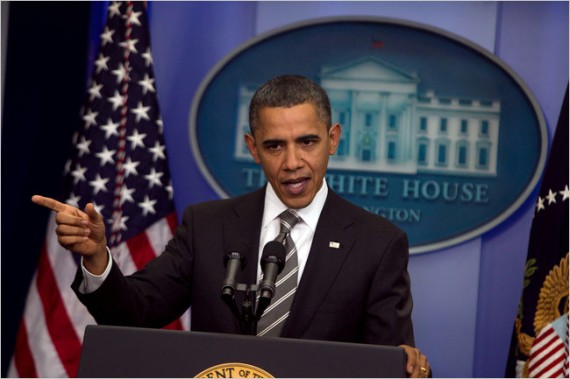 After withstanding twelve hours of criticism mostly from his own party, President Obama held an afternoon press conference today to justify the deal he made with Republicans to preserve the Bush tax cuts for two more years:
A feisty President Obama came to the White House briefing room to defend his tax cut compromise with congressional Republicans and push back against criticism from Democrats and progressives that he sold out too much too quickly.

"This country was founded on compromise," the president said in a hastily-called press conference. "I couldn't go through the front door at this country's founding.  And, you know, if we were really thinking about ideal positions, we wouldn't have a union."

The president said the criticism reminded him of when liberals attacked the health care bill for not including a publicly funded insurance option to compete with private insurers, for which there were not enough votes in the Senate.

"This is the public option debate all over again," the president said. "So I pass a signature piece of legislation, where we finally get health care for all Americans, something that Democrats have been fighting for for a hundred years, but because there was a provision in there that they didn't get, that would have affected maybe a couple of million people, even though we got health insurance for 30 million people and the potential for lower premiums for 100 million people, that somehow that was a sign of weakness and compromise."

Clearly saying to Democrats that they cannot keep complaining every time they don't get everything they want, the president said that "if that's the standard by which we are measuring success or core principles, then let's face it:  We will never get anything done."

In that scenario, he said, "people will have the satisfaction of having a purist position and no victories for the American people.  And we will be able to feel good about ourselves and sanctimonious about how pure our intentions are and how tough we are, and in the meantime the American people are still seeing themselves not able to get health insurance because of preexisting condition, or not being able to pay their bills because their unemployment insurance ran out."

The president noted that the U.S. "is a big, diverse country" where "not everybody agrees with us….the New York Times editorial page does not permeate across all of America."
Obama seemed defensive throughout the press conference, and one can imagine that there have been more than a few tense meetings today between the White House and House and Senate Democrats, many of whom apparently still need to be persuaded to sign on to this deal:
A bloc of Senate Democrats could decide not to support a White House-brokered deal on tax cuts and unemployment benefits, thereby putting the plan in danger, according to the second-ranking Senate Democrat.

Senate Majority Whip Dick Durbin (Ill.) suggested Monday evening that many caucus members could threaten to back away from the deal as leverage to ensure it gets what it wants from a potential compromise with Republicans.

"Well, there is, you know, there is a group that may walk. Let's say at some point you've gone too far," Durbin said during an interview on NPR. "If the Republicans overreach — if they start including some of their pet projects into this compromise when it comes to the tax code, you could find a walkout on the Democratic side. People saying, 'You've just pushed it too far.' "
If possible, the reception to the deal is even worse in the House:
House Majority Leader Steny Hoyer said Tuesday there was "no consensus or agreement reached by House leaders" on the deal Obama negotiated with the GOP, while Speaker Nancy Pelosi (D-Calif.) criticized GOP provisions in the agreement.

In a post on Twitter, Pelosi said the GOP provisions in the tax proposal would add to the deficit and help the rich without creating jobs. The GOP provisions "help only wealthiest 3%, don't create jobs & add tens of billions to deficit," the Pelosi tweet said.

The Speaker expanded on her criticism of the Republican proposals in a statement that notably withheld any commitment of support.

"We will continue discussions with the president and our caucus in the days ahead," Pelosi said. "Democratic priorities remain clear: to provide a tax cut for working families, to promote policies that produce jobs and economic growth, and to assist millions of our fellow Americans who have lost their jobs through no fault of their own."

Hoyer (D-Md.) at his weekly press conference reiterated Democratic opposition to extending tax cuts for the wealthy and said House leaders would be discussing the deal with the Democratic Caucus "over the next few days."

"We'd like the Senate to move first on this issue," Hoyer told reporters.
It seems inconceivable to me that the President would announce a deal on extending the Bush tax cuts without having at least some assurance that his own party was with him, but that seems to be exactly what Obama has done here. Perhaps this is all posturing on the part of the House and Senate Democrats, but it's fairly clear already that there's going to be pressure on them from the progressive wing of the party to reject the tax deal. If that happens, Obama's political problems will only be worse.