Obama Hits Majority Disapproval
A majority of Americans now disapprove of President Obama's performance and a whopping 70 percent think the country is moving in the wrong direction.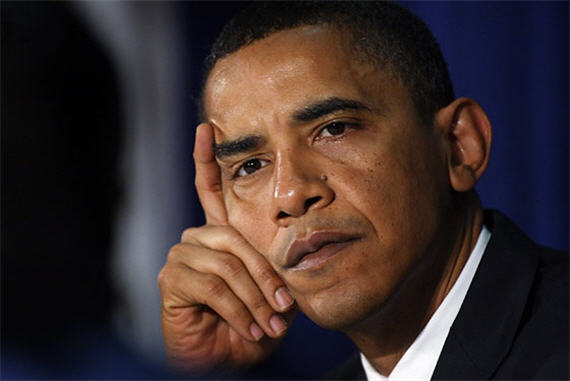 A majority of Americans now disapprove of President Obama's performance and a whopping 70 percent think the country is moving in the wrong direction.
First Read ("NBC/WSJ poll: Obama approval sinks to new low"):
President Barack Obama's approval rating has declined to an all-time low as public frustration with Washington and pessimism about the nation's direction continue to grow, according to a new NBC News/Wall Street Journal poll.

Just 42 percent approve of the president's job performance, which is down five points from earlier this month. By comparison, 51 percent disapprove of his job in office — tied for his all-time high.

The NBC/WSJ pollsters argue that no single reason explains Obama's lower poll standing. Rather, they attribute it to the accumulation of setbacks since the summer — allegations of spying by the National Security Agency, the debate over Syria's chemical weapons, the government shutdown and now intense scrutiny over the problems associated with the health care law's federal website and its overall implementation.

[…]

And for the first time in the survey, even Obama's personal ratings are upside-down, with 41 percent viewing him a favorable light and 45 percent viewing him negatively.

"Personally and politically, the public's assessment is two thumbs down," says Democratic pollster Peter D. Hart, who conducted this survey with Republican pollster Bill McInturff.

But that two-thumbs-down assessment also applies to almost every other politician measured in the poll. Consider:

The public's view of the Republican Party has reached another all-time low in the survey, with 22 percent seeing the GOP in a positive light and 53 percent viewing it negatively;
House Speaker John Boehner, Senate Majority Leader Harry Reid and Senate Minority Leader Mitch McConnell remain unpopular;
Sixty-three percent of voters want to replace their own member of Congress, which is the highest percentage ever recorded on this question that dates back to 1992;
Seventy-four percent believe Congress is contributing to problems in Washington rather than solving them;
Only 22 percent think the nation is headed in the right direction;
And half of respondents (50 percent) think it's likely that there will be another government shutdown.

GOP pollster McInturff says that if the previous NBC/WSJ poll — conducted during the shutdown – sent shock waves hitting the Republican Party, this new poll is sending shock waves hitting everyone else.
Indeed, looking at the full poll results (PDF) there's no good news for anyone.
70% see the country "Off on the wrong track," compared to 22% who see it "Headed in the right direction." That's actually an improvement from three weeks ago, during the shutdown, when it was 79/14.
Obama's approval has never been lower and his disapproval has never been higher, although he's come close on both a couple of times.
30% have a "Very Negative" view of the Republican Party. That's both the highest that number has been since Obama took office but also the modal response. Only 6% have a "Very Positive" view.
The Tea Party comes in at 37% "Very Negative" and 9% "Very Positive," suggesting that they're indistinguishable from the GOP in the minds of the public.
The Democrats fare better but only barely: 22% have a "Very Negative" view and only 15% a "Very Positive" view.
John Boehner and Harry Reid have almost identical poll numbers:  3% and 5% have a "Very Positive" view, respectively, vs. 25% and 23%, respectively, with a "Very Negative" view.
Interestingly, Ted Cruz fares slightly better, with 9% having a  "Very Positive" view and 22% "Very Negative," despite being the poster boy for the shutdown. Especially good news for him: his "Don't Know Name/Not Sure" rating has plummeted to 35%, compared to 65% as recently as June 2.
More interestingly, perhaps, is that Hillary Clinton's "Very Positive" has dropped to 22%, down from 34% as recently as January, while her "Very Negative" number has gone up to 21% from 15%. Presumably, some of that is "Benghazi!"
Amusingly, Federal government employees continue to draw a Meh, with the 33% Neutral being the modal rating and all other categories ranging from 11 to 21: 15% Very Positive, 21% Somewhat Positive, 15% Somewhat Negative, and 11% Very Negative.
The bottom line seems to be that the American people are just fed up. And, while they rightly blame Congressional Republicans more than anyone else for the shutdown, they're angry at Obama and the Democratic leadership for not doing a better job of solving the problem.  Peter Hart sums it up:
"It feels like we're in a Howard Beale moment," adds Hart, referring to an often-quoted line from the 1976 movie "Network."

"We're mad as hell and we're not going to take it anymore," Hart paraphrases from that movie.
Alas, there's a pretty fair chance we'll be taking a lot more of "it" between now and next November.