Obama: One and Done?
Democratic consultants Doug Schoen and Pat Caddell offer some free advice for President Obama. It's worth every penny.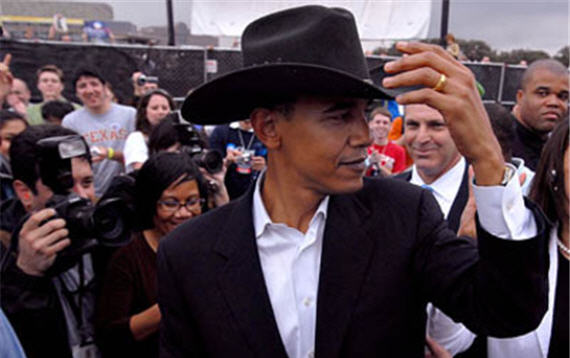 Democratic consultants Doug Schoen and Pat Caddell offer some free advice for President Obama. It's worth every penny.
This is a critical moment for the country. From the faltering economy to the burdensome deficit to our foreign policy struggles, America is suffering a widespread sense of crisis and anxiety about the future. Under these circumstances, Obama has the opportunity to seize the high ground and the imagination of the nation once again, and to galvanize the public for the hard decisions that must be made. The only way he can do so, though, is by putting national interests ahead of personal or political ones.

To that end, we believe Obama should announce immediately that he will not be a candidate for reelection in 2012.

If the president goes down the reelection road, we are guaranteed two years of political gridlock at a time when we can ill afford it. But by explicitly saying he will be a one-term president, Obama can deliver on his central campaign promise of 2008, draining the poison from our culture of polarization and ending the resentment and division that have eroded our national identity and common purpose.

[…]

Quite simply, given our political divisions and economic problems, governing and campaigning have become incompatible. Obama can and should dispense with the pollsters, the advisers, the consultants and the strategists who dissect all decisions and judgments in terms of their impact on the president's political prospects.

Obama himself once said to Diane Sawyer: "I'd rather be a really good one-term president than a mediocre two-term president." He now has the chance to deliver on that idea.
They anticipate the obvious retort:
Forgoing another term would not render Obama a lame duck. Paradoxically, it would grant him much greater leverage with Republicans and would make it harder for opponents such as Senate Minority Leader Mitch McConnell (R-Ky.) – who has flatly asserted that his highest priority is to make Obama a one-term president – to be uncooperative.

[…]

If the president adopts our suggestion, both sides will be forced to compromise.
There are two wee problems with all of this.  First, it assumes that the only reason that there's politics in politics is because an incumbent president is a natural target.  Second, it assumes that there is some wise "middle ground" that would gain widespread support if only politicians would just put the "interests of the country" above their partisan interests.  Neither, alas, is remotely true.
Assertions aside, Obama would by definition be a lame duck if he declared he wasn't seeking re-election. He'd immediately go from being the undisputed leader of the Democratic Party to one of many, as the Democratic primary field of 2016 would suddenly become the Democratic primary field of 2012.  One imagines, for example, that Hillary Clinton would leave the administration and start running.  What this means is that, even if Obama could stand above the fray and more easily compromise — he wouldn't have to worry about alienating the Progressives anymore — a goodly number of Senate Republicans and Democrats would have to start grandstanding earlier.
Recall also that every second term president is in the position to which Schoen and Caddell advise Obama to skip ahead.  Does anyone recall the halcyon bipartisan achievements of the second Bush term?  The second Clinton term?  The second Reagan term?  The second Nixon term?
Yes, presidents free from the pressure of re-election tend to focus on their "legacy."  But the other players remain politicians.
More importantly, removing political ambitions from the lead actor in American politics — and that assumes Obama wouldn't wish to be succeeded by a Democrat — wouldn't change the fact that we're a nation of very diverse opinions.  Yes, the two parties are an artifact of our institutions.  But they're also a function of natural divisions between rural and urban, religious and secular, rich and poor, and myriad other worldviews.
Schoen and Caddell cite specifics:
[I]f the president were to demonstrate a clear degree of bipartisanship, it would force the Republicans to meet him halfway. If they didn't, they would look intransigent, as the GOP did in 1995 and 1996, when Bill Clinton first advocated a balanced budget. Obama could then go to the Democrats for tough cuts to entitlements and look to the Republicans for difficult cuts on defense.
So, because Obama announces he's not running again, Democrats are going to not only abandon their core beliefs in a more redistributionist government but also alienate their every constituency?   And Republicans are suddenly going to decide we can get by with half the military spending?   Why, pray tell, is that?
On foreign policy, Obama could better make hard decisions about Iran, North Korea and Afghanistan based on what is reasonable and responsible for the United States, without the political constraints of a looming election. He would be able to deal with a Democratic constituency that wants to get out of Afghanistan immediately and a Republican constituency that is committed to the war, forging a course that responds not to the electoral calendar but to the facts on the ground.
Right.  If only they would be reasonable, Democrats would realize that the "facts on the ground" are such that we should stay in Afghanistan and Republicans would see that we should have a more modest set of goals.  Why, we could meet in the middle!  Except that there is no middle.   Neoisolationism and neoconservatism are diametrically opposed philosophies.