Third Party in 2012?
It's a shame that Duverger's Law doesn't come with criminal penalties.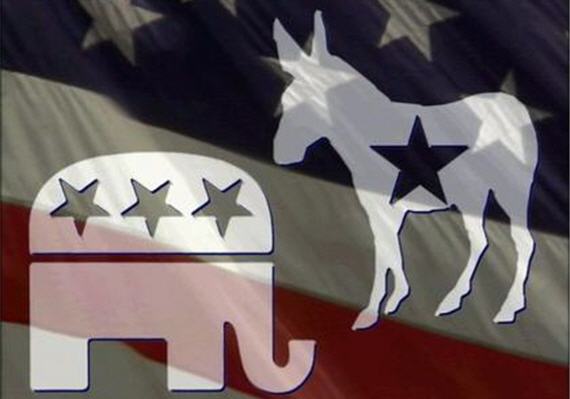 It's a shame that Duverger's Law doesn't come with criminal penalties, as it would save us from nonsense like Pat Caddell and Doug Schoen's "Expect a Third-Party Candidate in 2012."
What's more, a poll of 1,000 Americans conducted by Douglas E. Schoen LLC in April found that a solid majority of Americans are now looking for alternatives to the two-party system. Overall, a majority (57%) of all respondents said there is a need for a third party.

More than half (51%) of voters favored having a third major political party. Nearly one-third (31%) said that having a third major party in our country is very important. Voters favored having a major third party run a candidate for president in 2012 58%-13%—with one in five saying they were absolutely certain or very likely to vote for a third-party candidate.

In line with these findings, 52% of all respondents in a May Gallup poll said there is a need for a third party, and for the first time in Gallup's history, a majority of Republicans embraced the idea. In a June Rasmussen poll, 30% of respondents said they would consider voting for a third-party candidate for president in 2012.
That people are frustrated with the current choices is hardly new. Hell, they're always frustrated with the current choices. Indeed, what Caddell and Schoen forget to mention is that the aforementioned Gallup poll is titled "Support for Third U.S. Party Dips, but Is Still Majority View."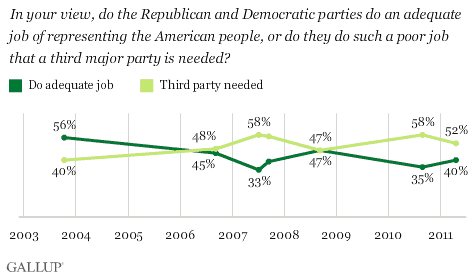 Indeed, support for a third party was six points higher about this time in the last election cycle. You know what didn't happen? The election of a president from a third party. Odd, that.
 We already see evidence on the ground that from the discontent coursing through the electorate there may emerge a third or even fourth political party that would be competitive in next year's presidential election. Look no further than the recent launch of the centrist, bipartisan, Americans Elect. This is a nonprofit political organization that plans to break the stranglehold of the two-party duopoly by selecting a third presidential ticket, via an Internet convention, that will be on the ballot in 2012.
Uh huh. If Messrs Caddell and Schoen would like to wager, I'll happily bet the house the president come noon on January 20, 2013 will have a D or an R in parenthesis after his name. And I'll take out a second mortgage that "Americans Elect" will be of very little consequence.
Meanwhile the tea party movement is functioning as a quasi-third party already, having already demonstrated an unprecedented level of activism, enthusiasm and influence over the primary and general-election outcomes during the 2010 midterms—and, most recently, driving the debate over the debt ceiling. Polling done by Douglas E. Schoen LLC last year shows that a tea party presidential candidate could get between 15%-25% of the vote running on that line, depending on the precise alignment of the candidates.
Gentlemen, I know this is confusing but, even though they have "party" right there in the name, the Tea Party isn't actually a political party. Thus far, its influence has been entirely confined to the Republican primaries and to Republican office holders. If they decide to form a splinter group in the event that, say, Mitt Romney is the Republican nominee, they'll simply assure Barack Obama's re-election.
There are now rumblings from Donald Trump, a former contender for the Republican nomination, that he may run as an independent. There are certain to be others.
Did you fellows happen to actually follow Trump's bid for the Republican nomination? Not to spoil it for you, but he didn't get it.
We have seen in the past where economic distress and political alienation can lead. In both the 1980 and 1992 presidential campaigns, third-party candidates emerged—John Anderson and then Ross Perot—and each garnered high levels of public support.
Uh huh. Between the two of them they amassed a grand total of zero–count 'em: zero–electoral votes.
The political order as we know it is deteriorating and disintegrating, and politics abhors a vacuum. So there is very good reason to believe that a credible third party, or even fourth political party, may be on the ballot in 2012.
No, there isn't. Not if, by credible, you mean, having the slightest chance of capturing the 258 Electoral College votes necessary to claim the presidency.
Let's say that Sarah Palin decides to form the Mama Grizzly Party and gets major backing. It's plausible that there will be some states in which she gets more votes than Mitt Romney. (I can't imagine a scenario in which she runs against Rick Perry.) But I can't imagine what state she would win. Instead, she'd simply guarantee an Obama landslide, since he'd wind up carrying states that he otherwise wouldn't have a chance in by virtue of a split Republican vote. After all, Obama got 43.8% of the vote in Texas last go-round to McCain's 55.5%. If Palin siphoned off 12% of the Republican vote, she'd hand 38 Electoral votes to Obama.
Or, let's say Michael Bloomberg decides to form the Pundits Dream Party and pour all his vast resources into the contest. He'd pull quite a few votes away from Obama in New York and elsewhere. Depending on whether the Republican nominee is more like Rick Perry or Mitt Romney, he'd either pull a lot or a few votes away from him, too. But it's hard to imagine which state Bloomberg could carry, much less how he'd amass 270 Electors.
There have been times in our history when third party candidates did quite well. George Wallace actually carried five states in 1968; but that was the beginning for the end of the Southern Democrat and the start of a significant realignment. In 1912, Progressive Party candidate Theodore Roosevelt actually came in second, getting 88 electoral votes. But he'd been a two-term president as a Republican. And the Republicans would have likely kept the White House, too, rather than giving Woodrow Wilson a landslide had either he or Taft stepped aside.
Most famously, of course, there's the election of 1860, after which a bit of unpleasantness followed.  The Democrats split into two regional factions, a fourth party carried three states, and the fledgling Republican Party won the White House. No new party has done it since.