Obama's Second Term
"Democratic" pollsters Pat Caddell and Doug Schoen argue that President Obama should decline to run for re-election.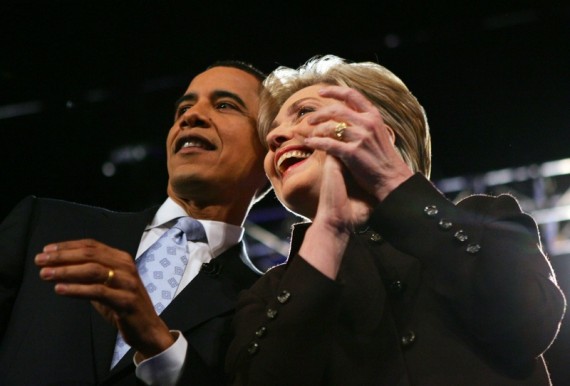 "Democratic" pollsters Pat Caddell and Doug Schoen argue that President Obama should decline to run for re-election.
WSJ ("The Hillary Moment — President Obama can't win by running a constructive campaign, and he won't be able to govern if he does win a second term"):
When Harry Truman and Lyndon Johnson accepted the reality that they could not effectively govern the nation if they sought re-election to the White House, both men took the moral high ground and decided against running for a new term as president. President Obama is facing a similar reality—and he must reach the same conclusion.
I'm pretty sure that Truman and Johnson accepted the reality that they would be wildly thrashed if they ran for re-election and thus declined to run.
He should abandon his candidacy for re-election in favor of a clear alternative, one capable not only of saving the Democratic Party, but more important, of governing effectively and in a way that preserves the most important of the president's accomplishments. He should step aside for the one candidate who would become, by acclamation, the nominee of the Democratic Party: Secretary of State Hillary Clinton.
Aside from the absurd fantasy nature of this proposal, it would truly screw his own party. The filing deadlines have passed on most of the early primary states, meaning "by acclamation" would indeed be the most likely path to the nomination.
Never before has there been such an obvious potential successor—one who has been a loyal and effective member of the president's administration, who has the stature to take on the office, and who is the only leader capable of uniting the country around a bipartisan economic and foreign policy.
First off, there has frequently, if not almost always, been such a person: the sitting vice president. Second, while Clinton has lost most of the polarizing effect she had in the 1990s, she's hardly a uniting figure. Third, it's highly unlikely that anyone, much less Hillary Clinton, has the ability to rally the country around a united policy. Even the experts vehemently disagree with one another; there's certainly no popular consensus.
Certainly, Mr. Obama could still win re-election in 2012. Even with his all-time low job approval ratings (and even worse ratings on handling the economy) the president could eke out a victory in November. But the kind of campaign required for the president's political survival would make it almost impossible for him to govern—not only during the campaign, but throughout a second term.

Put simply, it seems that the White House has concluded that if the president cannot run on his record, he will need to wage the most negative campaign in history to stand any chance. With his job approval ratings below 45% overall and below 40% on the economy, the president cannot affirmatively make the case that voters are better off now than they were four years ago. He—like everyone else—knows that they are worse off.
All modern campaigns have been negative. The 2012 election, simply by virtue of the political, economic, and media climate we live in, will be horrifically so regardless of the nominees.
If President Obama were to withdraw, he would put great pressure on the Republicans to come to the table and negotiate—especially if the president singularly focused in the way we have suggested on the economy, job creation, and debt and deficit reduction. By taking himself out of the campaign, he would change the dynamic from who is more to blame—George W. Bush or Barack Obama?—to a more constructive dialogue about our nation's future.
Alternatively, he'd be an instant lame duck and lose whatever ability he has now to force his own party in line and threaten Republicans with consequences should he hold onto power another four years.
A CNN/ORC poll released in late September had Mrs. Clinton's approval rating at an all-time high of 69%—even better than when she was the nation's first lady. Meanwhile, a Time Magazine poll shows that Mrs. Clinton is favored over former Massachusetts Gov. Mitt Romney by 17 points (55%-38%), and Texas Gov. Rick Perry by 26 points (58%-32%).
Because she's not running for anything. Once she became the presumptive nominee, she'd become a target for all the vitriol that's currently aimed at Obama. And she'd be forced to take stances on polarizing issues.
Not only is Mrs. Clinton better positioned to win in 2012 than Mr. Obama, but she is better positioned to govern if she does. Given her strong public support, she has the ability to step above partisan politics, reach out to Republicans, change the dialogue, and break the gridlock in Washington.
Where have I heard that before? Oh, that's right: Pretty much every election in my lifetime. It's a fantasy.
President Bill Clinton reached a historic agreement with the Republicans in 1997 that led to a balanced budget. Were Mrs. Clinton to become the Democratic nominee, her argument would almost certainly have to be about reconciliation and about an overarching deal to rein in the federal deficit. She will understand implicitly the need to draw up a bipartisan plan with elements similar to her husband's in the mid-to-late '90s—entitlement reform, reform of the Defense Department, reining in spending, all the while working to preserve the country's social safety net.
Bill Clinton benefited from the combination of the post-Cold War "peace dividend" and the height of the dotcom bubble, which allowed substantial budget cuts while bringing in a windfall of revenue. Whomever is sitting in the Oval Office on 21 January 2013 is highly unlikely to face such favorable conditions.
We write as patriots and Democrats—concerned about the fate of our party and, most of all, our country. We do not write as people who have been in contact with Mrs. Clinton or her political operation. Nor would we expect to be directly involved in any Clinton campaign.
I don't question their patriotism, but it's questionable how much these two are still Democrats. Caddell reportedly left the party in 1988 and has subsequently made a living as a Democrat who can be counted upon to denounce Democrats. Schoen did work for Hillary Clinton's 2000 campaign but isn't exactly a Progressive, arguing constantly for lowered taxes, against ObamaCare, and against Occupy Wall Street. Both are Fox News contributors.
Regardless, I don't think they're writing these op-eds to damage the Democrats but rather because they live in a fantasy world about how politics works. The notion that, if only we elected the right kind of leader president, why, we'd all come together and do what's best for the country is certainly appealing. But so is Santa Claus and unicorns bearing gifts of Macallan 18. All are equally likely.
The one part of the piece that's almost certainly true is that a second Obama term would be a disappointment to Democrats. But it's not because the tactics needed to win re-election would tear the country apart but because the dynamics of American politics don't make for good second terms. He'd immediately be a lame duck and ambitious Democrats would start scrambling to position themselves for 2016. The best of his staff, almost certainly to include Clinton, will depart for less stressful and more lucrative positions outside of government. And his agenda is already either enacted (ObamaCare, gays in the military, getting out of Iraq) or wrecked on the sharp rocks of reality (closing Gitmo). But Obama's chances of getting a second term are strong enough that he's surely going to give it a shot and hope to buck the odds.