Obama Politically Tone Deaf On TSA Outrage
President Obama's response to the outrage that has accompanied new TSA screening procedures at America's airports is incredibly non-responsive.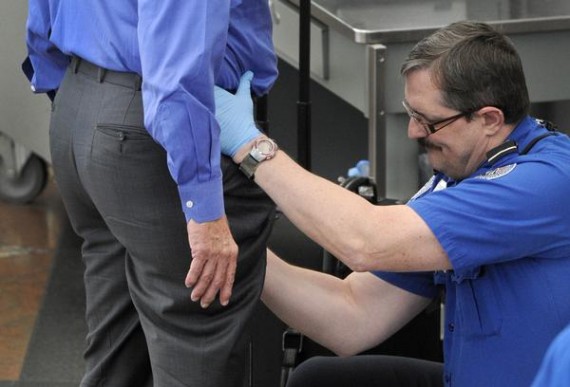 President Obama spoke yesterday about the outrage that has swept the country over new TSA screening procedures, and his response strikes me as being incredibly non-responsive to the concerns that people have raised about procedures that many consider to be incredibly invasive:
President Barack Obama stood by new controversial screening measures Saturday, calling methods such as pat-downs and body scans necessary to assure airline safety.

Speaking at a NATO press conference in Lisbon, Portugal, the president called the balance between protecting travelers' rights and their security a "tough situation."

Per the new rules, travelers may be subject to full-body scans at 400 such machines in 69 airports nationwide. Those who voluntarily opt out — as well as those who set off a scanning machine or a metal detector — are subject to a pat-down. Some travelers have likened the pat-downs to groping.

The president said such methods are needed after what happened December 25, 2009, when Umar Farouk Abdulmutallab of Nigeria allegedly boarded a flight from Amsterdam to Detroit with a bomb hidden in his underwear. Abdulmutallab reportedly failed to set off the bomb, which metal detectors didn't detect, though his attempt led to airport screening procedures that have caused a holiday travel uproar.

"At this point, the Transportation Security Administration, in consultation with our counterterrorism experts, have indicated to me that the procedures that they've been putting in place are the only ones right now that they consider to be effective against the kind of threat that we saw in the Christmas Day bombing," said Obama.
Of course Abdulmutallab boarded his flight to Detroit in Amsterdam, so these enhanced screening procedures would have done nothing to stop him from getting to the United States, and that remains true for vast numbers of foreign terrorists who could theoretically carry out an attack on an American airliner without ever stepping foot on American soil. Richard Reid boarded his flight to the United States in Paris, for example, and  the attack on Pan Am Flight 103 took place without a single terrorist entering the United States.  In that case, the explosives that brought the plane down over Lockerbie, Scotland were put on the plane in Germany. Neither the attempted attacks by Richard Reid or Adbulmultallab, nor the successful attack on the Pan Am airliner, would have been prevented by screening procedures in the United States. So,  forcing American travelers to undergo invasive security procedures doesn't necessarily accomplish anything.
More importantly, though, Obama's response strikes me as being politically tone deaf. In the face of outrage over Americans being groped by TSA agents, children being man-handled in a bizarre procedure that makes no logical sense, and people being exposed to the humiliation of having prosthetic breasts removed or being covered in their own urine, Obama's "Too bad, you've gotta do it anyway" response is a sign of how far removed from reality the Presidency makes a person. If the President or members of his family had to subject themselves to TSA screening on a regular basis, one would think his opinion on the matter w0uld be quite different.
Obama somewhat admits to this in his remarks:
Obama's response is not surprising. After all, his motivation is to make sure that he doesn't get blamed for lax security if there's another attack on his watch. The inconveniences suffered by the American people when traveling from Point A to Point B aren't so much on his radar, neither, apparently, is the question of where in the Constitution an agent of the government is given the authority to grope people in the name of "safety." From that point of view, how invasive these procedures are isn't really his primary concern.
From a political point of view, though, the President's response strikes me as ill-advised, and if the outrage we've seen over the last two weeks continues he could find himself far behind the curve when it comes to reacting to something that the American people are seemingly fed up with.