Obama Talks About Race Relations In The Wake Of Charleston, Media Concentrates On One Word
President Obama gave an interesting and somewhat unusual interview to a podcaster late last week, but the media is obsessed over a single word.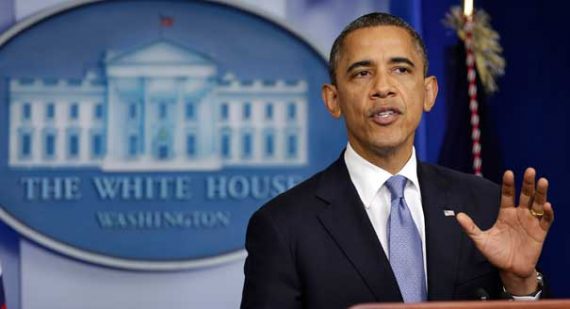 President Obama is getting much attention today for comments he made on a podcast regarding race relations in America in the wake of the murders in Charleston:
WASHINGTON — Just days after nine black parishioners were killed in a South Carolina church, President Obama said the legacy of slavery still "casts a long shadow" on American life, and he said that choosing not to say the word "nigger" in public does not eliminate racism from society.

In a wide-ranging conversation about race, including his own upbringing as a man born to a black father and a white woman, Mr. Obama insisted that there was no question that race relations have improved in his lifetime. But he also said that racism was still deeply embedded in the United States.

"The legacy of slavery, Jim Crow, discrimination in almost every institution of our lives, you know, that casts a long shadow, and that's still part of our DNA that's passed on," the president said during an interview for Marc Maron's "WTF" podcast that was released on Monday. "We're not cured of it. And it's not just a matter of it not being polite to say nigger in public. That's not the measure of whether racism still exists or not."

He added, "Societies don't overnight completely erase everything that happened two to 300 years prior."

Mr. Obama has been more open about the issue of race during his second term, in part because of racially charged episodes in the last several years. The killing of Trayvon Martin, a black teenager in Florida, and the protests that followed several police shootings have prompted the president to be more reflective about his own racial identity and the nation's.

In the hourlong interview, Mr. Obama talked about being a rebel during his youth and "trying on" different kinds of personas as he struggled to understand what kind of African-American man he wanted to be.

"I'm trying on a whole bunch of outfits," Mr. Obama said. "Here's how I should act. "Here's what it means to be cool. Here's what it means to be a man."

He said that a lot of his issues when he was young "revolved around race" but that his attitude changed around the time he turned 20. That is when he began to understand how to honor both sides of his racial identity, the president said.

"I don't have to be one way to be both an African-American and also someone who affirms the white side of my family," he said. "I don't have to push back from the love and values that my mom instilled in me."

(…)

In addition to discussing race, Mr. Obama and Mr. Maron talked about the issue of gun control, and whether something should be done in the aftermath of shootings like the one at the Emanuel A.M.E. Church in Charleston, S.C., last week.

"It's not enough to just feel bad," Mr. Obama said. "There are actions that could be taken to make events like this less likely, and one of those actions we could take would be to enhance some basic, common-sense gun safety laws that, by the way, the majority of gun owners support."

He added: "The question is, just, is there a way of accommodating that legitimate set of traditions with some common-sense stuff that prevents a 21-year-old who is angry about something, or confused about something, or is racist, or is, you know, deranged, from going into a gun store and suddenly is packing and can do enormous harm? And that is not something that we have ever fully come to terms with."
The one thing that the interview is getting the most attention for this afternoon, which isn't really referenced in the Times article linked above, is his use of a word that has become close to forbidden in polite society:
President Barack Obama did not mince words in discussing race in a recent interview, going so far as to use the N-word in talking about America's complex racial history when speaking to Marc Maron on the comedian's "WTF" podcast in Los Angeles last week.

"The legacy of slavery, Jim Crow, discrimination in almost every institution of our lives, you know, that casts a long shadow, and that's still part of our DNA that's passed on. We're not cured of it," Obama said in the interview, posted in full on Monday. "And it's not just a matter of it not being polite to say 'n——-' in public. That's not the measure of whether racism still exists or not. It's not just a matter of overt discrimination. … Societies don't overnight completely erase everything that happened 2-300 years prior."
The media being the media, most of the coverage of the interview today is concentrating on the President's use of that particular word. Excerpts I have seen of that portion of the interview on both MSNBC and CNN have bleeped the word out rather than broadcasting, notwithstanding the fact that it came out of the mouth of the first African-American President in American history. I suppose there is something shocking about his use of the word, but it was obviously done to make a point. The point the President was making, of course, is that it's improper to say that racism is not longer a problem because we don't have Jim Crow, because there is widespread enforcement of anti-discrimination laws and the local, state, and federal levels, or because there are outward manifestations of racial harmony to the point where a racial slur that once was quite common is now considered socially unacceptable. That's certainly an important thing, of course, but it's arguably only the beginning. Using that word, which he most certainly could not have done if he were being interviewed by Jake Tapper, Chuck Todd, or some other mainstream journalist was obviously meant to drive that point home.
On some level, though, I have to wonder if crossing that bridge won't end up diluting what the President was trying to say in this interview. As I said, to the extent that this interview is being covered in the broadcast and cable media or the blogosphere the emphasis seems to be concentrating mostly on the fact that he said "N****r." The media attention on that one thing is, perhaps, understandable given what that word has come to be perceived as. In the end, though, it really is just a word, and concentrating on it while ignoring, for the most part, the rest of what the President is saying misses the point, and likely misses the reason he chose to use the word to begin with.
If the events in Charleston have proven anything, it is that the dark side of racism still exists in even its most virulent forms in the United States, but that really shouldn't come as a surprise. One need only venture into nearly any comment thread on the Internet to an article dealing with a race-related issue to see what people are willing to say and what they think. Additionally, the fact that there is such a wide difference in the perception of law enforcement between white and blacks, regardless of income level, seems to be a strong indication that there are still underlying issues regarding race in the United States. Are things the same as they were in the 1950s, or even when I was growing up in the 1970s? No, of course they aren't they're much better in many respects. That's probably one reason why this has been such a tough issue for the President to address during his time in office. Americans like to think we've improved since the bad old days, and forcing people to confront uncomfortable truths is likely to, well, make people uncomfortable. If the tragedy in Charleston actually causes that to start happening, then maybe something good can come out of a horrible event.