It's Good to Be Clarence Thomas
The questionable ethics of living a lavish lifestyle based on high office.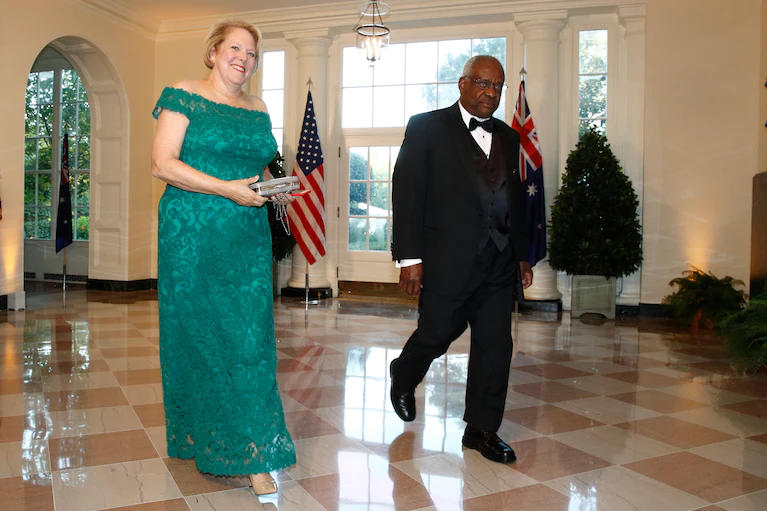 At ProPublica, Joshua Kaplan, Justin Elliott and Alex Mierjeski report on "Clarence Thomas and the Billionaire."
IN LATE JUNE 2019, right after the U.S. Supreme Court released its final opinion of the term, Justice Clarence Thomas boarded a large private jet headed to Indonesia. He and his wife were going on vacation: nine days of island-hopping in a volcanic archipelago on a superyacht staffed by a coterie of attendants and a private chef.

If Thomas had chartered the plane and the 162-foot yacht himself, the total cost of the trip could have exceeded $500,000. Fortunately for him, that wasn't necessary: He was on vacation with real estate magnate and Republican megadonor Harlan Crow, who owned the jet — and the yacht, too.

For more than two decades, Thomas has accepted luxury trips virtually every year from the Dallas businessman without disclosing them, documents and interviews show. A public servant who has a salary of $285,000, he has vacationed on Crow's superyacht around the globe. He flies on Crow's Bombardier Global 5000 jet. He has gone with Crow to the Bohemian Grove, the exclusive California all-male retreat, and to Crow's sprawling ranch in East Texas. And Thomas typically spends about a week every summer at Crow's private resort in the Adirondacks.

The extent and frequency of Crow's apparent gifts to Thomas have no known precedent in the modern history of the U.S. Supreme Court.

These trips appeared nowhere on Thomas' financial disclosures. His failure to report the flights appears to violate a law passed after Watergate that requires justices, judges, members of Congress and federal officials to disclose most gifts, two ethics law experts said. He also should have disclosed his trips on the yacht, these experts said.

Thomas did not respond to a detailed list of questions.

In a statement, Crow acknowledged that he'd extended "hospitality" to the Thomases "over the years," but said that Thomas never asked for any of it and it was "no different from the hospitality we have extended to our many other dear friends."

Through his largesse, Crow has gained a unique form of access, spending days in private with one of the most powerful people in the country. By accepting the trips, Thomas has broken long-standing norms for judges' conduct, ethics experts and four current or retired federal judges said.

"It's incomprehensible to me that someone would do this," said Nancy Gertner, a retired federal judge appointed by President Bill Clinton. When she was on the bench, Gertner said, she was so cautious about appearances that she wouldn't mention her title when making dinner reservations: "It was a question of not wanting to use the office for anything other than what it was intended."

Virginia Canter, a former government ethics lawyer who served in administrations of both parties, said Thomas "seems to have completely disregarded his higher ethical obligations."

"When a justice's lifestyle is being subsidized by the rich and famous, it absolutely corrodes public trust," said Canter, now at the watchdog group CREW. "Quite frankly, it makes my heart sink."
Slate legal analysts Dahlia Lithwick and Mark Joseph Stern declare, "Clarence Thomas Broke the Law and It Isn't Even Close."
ProPublica's scrupulously reported new piece on Justice Clarence Thomas' decadeslong luxury travel on the dime of a single GOP megadonor will probably not shock you at all. Sure, the dollar amounts spent are astronomical, and of course the justice failed to report any of it, and of course the megadonor insists that he and Thomas are dear old friends, so of course the superyacht and the flights on the Bombardier Global 5000 jet and the resorts are all perfectly benign. So while the details are shocking, the pattern here is hardly a new one. This is a longstanding ethics loophole that has been exploited by parties with political interests in cases before the court to curry favor in exchange for astonishing junkets and perks. It is allowed to happen.

We will doubtless spend a few news cycles expressing outrage that Harlan Crow has spent millions of dollars lavishing the Thomases with lux vacations and high-end travel and barely pretended to separate business and pleasure, giving half a million dollars to a Tea Party group founded by Ginni Thomas in 2011 (which funded her own $120,000 salary). But because the justices are left to police themselves and opt not to do so, we will turn to other matters in due time. Before the outrage dries up, however, it is worth zeroing in on two aspects of the ProPublica report that do have lasting legal implications. First, the same people who benefited from the lax status quo continue to fight against any meaningful reforms that might curb the justices' gravy train. Second, the rules governing Thomas' conduct over these years, while terribly insufficient, actually did require him to disclose at least some of these extravagant gifts. The fact that he ignored the rules anyway illustrates just how difficult it will be to force the justices to obey the law: Without the strong threat of enforcement, a putative public servant like Thomas will thumb his nose at the law.

If there is a single image that captures this seedy state of affairs, it is a painting of Thomas hanging out with Leonard Leo (Federalist Society co-chair and judicial power broker) and Mark Paoletta (who has served as chief counsel to former Vice President Mike Pence and general counsel of Donald Trump's Office of Management and Budget). Both are political operatives, though Crow assures us that they would never dare talk about Thomas' work. This image should be enough to shock anyone into taking action against the spigot of dark money that flows directly from billionaire donors into the court, its justices, and their spouses' pockets. Continuing to live as though there is nothing to be done about any of this is a choice. We make it every day.

In addition to working in the Trump-Pence administration, Paoletta serves as the Thomases' longtime fixer, attack dog, and booster. He represented Ginni Thomas when she spoke to the Jan 6. committee about her support for overturning the 2020 election. He also edited a biography of Clarence Thomas based on an almost comically obsequious documentary (in which he was also involved). So it should not be a surprise that Paoletta has also testified against any ethics reform measures for the Supreme Court, dismissing the reform movement as part of "the coordinated campaign by some Democrats and their allies in the corporate media to smear conservative Justices with the goal of delegitimizing the court."
The lavish vacations are getting the most attention but they tend to bother me less than a lot of the other details here. Crow is a wealthy man and owns very nice things. I'm not sure why riding on someone's yacht is worse than riding on someone's bass boat or flying in their private jet is worse than riding shotgun in their pickup truck. And it's silly to calculate the cost of a private chartering of the yacht and the plane; presumably, the Thomases would simply have flown commercial first class if left to their own devices.
Is it inherently unethical for Thomas to be friends with rich people? To vacation with them? I don't see it.
Now, if there's a requirement for Federal judges to disclose these things as "gifts," then he should certainly have done so. And it seems that he was in fact required to do so.
The best argument in his defense is that the old definition of "personal hospitality" did not require him to disclose transportation, including private flights. This reading works only by torturing the English language beyond all recognition. The old rule, like the statute it derives from, defined the term as hospitality that is "extended" either "at" a personal residence or "on" their "property or facilities." A person dead-set on defending Thomas might be able to squeeze these yacht trips into this definition, arguing that, by hosting Thomas on his boat for food, drink, and sightseeing, Crow "extended" hospitality "on" his own property. But lending out the private jet for Thomas' personal use? Come on. There's no plausible way to shoehorn these trips into the old rule—which quotes the statute verbatim—even under the most expansive interpretation imaginable. Letting somebody use your private jet to travel around the country is not "extend[ing]" hospitality "on" your property. It is lending out your property to someone else so they can avoid paying for a commercial flight. Thomas broke the law, a law which contains serious civil penalties, though the bogus technicality on which he relies, in addition to his political clout, will be more than enough to ensure that he never faces any actual legal consequences.

If you need further evidence, there's another, equally clear indication about the nature of the hospitality exception to the disclosure requirement in a neighboring provision of the statute. This section explains which gifts, exactly, a justice must include in their annual report. It reiterates the exception for "personal hospitality," but provides an even clearer definition of the types of hospitality at issue: "any food, lodging, or entertainment received as personal hospitality of an individual need not be reported." (Emphasis added.) This language confirms the narrow scope of the hospitality exception: It covers housing, meals, and activities provided during a visit. It does not cover transportation. And even if you read an implied inclusion of transportation to reach the "lodging"—which is implausible, but whatever—that does not cover Crow lending Thomas his jet to fly around for the justice's personal adventures.
Would Crow be paling around with Clarence Thomas were he not a Supreme Court Justice? It's impossible to say for sure, of course, but one doubts it. Thomas is therefore, indirectly at least, cashing in on his public service in a huge way that would be impermissible for most government employees.
Now, it's possible that Crow is doing this because being seen paling around with a Supreme Court Justice increases his social stature rather than because he hopes to get favorable rulings before the high court. Indeed, one would think Thomas would have to recuse himself in matters involving Crow. Alas, we have reason to be skeptical on that score.
The Ginny Thomas angle continues to be the most problematic for me. She's something of a moron but has managed to be a major player in the conservative lobbying space because of who she's married to. That's even more problematic given that she's not simply an ideologue but an active insurrectionist. Her husband is under oath to support and defend the Constitution from all enemies, foreign and domestic and, morally if not legally, she's one of them.
That Crow is effectively paying her salary is problematic.