ObamaCare's Individual Mandate, And The Power Of Congress, Face A Test In Florida
The new health care law's individual mandate was the subject of another bruising court battle yesterday, but the real question in the room was what, if any, are the limits on Congressional authority?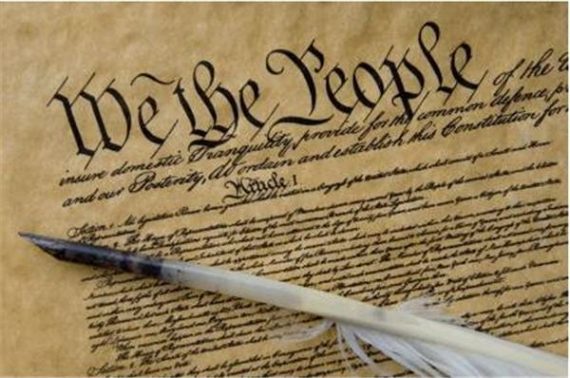 Yesterday, a Federal District Court Judge in Florida heard oral argument in the multi-state lawsuit filed to have the Affordable Care Act's individual mandate unconstitutional, and if the argument is any indication the Federal Government may be in for another defeat:
PENSACOLA, Fla. — A federal judge asserted on Thursday that it would be "a giant leap" for the Supreme Court to accept the Obama administration's defense of a central provision of the new health care law, suggesting he may become the second judge to strike it down as unconstitutional.

In a three-hour hearing, the judge, Roger Vinson of Federal District Court, said the law's requirement that most Americans obtain insurance, a provision that takes effect in 2014, would constitute "a giant expansion" of the court's traditional application of the Commerce Clause of the Constitution.

"People have always exercised the freedom to choose whether to buy or not buy a commercial product," the judge said, noting that he had been uninsured and paid out of pocket when his first son was born.

The hearing came on dueling requests for summary judgment in a lawsuit brought by governors and attorneys general from 20 states, all but one of whom are Republicans. Because of the plaintiffs' prominence, the cases carry the most political weight of the roughly two dozen court challenges to the sweeping law.

The Supreme Court has held previously that Congress can use its Commerce Clause authority, which is among the powers assigned to the national government, to justify the regulation of "activities that substantially affect interstate commerce."

Ian H. Gershengorn, a deputy assistant attorney general who is defending the law, told Judge Vinson that the health care market was unique because getting sick was both unpredictable and potentially bankrupting. The economic consequences of not having insurance — including cost-shifting to others — justify its regulation by Congress, he said.

But lawyers representing the state officials argued that the insurance requirement was unconstitutional because it would, for the first time, require citizens to buy a commercial product.

If the government is allowed such power, said David B. Rivkin Jr., who represented the state officials, the health law "would leave more constitutional devastation in its wake than any statute in our history."

A similar argument was convincing to another federal district judge, Henry E. Hudson of Richmond, Va., who ruled Monday in a separate case that the health law left federal authority without "logical limitation."
At one point in the arguments, Vinson questioned the government's attorney on just how far they believed the Federal Commerce power extended:
PENSACOLA, Fla. — In a federal courtroom Thursday, Judge Roger Vinson questioned how far Congress's authority would go if it can legally require nearly all Americans to purchase health insurance.

Could they "mandate everybody has to buy a certain amount of broccoli?" Vinson questioned, comparing the positive impact both could have on health. The comments came during oral arguments in the constitutional challenge 20 states have brought against the health reform law—just days after a federal judge in Virginia struck down the same controversial piece of President Obama's signature legislation.

The federal government argued that health insurance and health care are unique markets and that Congress has the power to regulate them.

"It's not shoes. It's not broccoli," said Ian Gershengorn, arguing for the federal government. "Health insurance is a product that is a financing mechanism."
The problem, of course, is that once you say that the Interstate Commerce Clause means that the government can force you to purchase health insurance, or fine you if you fail to do so, then one really has to wonder where the limits of Congressional power really are. We've already had rulings from the Supreme Court that say that the Commerce Clause gives Congress the authority to regulate the production of wheat grown solely for individual use, the authority to require owners of public accommodations to treat all races equally, and to prosecute someone for growing marijuana for medicinal purposes in a state where medical marijuana is perfectly legal. However, as Brooklyn Law School Professor Jason Mazzone, upholding the individual mandate would require the Supreme Court to take the Commerce Clause down a road that would essentially mean that there are no longer any real limits on the power of the Federal Government:
Judge Hudson has presented a way for the court to finally answer this question. His opinion is the first prominent judgment to say that Congress can use its power over interstate commerce only to regulate "activity," as opposed to a lack of action. This strikes many as a bold assertion, but it has a lot going for it. All of the Supreme Court cases upholding Congress's power under the Constitution's interstate commerce clause have involved Congress regulating some kind of activity that is already occurring.

Indeed, the court has never confronted a federal statute that forces people to engage in some action like this. The conservative justices in particular will no doubt wonder what else Congress can make Americans do if it can make us buy health insurance. Can Congress tell us to join a gym because fit people have fewer chronic diseases? Can Congress direct us to purchase a new Chrysler to help Detroit get back on its feet?

In addition, parsing the distinction between activity and inactivity provides a way for the justices to strike down the individual mandate without having to overturn any precedent. As shown by its ruling this year that corporations have a First Amendment right to pay for political ads, the Roberts court is masterly at generating new rules while saying it is faithfully following established law. Indeed, there is a hint that at least one member of the court already sees things in the same way as Judge Hudson. When the court held in 2005 that the interstate commerce clause permitted Congress to outlaw the cultivation and possession of marijuana for personal medical use, Justice Antonin Scalia wrote a concurring opinion that is a mini-treatise explaining why the relevant precedents commanded this result. In describing what Congress could regulate, Justice Scalia used the words "activity" and "activities" 42 times.

Judge Hudson's critics say that a distinction between action and inaction is unworkable. After all, individuals who do not purchase health insurance engage in activity when they go to an emergency room for care. Yet a Supreme Court that for more than a century has struggled to define the limits of federal commerce power might, like Judge Hudson, refuse to find actions beyond the insurance market itself pertinent to an analysis of the law.

Judge Hudson's distinction also has allure because United States law in other ways already treats actions differently from inaction. Criminal law punishes things people do, not things they do not do. Tort law makes us liable for our actions that cause injury; outside of special relationships like that between a parent and a child, there is no duty to act. To drive a car, you must first purchase insurance, but you can choose to forgo auto insurance and use public transport instead.
I still remain largely pessimistic about the odds that the Supreme Court will step in and tell Congress that it cannot do something because the Constitution doesn't allow them to do it. With respect to the Commerce power, that's only happened twice in the last 75 years, when it struck down most of the provisions of the Violence Against Women Act and the Gun Free School Zones Act. Will the justices have the guts to do it to a piece of legislation that was the result of a year of contentious political debate and which impacts nearly 1/4 of the entire economy? I don't know, but if they do it could signal the beginning of a Constitutional revolution that will finally put some teeth back in a document that was meant to limit government, not empower it.