Obama's Rhetoric On The Iran Nuclear Deal Is Needlessly Confrontational
President Obama's confrontational approach to opponents of the Iran Nuclear Deal ignores legitimate questions.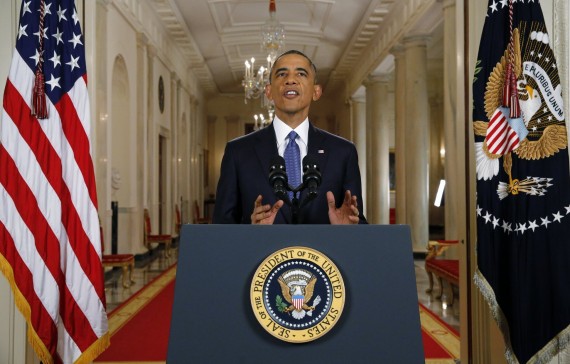 In this speech yesterday, President Obama took what can fairly be described a confrontation approach toward opponents in his efforts to sell the Iran nuclear deal:
President Obama lashed out at critics of the Iran nuclear deal on Wednesday, saying many of those who backed the U.S. invasion of Iraq now want to reject the Iran accord and put the Middle East on the path toward another war.

Obama also said that if Congress rejects the deal, it will undermine America's standing in global diplomacy, leaving the United States isolated and putting Israel in even greater peril.

While calling the nuclear accord with Iran "the strongest nonproliferation agreement ever negotiated," Obama also seemed to turn the vote on the deal into a referendum on the U.S. invasion of Iraq a dozen years ago, a decision he portrayed as the product of a "mind-set characterized by a preference for military action over diplomacy."

Obama said that when he first ran for president, he believed "that America didn't just have to end that war. We had to end the mind-set that got us there in the first place." He added that "now, more than ever, we need clear thinking in our foreign policy."

It was the president's sharpest attack yet on opponents of the Iran nuclear deal, which he sees as a defining achievement amid an often rocky foreign policy record.

n a two-hour White House meeting Tuesday night with Jewish American groups, Obama seemed particularly bothered by a multimillion-dollar ad campaign aimed at stopping the deal. On Wednesday afternoon, the president used his Twitter account to say: "There's no such thing as a 'better deal.' Walking away risks war."

As he nears the end of his tenure, Obama has been arguing forcefully that diplomacy can yield benefits, even as his administration continues to use targeted strikes by drones and struggles to deal with civil war in Syria, the rise of the Islamic State and confrontation with Russia over Ukraine.

"I have not shied away from using force when necessary," Obama said, noting he had authorized military actions in seven countries. ". . . I've had to make a lot of tough calls as president, but whether or not this deal is good for American security is not one of those calls. It's not even close."

Instead, Obama said, Kennedy sought "a practical and attainable peace, a peace based not on a sudden revolution in human nature but on a gradual evolution in human institutions, on a series of concrete actions and effective agreements."

But many observers felt that Obama's speech was more caustic and partisan than Kennedy's. "Walk away from this agreement and you will get a better deal — for Iran," he said to critics.

At one point, Obama brushed aside comments by Iranian hard-liners who he said do not reflect what all Iranians believe and are the "most comfortable with the status quo." The president added: "It's those hard-liners chanting 'Death to America' who have been most opposed to the deal. They're making common cause with the Republican caucus."

Later, Senate Majority Leader Mitch McConnell (R-Ky.) called on Obama "to retract his bizarre and preposterous comments" and said that Democrats who have already stated their opposition would be "insulted" by them.

Obama did not shy away from engaging foes of the Iran deal and linking them to the decision to invade Iraq.

"The single greatest beneficiary in the region of that war was the Islamic Republic of Iran, which saw its strategic position strengthened by the removal of its long-standing enemy, Saddam Hussein," Obama added. He also noted that when President George W. Bush took office, Iran did not possess any centrifuges, the machines needed to produce nuclear bomb material, while when Obama took office Iran already had installed several thousand.

Even some supporters of the nuclear deal were put off by Obama's argument. Many critics of the agreement were proponents of war in Iraq, but that does not make them warmongers, said Robert Einhorn, an arms-control and nonproliferation analyst with the Brookings Institution.

"I think it will offend more than convert," said Aaron David Miller, a vice president at the Wilson Center and a former Middle East negotiator at the State Department. Miller supports the agreement but said Obama's speech "paints those who are not reckless critics of this agreement with a large brush."
Obama's remarks obviously have not sit well with Republicans strongly opposed to the deal and that is to be expected given the fact that many of these people had rejected the deal even before it was formally announced. That isn't the only corner from what criticism came after yesterday's speech, though. The editors at Bloomberg, for example. say that the President put fear before facts:
Obama may hope that denigrating those who disagree with him will rally Democrats in Congress to support a veto of any measure of disapproval. Tactics aside, it would be far better to win this fight fairly. The pact is not a treaty: A future president and Congress might overturn it, arguing that it was sealed without proper consideration. And history often looks with disgust at causes built on fear, especially if they go awry. Obama wouldn't want to face the kind of scorn he heaped on George W. Bush today.
The strategy that the Administration has adopted in trying to sell this deal has drawn criticism even from many of its allies. Rather than acknowledging the legitimacy of the questions that many people who are on the fence about the deal might have, they have chosen to argue that supporting the agreement is the only rational choice one can make and that the deal's opponents are proposing to send the nation down the road to war. Perhaps the most extreme example of that came yesterday when the President essentially equated opponents of the deal to hardliners in Iran who have also spoken out against the deal and those in Tehran who shout "Death to America!" on a regular basis. On some level, I suppose, the strategy is a reaction to the often overheated rhetoric of many of the Republican opponents of the deal and the concern that acknowledging any weaknesses in the deal would be conceding ground that could potentially lead to its ultimate defeat. At the same time, though, it occurs to me that the Administration is hurting its cause here by taking such a hard line position.
Even taking all of the arguments in favor of the deal into account, it seems rather obvious that there is plenty about the agreement that should raise concerns in people's minds. The fact that certain sites will only be open to inspection after the Iranians have been given 24 days notice raises rather obvious concerns that they will be able to cover up evidence of non-compliance with the agreement. The fact that the deal includes both the lifting of economic sanctions and the lifting of an embargo that was originally tied to Iran's practice of selling advanced missile technology to other nations raises the legitimate concern that Tehran will simply use the additional cash that the lifting of sanctions will give them to sow mischief in other parts of the Middle East. The Administration has answers to these and other questions that have been raised about the deal, of course, but framing those answers in a dismissive tone that suggests that opponents are not just incorrect but stupid and perhaps evil doesn't strike me as very constructive, and doesn't seem like a very good way for the Administration to win over wavering votes that they will need to prevent an override of the President's inevitable veto. Senator Angus King, for example, called the decision on how he would vote on this deal one of the hardest he's ever had to make, and while he ultimately announced that he will support the deal the fact that he was so obviously conflicted should be a good demonstration to the Obama White House that the doubts that many people have should be answered rather than blithely dismissed as the President did yesterday.