Occupy The World – OWS Goes Global
Protests at least loosely affiliated with the Occupy Wall Street movement were conducted around the globe yesterday.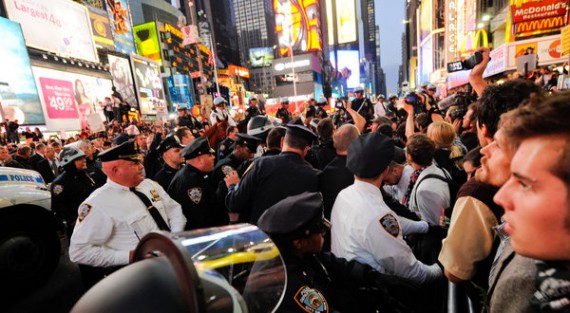 Protests at least loosely affiliated with the Occupy Wall Street movement were conducted around the globe yesterday; with the glaring exception of Rome, they were mostly peaceful.
NYT ("Buoyed by Wall St. Protests, Rallies Sweep the Globe"):
Buoyed by the longevity of the Occupy Wall Street encampment in Manhattan, a wave of protests swept across Asia, the Americas and Europe on Saturday, with hundreds and in some cases thousands of people expressing discontent with the economic tides in marches, rallies and occasional clashes with the police.

In Rome, a rally thick with tension spread over several miles. Small groups of restive young people turned a largely peaceful protest into a riot, setting fire to at least one building and a police van and clashing with police officers, who responded with water cannons and tear gas. The police estimated that dozens of protesters had been injured, along with 26 law enforcement officials; 12 people were arrested.

[…]

Other than Rome's, the demonstrations across Europe were largely peaceful, with thousands of people marching past ancient monuments and gathering in front of capitalist symbols like the European Central Bank in Frankfurt. Similar scenes unfolded across cities on several continents, including in Sydney, Australia; Tokyo; Hong Kong; Toronto; Chicago; and Los Angeles, where several thousand people marched to City Hall as passing drivers honked their support.

But just as the rallies in New York have represented a variety of messages — signs have been held in opposition to President Obama yards away from signs in support of him — so did Saturday's protests contain a grab bag of sentiments, opposing nuclear power, political corruption and the privatization of water.

Yet despite the difference in language, landscape and scale, the protests were united in frustration with the widening gap between the rich and the poor.

"I have no problem with capitalism," Herbert Haberl, 51, said in Berlin. "But I find the way the financial system is functioning deeply unethical . We shouldn't bail out the banks. We should bail out the people."
Regular OTB commenter Michael Reynolds took his family to the San Francisco rally and reports a respectful, poorly organized affair:
I have no idea how many people were there. It seems like a lot when you're in the middle of a crowd but I couldn't get a perspective.

The crowd was about what you'd expect for SF — for the real SF, not the parody. The crowd struck me as about 40% 20-somethings, another 40% 30-somethings, the rest older. I supplied the only two kids I saw. Mostly white, some African-Americans and Asians.

The dress was Gap/Timberland/Eddie Bauer. Not fashionable but clean. Maybe 5% were your basic dreadlocked hippie street people.

The mood was not angry in the least. The chanting came and went and was basically pretty unimaginative. The signs were probably 75% on-topic with the rest being a grab-bag of nonsense. My favorite: "I'll believe Corporations are People When Texas Executes One."

They marched from the bottom of Market to Union Square (where we joined) and down Market to City Hall. At that point, unfortunately, the speeches started and I was trapped in a group of seated protesters. The PA system was crap so the audience tried repeating what was said aloud, phrase by increasingly tedious phrase.

Some guy in suspenders and the obligatory unfortunate facial hair who I didn't catch much of — I was playing thumb war with my daughter. Followed by some idiot of a middle-aged woman talking utter nonsense ranging from something to do with slaves and Native Americans then on to free rivers and from there to assorted other silliness. By this point the crowd had thinned. No one was paying much attention.

When the woman finally shut up we all leapt to our feet — quite a few of us were too old to be sitting on concrete — and my family and I made off.

The mood throughout was good-natured, elaborately polite, kind, and often witty and humorous.

The local ABC affiliate interviewed my wife — probably on grounds that she was wearing an eye-catching blue shirt, and then my son, probably because he was the only high school kid there.

The police were professional, the demonstrators were in no way violent or provocative.
Getting European youth into the street to protest government austerity or, well, just about anything isn't that hard. It's pretty routine and, unfortunately, too often violent. But this seems like something beyond the usual suspects. Nick Kristof, who continues to draw analogies with the Arab Awakening, tries to explain:
There's a parallel sense that the political/economic system is tilted against the 99 percent. Al Gore, who supports the Wall Street protests, described them perfectly as a "primal scream of democracy."

The frustration in America isn't so much with inequality in the political and legal worlds, as it was in Arab countries, although those are concerns too. Here the critical issue is economic inequity. According to the C.I.A.'s own ranking of countries by income inequality, the United States is more unequal a society than either Tunisia or Egypt.

Three factoids underscore that inequality:

¶The 400 wealthiest Americans have a greater combined net worth than the bottom 150 million Americans.

¶The top 1 percent of Americans possess more wealth than the entire bottom 90 percent.

¶In the Bush expansion from 2002 to 2007, 65 percent of economic gains went to the richest 1 percent.

As my Times colleague Catherine Rampell noted a few days ago, in 1981, the average salary in the securities industry in New York City was twice the average in other private sector jobs. At last count, in 2010, it was 5.5 times as much. (In case you want to gnash your teeth, the average is now $361,330.)

More broadly, there's a growing sense that lopsided outcomes are a result of tycoons' manipulating the system, lobbying for loopholes and getting away with murder. Of the 100 highest-paid chief executives in the United States in 2010, 25 took home more paythan their company paid in federal corporate income taxes, according to the Institute for Policy Studies.

Living under Communism in China made me a fervent enthusiast of capitalism. I believe that over the last couple of centuries banks have enormously raised living standards in the West by allocating capital to more efficient uses. But anyone who believes in markets should be outraged that banks rig the system so that they enjoy profits in good years and bailouts in bad years.
Now, I think Kristof and others overstate the coherence of the movement; most of those occupying Wall Street or whatever street don't know those statistics. But there is a frustration, not just in America but throughout the developed world, that ordinary folks are being squeezed by the rich–and particularly the barons of the financial system. Not only did their excesses help wreck the global economy but taxpayers were expected to bail them out–and then endure cuts in their safety nets as austerity measures were put in place to pay for the bailouts and the decreased revenue streams caused by the recession.
Interestingly, though, most of those other countries have powerful parties of the left and even their conservative parties embrace a far higher degree of socialism than do our Democrats, who would be radically conservative in most of the world. Nor do those countries have the same sort of expensive election campaigns as the United States, which make it easy for wealthy donors to rig the game. And, of course, they have radically higher taxes and much less income inequality.
So, the Europeans, Japanese, and Australians–who have systems that would be politically unthinkable in the United States–have essentially the same complaints about the system as the protestors here. This reinforces both my sense that this movement is something real and that there's not a whole hell of a lot that can be done to address the frustrations that have spawned it.