Can Occupy Wall Street Win?
The Occupy Wall Street movement faces obstacles its Tea Party counterpart didn't.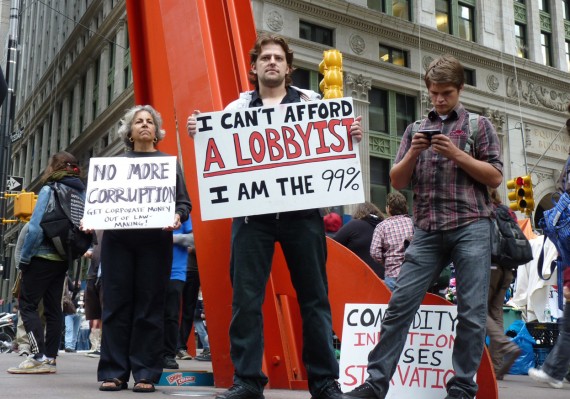 Colin Cookman, an AfPak analyst for the Center for American Progress who I follow on Twitter, has started a new blog. His first post, "Thoughts on the Occupy Wall Street movement," is interesting because it applies his research in an unusual and helpful way.  After a long windup, he gets to the crux:
Abdulkader Sinno's Organizations at War, has a number of very important lessons that I think can potentially be applied here. One basic assumption of Sinno's argument is that "movements" or "the people" or "societies" do not make war (or, by extension, politics). Organizations do.

As a dedicated fan of The Wire, I subscribe to this view of human political behavior. Despite its loose and anarchic character, I think the OWS movement is a distinct political organization, albeit a very fragmented and decentralized one right now. Those characteristics give it a level of resilience that have allowed it to carry on its activities for the past several weeks even at the geographical heart of the political / financial system OWS (at its broadest level) seeks to overturn.

Sinno further argues that decentralized organizations like OWS (or the 1980s Afghan mujahadeen movement, in his case study)'s strength of resiliencybecomes irrelevant in the absence of continued harassment by the rival political order they seek to challenge. After you clear or are ceded the public square, being decentralized and having a thousand different voices arguing for a different course of action or policy priority is not in fact especially conducive to your organization's goals. Decentralized organizations that want to continue to survive go through the messy process of centralization in order to be able to develop complex political strategies and effectively allocate resources to achieve those goals. (Sinno doesn't make this comparison, but this also somewhat brings to mind Jared Diamond's theories of civilizational density and complexity in Guns, Germs, and Steel— societies that reach a level of accomplishment in complex tasks like industry and war require a certain level of density and hierarchy to feed a system that allows for specialization in warmaking and the manipulation of political symbols.)

[…]

"The longer organizations take to centralize," Sinno notes, "the more likely they are to be defeated by rivals that can take the initiative, or to fall apart." It's difficult to identify the contenders at this point, but presumably at some point soon you will see established groups like ANSWER or black bloc anarchists or whoever challenging whatever currently constitutes the OWS organizational core, which will either result in those rival groups being shut out of the bigger organization (if something within OWS has centralized sufficiently to counter their claim on its political space) or them taking control and marginalizing other parts of the movement (in which case, given their limited public appeal, it will probably fall apart into something more resembling the rioting in London over the summer.) The further possibility is that the movement is supplanted by another, bigger and better-centralized rival political organization entirely.

[…]

Herein lies the dilemma for the OWS as it attempts to articulate a policy agenda. "Wall Street" is a much more diffuse target for revolutionary ouster than a single political leader (and the means of challenging it within the relative confines of the existing political system much more complex than simply winning an election), which means centralizing and building political support for a more complex strategy will be hard (see also the Egyptian protesters' difficulties in dismantling the army system, even though they convinced the army to dump Mubarak). Any single legislative priority proposed by the eventual central leadership (in the event that one emerges) is likely to lose a certain amount of support from subsets of protesters who don't see that as the main priority or don't trust Congress to actually enact systemic reforms (with good reason). Maybe they can overcome this and reach consensus behind this, but the legislative process doesn't particularly play to their strengths.

[…]

I haven't seen signs yet that OWS has reached the strength, reach, or level of coordination (all characteristics of a relatively centralized political organization) where it can start primarying Democratic incumbents and then carry them through to election (and I'm not even sure if the movement has even suggested an interest in such a strategy at this point). The Democratic party's presidential candidate is already effectively locked in and can only be pushed so far in the absence of a primary process, as he already expects to have to tack to the center for the general election (and at this point probably has considerably more resources to resist the OWS' challenge than the OWS can bring to bear against him, even assuming they could talk Ralph Nader into throwing in once again).Soros rumors aside, OWS doesn't appear to have any sizable financial resources behind it yet with which to support a down-ticket pressure strategy, or any other strategy beyond the decentralized seizure of abandoned space.

In the absence of an OWS capture (even partial) of the Democratic Party, though, it's hard for me to see what other options are going to be available to it over the medium to long term.
The more likely avenue for success, it seems to me, is that the Democratic Party captures Occupy Wall Street rather than vice versa. There are signs of it happening already, with major Democratic politicians at least paying lip service to the frustrations and inequities that fuel the movement.
Cookman's right, I think, that Obama isn't going to tack full-on socialist and start breaking up the banks and redistributing income in a way that was frankly standard operating procedure as recently as the 1960s. But we could see a stronger push towards ending the Bush tax cuts, eliminating tax advantages given to the investor class, and other much milder sops to the OWS movement.
Eliot Spitzer argued in classic Slate style that "Occupy Wall Street Has Already Won."
Occupy Wall Street has already won, perhaps not the victory most of its participants want, but a momentous victory nonetheless. It has already altered our political debate, changed the agenda, shifted the discussion in newspapers, on cable TV, and even around the water cooler. And that is wonderful.

Suddenly, the issues of equity, fairness, justice, income distribution, and accountability for the economic cataclysm-issues all but ignored for a generation—are front and center. We have moved beyond the one-dimensional conversation about how much and where to cut the deficit. Questions more central to the social fabric of our nation have returned to the heart of the political debate. By forcing this new discussion, OWS has made most of the other participants in our politics—who either didn't want to have this conversation or weren't able to make it happen—look pretty small.

[…]

Of course, the visceral emotions that accompany citizen activism generate not only an energy that can change politics but an incoherence that is easily mocked. OWS is not a Brookings Institution report with five carefully researched policy points and an appendix of data. It is a leaderless movement, and it can often be painfully simplistic in its economic critique, lacking in subtlety in its political strategies, and marred by fringe elements whose presence distracts and demeans. Yet, the point of OWS is not to be subtle, parsed, or nuanced. Its role is to drag politics to a different place, to provide the exuberance and energy upon which reform can take place.
Now, I would dispute the notion that these issues have been "all but ignored." They've been at the core of our public policy debate for as long as I can remember and they're really what drove the Tea Party movement. The difference, aside from funding and organizational ones Cookman points to, is that the Tea Party sees themselves in common cause with the top 1% and therefore sees redistribution as dangerous to their interests while OWS sees the 1% as the cause of their problems.
Can Occupy Wall Street and its Democratic Party allies make the case that too many of the 1% got there because of a rigged game rather than through working harder and smarter than the rest of us? If so, it might be possible to peel off some of the Tea Party and reunite the New Deal coalition that was fractured by Vietnam and Civil Rights movement.
One thing's for sure: It won't survive in its current incarnation very much longer. It's mid-October and it'll get too cold for overnight campouts soon.