OWS' Seedy Underbelly
A righteous movement risks derailment by a handful of thugs and reprobates.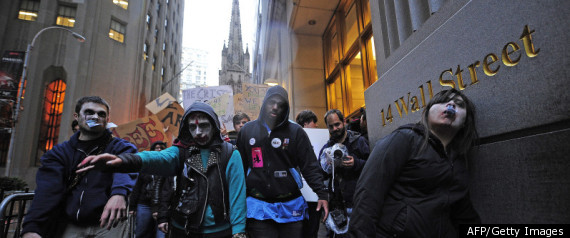 The Occupy Wall Street protests have gained national and international support for calling attention to structural inequality. They've gained added sympathy from several instances of police overreaction and brutality. On the flip side, there has been a lot of bad behavior ranging from fighting to crapping on police cars, prostitution, and public masturbation.
USA Today ("Report: Fights erupt among Occupy Wall Street protesters"):
Fights are erupting among Occupy Wall Street protesters, so much so that one corner of Zuccotti Park has emerged where protesters say they won't go for fear of their safety, the New York Daily News is reporting.

Police officers also have been warned of "dangerous instruments" being concealed in cardboard tubing, the News says it has been told by unidentified police sources. "There is a lot of infighting in the park," a police source told the news organization. "There is one part of the park where they won't even go at night."

Meantime, Ed Mullins, president of the Sergeants Benevolent Association, is warning protesters at Zuccotti Park in Manhattan that he will pursue civil suits against anyone who assaults a union member.
Interestingly, the NYDN page linked in the story no longer exists and I'm unable to locate the story via either the paper's horrendously poor search feature or a Google site search. Whether that should be taken as some sort of retraction or lends any interpretive value at all is unknown.
Meanwhile, the University of Wisconsin's Daily Cardinal reports that Occupy Madison has lost its permit.
City officials temporarily denied Occupy Madison a new street use permit Wednesday after protesters violated public health and safety conditions and failed to follow the correct processes to renew or amend a permit. The permit, which expired Wednesday at noon, required Occupy Madison protesters to relocate from their current space at 30 West Mifflin Street, also called 30 on the Square.

A neighboring hotel's staff alleged voiced concerns about having to recently escort hotel employees to and from bus stops late at night due to inappropriate behavior, such as public masturbation, from street protesters. [emphasis mine-JJ]

In addition, officials agreed further occupation should not be allowed to continue without restrooms on site to avoid further public health violations. "You can't be affecting the safety and health of other people around you," Madison Fire Prevention Officer Jerry McMullen said. "With the public health violations and the complaints I've heard, I don't believe it meets the spirit of the ordinance to a street use permit."
Occupy Boston is also having some issues, the Boston Globe reports ("Boston police probing threats possibly tied to Occupy movement"):
Boston police are investigating threats against department personnel that may be linked to the Occupy Boston movement, the commissioner said today.

In a brief statement, Police Commissioner Edward F. Davis confirmed the investigation but would not dislcose the nature of the threats. He also did not identify who was targeted. "The Boston Police Department is investigating harassment attempts and threats directed at department personnel," Davis said. "These threats appear to be generated by those either involved [in] or sympathetic with the Occupy Boston movement … We are taking the appropriate steps to address any potential concerns."
Power Line's John Hinderaker points to other complaints and allegations:
More, via your go-to site for the latest news on the Occupy crime wave, Occupy Wall Street Exposed, which is back in operation after surviving two days of DOS attacks and hacks by liberals. The latest in the liberal perp-walk: in New Hampshire, an Occupier is charged with felony prostitution for trying to pimp a 16-year-old girl. In Phoenix, an Occupier flyer asks, "When should you shoot a cop?"
Some of this may be mere innuendo and overreaction but it's undeniable that there's a lot of really seedy activity going on here.
My instinct is to chalk it up to the nature of an organic movement that involves camping out overnight. The nature of that activity is that a certain number of undesirables are going to show up and, well, act in a manner that's not particularly desirable.
Still, Occupy is getting to the point that the Tea Party reached long ago, where is has to go from an amorphous, decentralized group with some loosely shared set of grievances into something more organized. Otherwise, there's a very real risk that the yahoos and reprobates will become the symbol of the movement by sheer default.
The Tea Party, which many of us see as the flip side of the same cause, of course attracted plenty of nuts and weirdos, too. Showing up at peaceful protests with rifles and sidearms tends to raise eyebrows. And there was plenty of thinly veiled–and occasionally blatant–racism and call for violence.
The Tea Party, of course, became simultaneously much more powerful and unpopular as it made the transition from amorphous movement to political organization. Selecting leaders and proposing policy initiatives naturally alienates a lot of people who previously supported a loose cause. Right now, Occupy Wall Street offers something for everyone. That's a wonderful position to be in as it tries to gain momentum and attention; it's unsustainable for very long.