Occupy Wall Street: Something For Everyone
What do this people want? Can't you read the signs?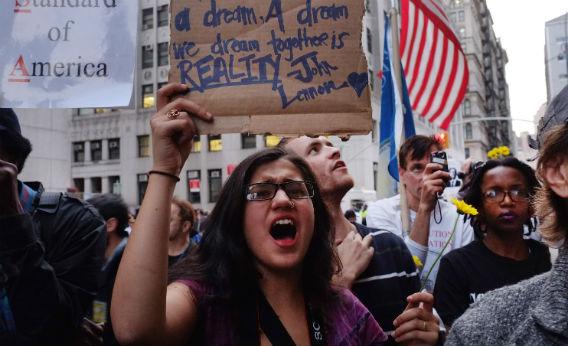 The above photo, which illustrate's Dahlia Lithwick's rant about the media's inability to understand Occupy Wall Street, undercuts its central argument.
I don't purport to speak for anyone but myself here, although I spent time this weekend at Occupy Wall Street and my husband spent much of last week adding his voice to the protesters there. I saw an incredible array of people that defy any simple demographic characterization and a broad range of signs that made—imagine!—more than a single point. But if I may hazard an opinion, it would be this: One of the most fatuous themes of mainstream OWS coverage is the endless loop of media bafflement at this movement that doesn't have a message. Here's CNN's Erin Burnett in a classic put-down of the OWS' refusal to tailor its message to her. It takes a walloping amount of willful cluelessness to look at a mass of people holding up signs and claim that they have no message.
I'm not going to defend the fatuousness of most of cable news and don't believe I've ever heard of Erin Burnett. Her segment was pretty silly: pointing to a couple of weirdos in the crowd, making fun of the way they were dressed, and then talking to some poor sap about TARP to demonstrate that he–and by extension everyone else at the protest–is unaware of the fundamentals. Still, her point seems to be that the movement is incoherent and attract a lot of people who are there for the party.
Lithwick's collection of signs (or, actually, Buzzfeed's) actually reinforces that point. There are approximately 50 different messages among the 50 signs in the montage! Some of them are anti-war, others anti-police, others anti-business suit, others anti-Republican, and anti-nuclear power. The only repeated theme were variations on "Eat the rich." A lot of them are just nonsense or hipsterish irony (it's a subtle distinction).
Some are grammatically challenged but expressive: "WHEN THE RICH ROB THE POOR IT CALL BUSINESS WHEN THE POOR FIGHT BACK IT CALL VIOLENCE AND WHEN THEY JOIN POLITICA THEY ROB EVEN MORE."
Most just express frustration at various things: "SHOOT SPERM NOT BULLETS." "YOU KNOW THINGS ARE MESSED UP WHEN LIBRARIANS START MARCHING." "I LOVE HUMANITY! LETS FIGURE THIS SHIT OUT TOGETHER!" "I'M 84 AND MAD AS HELL." "EDUCATION IN PERSONAL FINANCE SHOULD BE REQUIRED LIKE MATH, SCIENCE, AND HISTORY." "YOUR TIE LOOKS LIKE A NOOSE." "MY CARDBOARD CAN BEAT YOUR BILLBOARD."
One sign has something for everyone: "CLOSE CORPORATE TAX LOOPHOLES, TAX RELIGIOUS GROUPS, END THE WARS, LEGALIZE WEED, AND BRING BACK ARRESTED DEVELOPMENT." [OWS has a victory on the last one. "Arrested Development" has been renewed for another season.]
Perhaps the most quoted of the signs may sum up the movement best: "SHIT IS FUCKED UP AND BULLSHIT."
I don't mean that disparagingly, by the way: That really is the message. The wreckage to the economy caused by greedy bankers who were then rewarded with a taxpayer bailout, the sense that the economic and political games are rigged, and the chasm between the wealthiest few and the rest are at the core of the movement but it's attracting so much support precisely because there are so many damned grievances to air. We've been in two unpopular wars for seemingly forever and the public's opinion seems irrelevant. (Iraq is winding down because of Iraqi public opinion moreso than our own. Afghanistan will end in 2014 for reasons largely unrelated to what the American people want.) And there's not insignificant resentment of all manner of rules imposed from above that seem not to have any rationale (that covers everything from anger over police brutality to TSA pat-downs to having to wear a suit to work to the illegality of lighting up a joint).
These protests are a way to get out and vent about all of that and more. Indeed, Lithwick has managed to fit her own gripes right in:
For the past several years, while the mainstream media was dutifully reporting on all things Kardashian or (more recently) a wholly manufactured debt-ceiling crisis, ordinary people were losing their health care, their homes, their jobs, and their savings. Those people have taken that narrative to Facebook and Twitter—just as citizens took to those alternative forms of media throughout the Middle East as part of the Arab Spring. And just to be clear: They aren't holding up signs that say "I want Bill O'Reilly's stuff." They aren't holding up signs that say "I am animated by toxic levels of envy and entitlement." They are holding up signs that are perfectly and intrinsically clear: They want accountability for the banks that took their money, they want to end corporate control of government. They want their jobs back. They would like to feed their children. They want—wait, no, we want—to be heard by a media that has devoted four mind-numbing years to channeling and interpreting every word uttered by a member of the Palin family while ignoring the voices of everyone else.
Mark your calendars: The corporate media died when it announced it was too sophisticated to understand simple declarative sentences. While the mainstream media expresses puzzlement and fear at these incomprehensible "protesters" with their oddly well-worded "signs," the rest of us see our own concerns reflected back at us and understand perfectly. Turning off mindless programming might be the best thing that ever happens to this polity. Hey, occupiers: You're the new news. And even better, by refusing to explain yourselves, you're actually changing what's reported as news. Because it takes a tremendous mental effort to refuse to see that the rich are getting richer in America while the rest of us are struggling. Maybe the days of explaining the patently obvious to the transparently compromised are finally behind us.
It's all so clear! The protests are really aimed at the insipidness of cable news!
But Lithwick is right, too: it's about people who think the system–and the media is part of that probably every bit as much as the banking sector and the government–is failing them and not hearing them.
The Occupy DC encampment at McPherson Square is just a couple blocks from my office. I had a late (for DC) event across town that let out around 9:30 last night and, despite a bit of ill-founded trepidation about doing so in the official uniform of The Man, walked through the encampment on the way back to get my car. It was pretty much what I expected: 20-somethings playing Hacky Sack, various small groups sitting around chatting, three or four people half-heartedly playing bongos, a couple of really strange looking people in costumes, a couple more with the requisite double nose rings, and a handful of homeless people who would otherwise have had the park to themselves but hopefully got some free food for their trouble. The only thing that surprised me slightly was a tent with a Ron Paul sign. Everything was perfectly peaceful and, given that it had been raining most of the day and the encampment has been in a small area for a couple weeks now, in reasonably good order.
The "occupy" part of the movement will almost surely go away soon. It's already getting too cold to camp out in DC and New York and it'll get dangerous to do it within a month. Maybe most of the folks will just show up for daytime rallies and go home. Maybe a few weeks or months of commiserating with others who have similar–and not so similar–grievances will end most people's motivation for active protest.
These protests have altered the national conversation, at least for a bit. While income inequality and related issues has been a steady topic of conversation in wonky blog circles for quite some time, it's been at best peripheral to the political debates in Washington. But successful movements–women's suffrage, civil rights for blacks, Solidarity, gay rights, etc.–have typically honed in on a more precise policy demand than "SHIT IS FUCKED UP AND BULLSHIT."
To the extent Occupy turns into an effective tool for political change, then, what policy objectives will they hone in on? Presumably, not legalizing weed, ending the tyranny of the necktie, or bringing back "Arrested Development." So, what? Ending the Bush tax cuts? Raising estate taxes? Closing the "carried interest" loophole? Those would go some way to leveling the playing field and redistributing wealth but they seem like awfully small beer.