Occupy Wall Street Response to Cheating, Not Winning
Occupy Wall Street is not motivated by envy of the rich or even animus towards banks.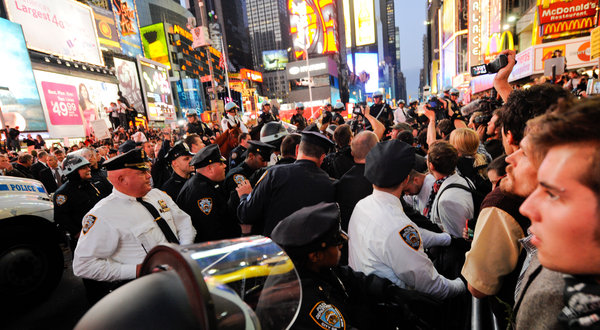 Rolling Stone's Matt Taibbi argues in "OWS's Beef: Wall Street Isn't Winning – It's Cheating" that Occupy Wall Street is not motivated by envy of the rich or even animus towards banks.
Think about it: there have always been rich and poor people in America, so if this is about jealousy, why the protests now? The idea that masses of people suddenly discovered a deep-seated animus/envy toward the rich – after keeping it strategically hidden for decades – is crazy.

Where was all that class hatred in the Reagan years, when openly dumping on the poor became fashionable? Where was it in the last two decades, when unions disappeared and CEO pay relative to median incomes started to triple and quadruple?

The answer is, it was never there. If anything, just the opposite has been true. Americans for the most part love the rich, even the obnoxious rich. And in recent years, the harder things got, the more we've obsessed over the wealth dream. As unemployment skyrocketed, people tuned in in droves to gawk at Evrémonde-heiresses like Paris Hilton, or watch bullies like Donald Trump fire people on TV.

Moreover, the worse the economy got, the more being a millionaire or a billionaire somehow became a qualification for high office, as people flocked to voting booths to support politicians with names like Bloomberg and Rockefeller and Corzine, names that to voters symbolized success and expertise at a time when few people seemed to have answers. At last count, there were 245 millionaires in congress, including 66 in the Senate.

And we hate the rich? Come on. Success is the national religion, and almost everyone is a believer. Americans love winners. But that's just the problem. These guys on Wall Street are not winning – they're cheating. And as much as we love the self-made success story, we hate the cheater that much more.
Taibbi argues that it's about more than a handful of well-publicized criminal acts or even the almost universally despised bailouts. Some examples culled from a very long exposition:
Or the banks borrow billions at zero and lend mortgages to us at four percent, or credit cards at twenty or twenty-five percent. This is essentially an official government license to be rich, handed out at the expense of prudent ordinary citizens, who now no longer receive much interest on their CDs or other saved income. It is virtually impossible to not make money in banking when you have unlimited access to free money, especially when the government keeps buying its own cash back from you at market rates.

[…]

If you or I miss a $7 payment on a Gap card or, heaven forbid, a mortgage payment, you can forget about the great computer in the sky ever overlooking your mistake. But serial financial fuckups like Citigroup and Bank of America overextended themselves by the hundreds of billions and pumped trillions of dollars of deadly leverage into the system — and got rewarded with things like the Temporary Liquidity Guarantee Program, an FDIC plan that allowed irresponsible banks to borrow against the government's credit rating.

[…]

Time after time, when big banks screw up and make irresponsible bets that blow up in their faces, they've scored bailouts. It doesn't matter whether it was the Mexican currency bailout of 1994 (when the state bailed out speculators who gambled on the peso) or the IMF/World Bank bailout of Russia in 1998 (a bailout of speculators in the "emerging markets") or the Long-Term Capital Management Bailout of the same year (in which the rescue of investors in a harebrained hedge-fund trading scheme was deemed a matter of international urgency by the Federal Reserve), Wall Street has long grown accustomed to getting bailed out for its mistakes.

[…]

Bankers on Wall Street pay lower tax rates than most car mechanics. When Warren Buffet released his tax information, we learned that with taxable income of $39 million, he paid $6.9 million in taxes last year, a tax rate of about 17.4%. Most of Buffet's income, it seems, was taxed as either "carried interest" (i.e. hedge-fund income) or long-term capital gains, both of which carry 15% tax rates, half of what many of the Zucotti park protesters will pay.

[…]

One thing we can still be proud of is that America hasn't yet managed to achieve the highest incarceration rate in history — that honor still goes to the Soviets in the Stalin/Gulag era. But we do still have about 2.3 million people in jail in America. Virtually all 2.3 million of those prisoners come from "the 99%." Here is the number of bankers who have gone to jail for crimes related to the financial crisis: 0.
Some of this is silly. The Mexican and Russian currency bailouts weren't sops to rich investors, they were genuine–and largely successful–efforts to prevent the collapse of very important economies and forestall horrendous political and social fallout that would otherwise have ensued. And the business about incarceration is just odd: we don't put people in jail for doing things that are infuriating but legal. I've also spared you several paragraphs about how the police work for the big banks.
Overall, though, the grievances listed here strike me as legitimate. There are indeed ways in which the game is rigged and, while some of it was largely unintentional (the carried interest loophole probably falls into this category) most of it is a result sheer rent-seeking by a class that has enormous ability to influence policymakers because of how we finance our elections.
Interestingly, though, Tiabbi doesn't answer his own question–one I've asked before, too: "Why the protests now?"
The Tea Party movement kicked off almost immediately after the Obama bailouts. Coming on top of the already controversial (if bipartisan) Bush TARP bailout, it was apparently the last straw. But it's not at all clear what new bit of information came to light a few weeks ago to spark this protest, which seemingly turned overnight from a few hundred folks camping out in a park into a global phenomenon. The bailouts were more than two years ago. Banks have long had a license to make money–and Tiabbi claims OWS isn't really mad at banks, anyway. Bernie Madoff is in jail. The Warren Buffett op-ed? It got quite a bit of play, including a big boost from President Obama. But I'm not sure why one would occupy Wall Street if the goal was a change in the carried interest rule and/or a higher top marginal rate. That's a DC issue.
I get the anger and even share much of it. But what was the proverbial last straw here?