October Jobs Report Shows Resilient Jobs Growth
Another month of resilient, but not noteworthy, jobs growth.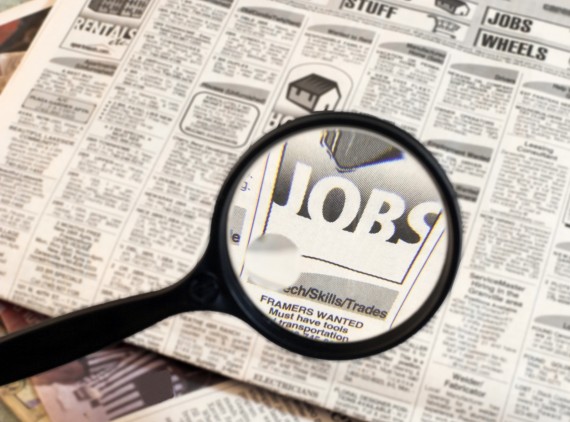 The final Jobs Report before Election Day, which also happens to fall on the eve of the next meeting of the Federal Reserve Board, shows that that jobs market for October continued its trend from last month of being resilient, but not exactly strong either:
The unemployment rate, at 4.9 percent, and the number of unemployed persons, at 7.8 million, changed little in October. Both measures have shown little movement, on net,  since August 2015. (See table A-1.)

Among the major worker groups, the unemployment rate for Hispanics declined to 5.7 percent in October, while the rates for adult men (4.6 percent), adult women (4.3 percent), teenagers (15.6 percent), Whites (4.3 percent), Blacks (8.6 percent), and Asians (3.4 percent) showed little change. (See tables A-1, A-2, and A-3.)

The number of job losers and persons who completed temporary jobs declined by 218,000 over the month to 3.7 million. The number of long-term unemployed (those jobless for 27 weeks or more) was unchanged at 2.0 million in October and accounted for 25.2 percent of the unemployed. (See tables A-11 and A-12.)

In October, both the labor force participation rate, at 62.8 percent, and the employment-population ratio, at 59.7 percent, changed little. These measures have shown little movement in recent months, although both are up over the year. (See table A-1.)

(…)

Total nonfarm payroll employment rose by 161,000 in October. Thus far in 2016, employment growth has averaged 181,000 per month, compared with an average monthly increase of 229,000 in 2015. In October, employment continued to trend up in health care, professional and business services, and financial activities. (See table B-1.)

Health care employment rose by 31,000 in October. Within the industry, employment growth occurred in ambulatory health care services (+19,000) and hospitals (+13,000). Over the past 12 months, health care has added 415,000 jobs.

Employment in professional and business services continued to trend up in October (+43,000) and has risen by 542,000 over the year. Over the month, a job gain occurred in computer systems design and related services (+8,000). Employment in management and technical consulting services continued to trend up (+5,000).

In October, employment in financial activities continued on an upward trend (+14,000), with a gain in insurance carriers and related activities (+8,000).

Employment in other major industries, including mining, construction, manufacturing, wholesale trade, retail trade, transportation and warehousing, information, leisure and hospitality, and government, changed little over the month.

The average workweek for all employees on private nonfarm payrolls was unchanged at  34.4 hours in October. In manufacturing, the workweek edged up by 0.1 hour to 40.8 hours, while overtime was unchanged at 3.3 hours. The average workweek for production and nonsupervisory employees on private nonfarm payrolls was unchanged at 33.6 hours. (See tables B-2 and B-7.)
In addition to these numbers, the Bureau of Labor Statistics reported that the jobs number for August was revised upward from +167,000 to +17 6,000, and September was revised upward from +156,000 to +191,000, for total upward revisions of  +44,000 new jobs created. This means that job growth over the past three months has averaged +176,000 new jobs,  which is a slightly lower figure than the three-month average we saw last month thanks largely to the fact that the particularly strong figures from July have been taken out of the calculation of the average. Since the start of the year, Since the start of the year, the BLS has reported that 1,980,000 new jobs have created, for a monthly average of +198,000, which represents an increase in the year-to-date average over last month. Deeper into the report, we see that labor force participation and long-term unemployment showed few significant changes, although both numbers remain stuck in ranges that are less than desirable for the economy as a whole. The topline unemployment number, though, did fall from  5.0% to 4.9%, which at least on the surface is the kind of number that an incumbent politician likes to see heading into Election Day.
Looking beyond the jobs numbers, this month's report showed solid wage growth continuing, which has been one of the positive parts of the economic statistics that have come out this year. For the month, average hourly earnings increased 10 cents to $25.92, which represents a 2.8% rise over the past year. The average hourly workweek, meanwhile, was largely unchanged across the board. Wage growth has been one of the most positive areas for 2016, and we're now at the point where wage growth has increased at its strongest pace since the end of the Great Recession. So, arguably, one might say that Americans are more secure in their jobs and are earning more, which again is an interesting development on the ever of a Presidential Election.
The New York Times focuses on the potential political consequences of today's report:
The government, delivering the last major snapshot of the economy before Election Day, reported on Friday that employers added 161,000 workers in October, a performance that suggested a healthy outlook for the months ahead.

The official unemployment rate dropped to 4.9 percent. And average hourly earnings rose 2.8 percent year over year, a level not reached since July 2008.

"It was pretty positive across the board," said David Berson, chief economist at Nationwide Insurance, adding that "most importantly, we got a nice jump in average hourly earnings and that actually corresponds with other data."

While the final weeks of the presidential campaign seemed to be preoccupied with everything but the economy, Friday's reportfrom the Labor Department refocused attention — at least briefly — on the crucial bread-and-butter issue: jobs. For the candidates, the latest employment report serves as a Rorschach test, allowing each side to offer its own distinctive narrative of the economy's performance and prospects.

Donald J. Trump, who was propelled to the top of the Republican ticket in part by nagging economic anxiety and a surge in voter anger among the white working class, has emphasized the negatives.

He has argued that jobs have been disappearing, highlighting the continuing loss of well-paid manufacturing jobs as production moves to other countries. October's report showed continued decline in that sector, with the loss of 9,000 jobs.

The Democratic candidate, Hillary Clinton, by contrast, has emphasized the progress that President Obama made in digging the country out of the recession, pointing to the creation of roughly 15 million jobs since 2010.

The data on Friday also showed that more jobs were created in August and September than previously estimated. The revisions showed 44,000 more positions had been created, bringing the monthly average over the last three months to 176,000. Even more encouraging was the robust bump in wages, the most concrete sign that the labor market is tightening, and that ordinary workers are finally getting a slice of the rewards.

"This is money in the bank for workers feeling like they've been waiting a long time for this piece of the economic recovery puzzle to be added," said Mark Hamrick, Bankrate.com's senior economic analyst.

Jed Kolko, chief economist at Indeed, a jobs listing website, noted that the economy "set three post-recession records this month." Wage growth is at its strongest point; the employment-to-population ratio for prime age workers reached 78.2 percent, its highest level since 2008; and the broadest measure of employment, which includes discouraged and underemployed workers, fell to 9.5 percent.

"These are all signs that the labor market continues to strengthen and is at its strongest point since the crisis," Mr. Kolko said.

More than seven years after the recession ended, employment gains have been remarkably steady, finally leading to a rise in earnings in the last couple of years. But overall economic growth has remained modest and despite the recent improvements, the recovery has failed to deliver to many Americans the sense of job security and steady advancement that traditionally girds the middle class.
At this late date, it's unclear exactly how much of an impact news like this is going to have on the outcome of the election. At this point, we're headed into the part of the campaign where all the arguments about why you should vote for one candidate or the other start to matter less and getting voters to the polls start to matter more. At this point, both Trump and Clinton are concentrating more on get out of the vote rallies than they are on making for or against their own candidacies, and that's likely to have a bigger impact on what happens on Tuesday than the fact that the unemployment rate fell one-tenth of one percent last month. That being said, the fact that we ended the election with a generally positive number, rather than a negative one that showed minimal job growth or a decrease in the number of people employed last month is certainly better news for incumbents in races at all levels. In the end, though, as I've said before, voters are more likely to vote based on how they feel about the state of the economy personally rather than generalized economic statistics like unemployment or Gross Domestic Product growth. That's a much more difficult thing to measure, altough it is reflected somewhat in the bellwether 'right track/wrong track' poll, which has remained tremendously negative for nearly all of the Obama Presidency. The conventional wisdom has always been that a negative sentiment on this poll has been bad news for incumbents. In that respect, it's worth mentioning that the gap now is much larger than it was in 2012. Whether that will have an impact on the outcome of the election is someting we'll just have to wait to see.