Oil Spill Estimates Skyrocket Once Again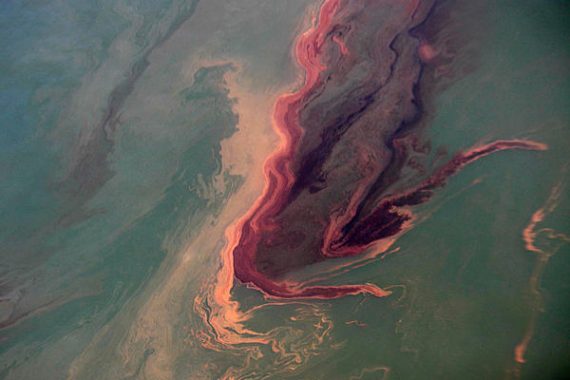 The one consistent fact about the Gulf Oil Spill is this; whatever the estimate of the rate of flow from the Deepwater Horizon well, the actual number is much higher:
A government panel on Tuesday released yet another estimate of the amount of oil flowing from BP's damaged well, declaring that as much as 60,000 barrels a day could be spewing into the Gulf of Mexico.

That is roughly 2.5 million gallons of oil a day, and it means an amount equal to the Exxon Valdez spill could be gushing from the well about every four days.

The flow was already categorized as the largest offshore oil spill in the nation's history, but the new figures sharply increase previous estimates. Scientists on Tuesday estimated that the flow rate ranged from 35,000 to 60,000 barrels a day — up from the rate they issued only last week, of 25,000 to 30,000 barrels a day. It continues a pattern in which every new estimate of the flow rate has been dramatically higher than the one before.

With BP capturing roughly 15,000 barrels a day, the new estimate suggests that as much as 45,000 barrels a day is escaping into the gulf.

The new estimate is far above the figure of 5,000 barrels a day that the government and BP clung to for weeks after the spill started, following the April 20 explosion of the Deepwater Horizon oil rig. That estimate was made by the National Oceanic and Atmospheric Administration using methods not recommended for large oil spills, and it came under attack from professors and advocacy groups who said the spill had to be larger. Time has proven those critics right.

The latest estimate reflects a possible increase in the flow rate that occurred after BP cut an underwater pipe called a riser on June 3 to install a new device to capture part of the oil. It is based on new information, including high-resolution video made after the riser cut, and on pressure readings taken by a device that was inserted this week into the equipment at the sea floor. Energy Secretary Steven Chu, a Nobel Prize-winning scientist, was personally involved in using those pressure readings to help make the latest calculation.

"This estimate brings together several scientific methodologies and the latest information from the sea floor, and represents a significant step forward in our effort to put a number on the oil that is escaping from BP's well," Secretary Chu said in a statement. "As we continue to collect additional data and refine these estimates, it is important to realize that the numbers can change."
Yes, we've noticed that Secretary Chu,  every time they change, they go up, not down.